An Easy Way to Get Connected to the Services You Need
Monday-Friday from 8 a.m. to 9 p.m. (Eastern)
Call, text or videophone: 888-677-1199
Start an an online chat with an information specialist.
Email DIAL@usaginganddisability.org
Connect directly to an agent in American Sign Language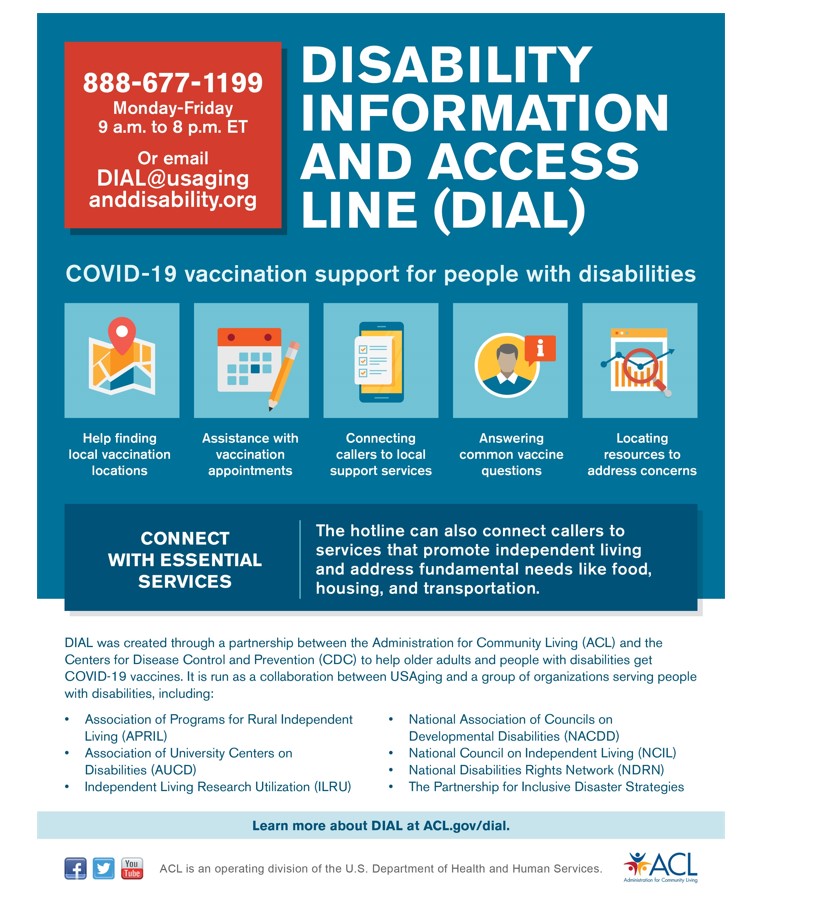 The Disability Information and Access Line (DIAL) helps people with disabilities get connected to  information about local community resources that support independent living. Launched in 2021 to help disabled people access COVID-19 vaccinations, DIAL also provides information about essential services such as transportation, housing support, disability rights, and more.
Get Connected to DIAL
DIAL's staff are trained to work with people of various communications abilities and will spend as much time as needed to ensure effective communication. DIAL's Information Specialists can assist people in all languages and are trained to work with callers who are deaf and hard-of-hearing. Connect with a DIAL Information Specialist from 8:00 a.m. to 9:00 p.m. ET, Monday–Friday.
Call | Text Message | Videophone: 888-677-1199
Have an online chat with an Information Specialist from DIAL.

Start a live chat now

!

Connect directly to an agent in American Sign Language using ASL Now. Click the button below or call 888-677-1199 from your videophone.
To reach DIAL using video relay services, call 888-677-1199. People who use TTY relay can first dial 7-1-1, and then relay the 888-677-1199 number. 
What Is Available Through DIAL
COVID-19 Resources
DIAL can help people with disabilities get vaccinated and access COVID-19 tests. The DIAL's trained staff is standing by to:
Help find local vaccination locations
Assist with making vaccination appointments
Help connect to available testing options, including help with ordering free at-home test kits through the program announced by the White House on January 14. DIAL operators also can help callers with the instructions for administering the tests. 
Connect callers to local services – such as accessible transportation – to overcome barriers to vaccination and testing.
The hotline also can provide information and resources to answer questions and address concerns about the vaccines and can connect callers to information and services that promote independent living and address fundamental needs, such as food, housing, and transportation.
Independent Living
Connect with resources that support community living and independence.
Transportation
Find local accessible transportation options that can help you get where you want to go.
Disability Rights
You have rights. Connect with disability advocates to learn more.
About DIAL
Established through a partnership between ACL and the Centers for Disease Control and Prevention, DIAL is operated as a collaboration between a consortium of organizations serving people with disabilities and USAging. The consortium includes:
Association of Programs for Rural Independent Living (APRIL),
Association of University Centers on Disabilities (AUCD),
Independent Living Research Utilization (ILRU),
National Association of Councils on Developmental Disabilities (NACDD),
National Council on Independent Living (NCIL),
National Disabilities Rights Network (NDRN), and
The Partnership for Inclusive Disaster Strategies.
This collaboration benefits from the disability networks' extensive knowledge and expertise in meeting the needs of people with disabilities across the U.S. and USAging's decades of experience operating the Eldercare Locator, the only federally funded national information and referral resource that supports consumers across the spectrum of issues affecting older Americans.