May 13, 2016
Every June 15, World Elder Abuse Awareness Day (WEAAD)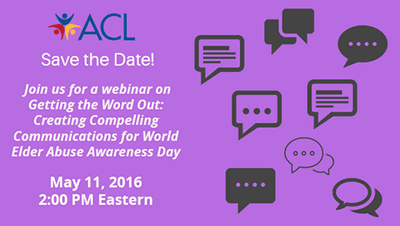 serves as a call-to-action for individuals, organizations, and communities to bring attention to the issue of elder abuse, neglect, and exploitation.
Want to host a WEAAD event in your community? Join us for a webinar on effectively getting the word out about your WEAAD event.
The webinar will cover the latest research on discussing elder abuse, tips for working with reporters and the media, and social media best practices.
Presenters include:
Ann Mosher, Public Affairs Office, Office of External Affairs, Administration for Community Living
Andrew Volmert, PhD., Director of Research, FrameWorks Institute
Ana Poblet-Kouttjie, MPH, Project Coordinator, National Center on Elder Abuse, University of Southern California
Registration is not required. Join the meeting.
Want some pre-webinar reading? Check out the World Day Toolkit.