September 18, 2015
ODEP Acting Assistant Secretary Jennifer Sheehy, ACL Deputy Administrator Sharon Lewis and their respective staff members, including AOD Commissioner Aaron Bishop (center back), after the signing of an agreement to further promote integrated employment opportunities for people with disabilities.
Building on a partnership that started in 2012, the Office of Disability Employment Policy (ODEP) and the Administration for Community Living (ACL) signed a new memorandum of agreement (MOA) on September 11, 2015.
Under the agreement the two agencies will continue to work together to expand and promote competitive, integrated employment as the first employment option for individuals with significant disabilities.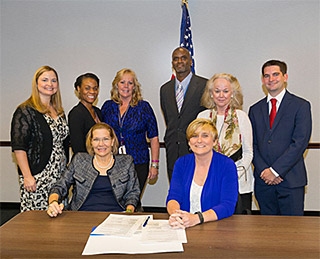 "This MOA solidifies our continued collaboration with ACL to align policy, practice, and funding toward outcomes related to competitive, integrated employment, independent living, and optimal socioeconomic advancement for individuals with disabilities," stated Jennifer Sheehy, ODEP's Acting Assistant Secretary. ODEP's mission is to develop and influence policies and practices to increase the number and quality of employment opportunities for people with disabilities.
ACL was created based on a commitment to one fundamental principle—that people with disabilities and older adults should be able to live where they choose, with the people they choose and fully participate in their communities. Inherent in this principle is the core belief that everyone can contribute, throughout their lives. ACL encourages systems that promote competitive, integrated employment opportunities, and career and skills development which offer the appropriate supports needed to achieve and maintain employment.
Under the agreement ODEP and ACL will collaborate to support states' efforts to improve employment opportunities for people with disabilities. Working together, the agencies can leverage the knowledge and expertise of a broader network of advocates and service providers. The combined network includes area agencies on aging, centers for independent living, aging and disability resource centers, state councils on developmental disabilities, university centers for excellence in developmental disabilities, protection and advocacy agencies, and a variety of community organizations. In addition, the partnership creates new opportunities for cooperation and sharing of resources between ACL's Centers for Independent Living and the Department of Labor's Workforce Investment System.
"Integrated, competitive employment is central to community living and full participation in all aspects of our society," said Sharon Lewis, Principal Deputy Administrator for ACL. "We are proud to work with ODEP to improve the opportunities for people with disabilities to contribute their talents and skills to the American workforce."