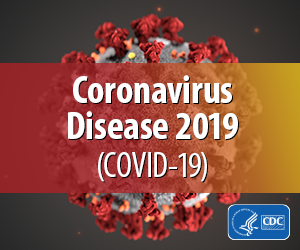 As guidance is updated, ACL will post or link to it on this page and share it through the ACL Updates email service.
If you need help finding services in your community, the Eldercare Locator can help. Visit https://eldercare.acl.gov/ or call 1-800-677-1116.
What do Older Adults and People with Disabilities Need to Know?
People who are 65 or older are more likely to have serious COVID-19 illness. This may be because immune systems change with age, making it harder to fight off diseases and infection. Older adults also are more likely to have underlying health conditions that make it harder to cope with and recover from illness.
In addition, people of any age who live in a nursing home or long-term care facility are at higher risk. 
Other people who may be at higher risk for getting very sick from COVID-19, regardless of age or disability, include:
People with chronic lung disease or moderate-to-severe asthma
People who have serious heart conditions
People with severe obesity (body mass index [BMI] >40)
People with underlying medical conditions, particularly if not well controlled, such as those with diabetes, renal failure, or liver disease might also be at risk
People who are immunocompromised. Many conditions can cause a person to be immunocompromised, including cancer treatment, smoking, bone marrow or organ transplantation, immune deficiencies, poorly controlled HIV or AIDS, and prolonged use of corticosteroids and other immune weakening medications including people receiving cancer treatment
Reducing exposure is especially important for people at higher risk of complications!
Take actions to reduce your risk of getting sick

Stay home as much as possible.
Make sure you have access to several weeks of medications and supplies in case you need to stay home for prolonged periods of time. CDC has great resources to help you plan. 
Plan now for what you will do if you, or people you rely on for support, become ill.
Wash your hands often with soap and water for at least 20 seconds, especially after blowing your nose, coughing, or sneezing, or having been in a public place.
If soap and water are not available, use a hand sanitizer that contains at least 60% alcohol.
To the extent possible, avoid touching high-touch surfaces in public places – elevator buttons, door handles, handrails, handshaking with people, etc. Use a tissue or your sleeve to cover your hand or finger if you must touch something.
Wash your hands after touching surfaces in public places.
Avoid touching your face, nose, eyes, etc.
Clean and disinfect your home to remove germs: practice routine cleaning of frequently touched surfaces (for example: tables, doorknobs, light switches, handles, desks, toilets, faucets, sinks & cell phones)
Avoid crowds, especially in poorly ventilated spaces. Your risk of exposure to respiratory viruses like COVID-19 may increase in crowded, closed-in settings with little air circulation if there are people in the crowd who are sick.
Avoid all non-essential travel including plane trips, and especially avoid embarking on cruise ships.
Words to the wise: Planning is key!
Many states and communities are implementing community actions designed to reduce exposures to COVID-19 and slow the spread of the disease. Creating a household plan can help protect your health and the health of those you care about. You should base the details of your household plan on the needs and daily routine of your household members. CDC's planning resources can help.
Everyday actions to prevent illness
You can learn more about how the virus spreads here. Everyone, regardless of age or disability, should follow CDC's recommendations to help prevent the spread of all respiratory diseases, including colds and flu and COVID-19. 
For example, CDC now recommends wearing cloth face coverings in public settings where other social distancing measures are difficult to maintain (e.g., grocery stores and pharmacies), especially in areas of significant community-based transmission. CDC has instructions for making your own and in this video, Dr. Jerome Adams, U.S Surgeon General, shows you how. 
More things you can do every day

CDC recommends wearing cloth face coverings in public settings where other social distancing measures are difficult to maintain (e.g., grocery stores and pharmacies), especially in areas of significant community-based transmission.  CDC has instructions for making your own and in this video, Dr. Jerome Adams, U.S Surgeon General, shows you how. The cloth face coverings recommended are not surgical masks or N-95 respirators. Those are critical supplies that must continue to be reserved for healthcare workers and other medical first responders. 
Stay home when you are sick, and avoid close contact with people who are sick.Comply with local social distancing recommendations!
The virus that causes COVID-19 may survive for hours or days on a variety of surfaces. Clean and disinfect frequently touched objects and surfaces, as well as visibly dirty surfaces.
Cover your cough or sneeze with a tissue, then throwing the tissue in the trash.
Avoid touching your eyes, nose, and mouth.
Wash your hands often with soap and water for at least 20 seconds, especially after going to the bathroom; before eating; and after blowing your nose, coughing, or sneezing.

If soap and water are not readily available, use an alcohol-based hand sanitizer with at least 60% alcohol. Always wash hands with soap and water if hands are visibly dirty.
For more information, see CDC's Handwashing website
For information specific to healthcare, see CDC's Hand Hygiene in Healthcare Settings.

President's Coronavirus Guidelines for America

On 3/16/20, President Trump announced The President's Coronavirus Guidelines for America: 30 Days to Slow the Spread. These are:

Listen to and follow the directions of your state and local authorities.
If you feel sick, stay home.  Do not go to work.  Contact your medical provider.
If your children are sick, keep them at home.  Do not send them to school.  Contact your medical provider. 
If someone in your household has tested positive for the coronavirus, keep the entire household at home.  Do not go to work.  Do not go to school.  Contact your medical provider. 
If you are an older person, stay home and away from other people. 
If you are a person with a serious underlying health condition that can put you at increased risk (for example, a condition that impairs your lung or heart function or weakens your immune system), stay home and away from other people.  E
Even if you are young, or otherwise healthy, you are at risk and your activities can increase the risk for others. It is critical that you do your part to stop the spread of the coronavirus:

Work or engage in schooling from home whenever possible.
If you work in a critical infrastructure industry, as defined by the Department of Homeland Security, such as healthcare services and pharmaceutical and food supply, you have a special responsibility to maintain your normal work schedule.  You and your employers should follow CDC guidance to protect your health at work.
Avoid social gatherings in groups of more than 10 people.
Avoid eating or drinking in bars, restaurants, and food courts – use drive-thru, pickup, or delivery options.
Avoid discretionary travel, shopping trips, and social visits.
Do not visit nursing homes or retirement or long-term care facilities unless to provide critical assistance.

Practice good hygiene:

Wash your hands, especially after touching any frequently used item or surface
Avoid touching your face.
Sneeze or cough into a tissue, or the inside of your elbow.
Disinfect frequently used items and surfaces as much as possible.

 * School operations can accelerate the spread of the coronavirus.  Governors of states with evidence of community transmission should close schools in affected and surrounding areas.  Governors should close schools in communities that are near areas of community transmission, even if those areas are in neighboring states.  In addition, state and local officials should close schools where coronavirus has been identified in the population associated with the school.  States and localities that close schools need to address childcare needs of critical responders, as well as the nutritional needs of children.

 ** Older people are particularly at risk from the coronavirus.  All states should follow Federal guidance and halt social visits to nursing homes and retirement and long-term care facilities.

 *** In states with evidence of community transmission, bars, restaurants, food courts, gyms, and other indoor and outdoor venues where groups of people congregate should be closed.
Watch for symptoms and emergency warning signs
COVID-19 symptoms include fever, cough, and shortness of breath. If you feel like you are developing symptoms, call your doctor.
If you develop emergency warning signs for COVID-19 get medical attention immediately. These include:

Difficulty breathing or shortness of breath
Persistent pain or pressure in the chest
New confusion or inability to arouse
Bluish lips or face
This list is not all inclusive. Consult your medical provider for any other symptom that is severe or concerning.
Follow your state's guidance
Decisions about community measures will be made by local and state officials, in consultation with federal officials as appropriate,  based on the scope of the outbreak and the severity of illness.  It's important for everyone to pay close attention to information and instructions published by states. Click on the "state-by-state links" box to find yours (and if we missed something, please send them to us through our web form.)  
State-by-state links
Information for the Aging and Disability Networks
Grant and Program Guidance
Guidance for Recipients of Discretionary Grants 

This FAQ covers the COVID-19-related questions we are hearing most often from recipients of discretionary grants. 

Older Americans Act Programs

Overarching guidance 

---

Senior Nutrition Program

This question will be added to the next update of the FAQ:

Q. Many congregate meal sites are closed. Will ACL expand the definition of "homebound" to allow home-delivered meals to be provided to the people who usually participate in congregate programs?

A. This is already allowed. Neither federal law nor ACL regulations restrict home-delivered meals to homebound individuals.  In fact, the only eligibility criteria for a home-delivered meal defined in the Older Americans Act is age – the recipient must be at least 60 years old. (ACL regulations do not further define eligibility.)

Eligibility is determined solely by the states and local entities, and states and local entities have the authority and power to waive any eligibility requirements they have established for home-delivered meals. During this emergency, ACL strongly recommends that any state or local policy that limits eligibility for home-delivered meals should be waived.

Additional Nutrition Resources

---

State Long-Term Care Ombudsman Program

---

Aging and Disability Resource Centers

---

Other Older Americans Act Programs

Assistive Technology Act Programs
For all network partners



Webinars

New! Caregiving and COVID-19 Webinar

Tuesday, April 7 from 2:00-3:00 p.m. ET

The University of Pittsburgh's National Rehabilitation Research and Training Center on Family Support will host a live webinar on caregiving and COVID-19. The webinar will address best practices for caregivers of people with disabilities or chronic illness in terms of physical health, mental health, and managing stress and anxiety during this unprecedented time. 

Registration is free, but required. A recording of the webinar will be posted online after the event.

CDC webinar for rural partners

Wednesday, April 8, 2020 at 4:00 p.m. ET

CDC will be hosting a webinar  to provide updates for rural partners, stakeholders, and communities on the coronavirus disease 2019 (COVID-19) response.

The webinar will include opening remarks by Deputy Secretary Eric Hargan and a presentation by Dr. Jay Butler (Deputy Director for Infectious Diseases, CDC) sharing guidance with partners, public health practitioners, healthcare providers, and others working to protect the health of rural communities. He will describe what CDC knows and what CDC is doing in response to this outbreak since the previous COVID-19 Update for Rural Health Partners that aired on March 23. We will also have time for questions and answers.

Registration is required. The webinar will be posted online within a week. To submit questions in advance, please e-mail ruralhealth@cdc.gov with "Rural Health Update 4/8" in the subject line. 

Wednesday, April 8, 2020 - 1:00 pm EDT

In this second of three special ADA Live! episodes, Debbie Plotnick, Vice President for State and Federal Advocacy at Mental Health America (MHA), speaks about resources available for people who may feel isolated, medical professionals, and caregivers. She will also discuss policy initiatives championed by Mental Health America.

Managing volunteer programs and outreach during COVID-19.

The SMP National Resource Center, the SHIP National Technical Assistance Center, and the Center for Benefits Access (aka the MIPPA center) have been working with the Administration for Community Living (ACL) to offer a series of webinars to help grantees manage their volunteer programs and outreach efforts during the COVID-19 crisis.

Outreach Strategies During COVID-19 Webinar

Thursday, April 9, 2:00 p.m. – 3:30 p.m. ET

This webinar provides an opportunity for SMP, SHIP, and MIPPA grantees to get together to share their concerns and, more importantly, their strategies and practices about how to do outreach, counseling, and benefits enrollment during the COVID-19 outbreak.  While the focus of this webinar will be on examples for SMP, SHIP, and MIPPA all ACL grantees are welcome to join and participate. 

Living With COVID-19 Webinar: A Guide for Volunteer Programs

Monday, April 13, 2:30 p.m. – 4:00 p.m. ET

COVID-19 is an unprecedented event. No disaster or disease has ever affected volunteering to the extent that will likely occur in the next few months. In this webinar, Steve McCurley will take attendees through some preliminary discussion of the likely impact of COVID-19 on volunteers and volunteer programs and highlight some of the major issues around which grantees need to begin planning. While the focus of this webinar will be on examples for SMP, SHIP, and MIPPA all ACL grantees are welcome to join and participate. 

New! COVID-19 and the Americans with Disabilities Act (ADA): Access to programs and services  

Thursday, April 9, 2020, 2:00 PM ET

The NIDILRR-funded Great Lakes ADA Center is hosting a webinar with representatives from the U.S. Department of Justice's Disability Rights Section to address issues impacting people with disabilities during the current COVID-19 pandemic. Speakers will look at common questions regarding effective communication, health care services, transportation, modifications in policies and procedures, eligibility criteria, access to programs and services, and more. 

 Preventing Medicare Fraud – from the Senior Medicare Patrol resource center

CARES Act Assistance for Small Businesses (including non-profit organizations)

Assistance for Small Businesses:

The Paycheck Protection Program ensures that small businesses can continue to pay employees and cover costs during this unprecedented health crisis. For up to eight weeks, this program can be used to cover the entire cost of payroll and other eligible expenses.

Private non-profit organizations are eligible for the Paycheck Protection Program.

Resources from the Department of the Treasury:

Small Business Paycheck Protection Program Overview Information for Borrowers Application for Borrowers

 

Private non-profit organizations are eligible for the Paycheck Protection Program.

For schools using online tools for distance learning

On March 17, the Department of Education released a webinar on ensuring web accessibility for students with disabilities for schools utilizing online learning, as well as a fact sheet on how to protect students' civil rights as school leaders take steps to keep students safe and secure. These resources will assist education leaders in making distance learning accessible to students with disabilities and in preventing discrimination during this Administration-wide response effort

Telehealth flexibilities and resource for long-term care facilities

The Department of Health and Human Services has expanded to telehealth access to combat COVID-19.

Medicaid COVID-19 guidance:  HCBS waivers, nursing home visitation, telehealth & more 

CMS's COVID-19 web page includes a variety of resources for the networks:

Planning for COVID-19 in your community

Capacity-Building Toolkit for including Aging & Disability Networks in Emergency Planning

ACL worked with the HHS Office of the Assistant Secretary for Preparedness and Response, the National Association of County and City Health Officials (NACCHO) and the Association of State and Territorial Health Officials (ASTHO) to create this resource to guide the aging and disability networks in increasing their ability to plan for and respond to public health emergencies and disasters.

The Toolkit can help emergency managers and public health officials to understand the capabilities and expertise of CBOs within the aging and disability networks and welcome their partnership in emergency planning activities.

While the Toolkit is not specifically focused on COVID-19, its recommendations and resources apply to a wide range of emergency situations. Module Three, which begins on page 21, specifically addresses preparing for public health emergencies, including infectious disease.

Get your Organization Ready - CDC Interim Guidance

This interim guidance is intended to help community-based organizations plan for COVID-19 in their communities. Although it does not answer all the questions we know  the aging and disability networks have, it addresses many of those we have heard most frequently.  
More Resources 
From the Federal Government 
Stay on top of the latest information from the official White House COVID-19 Task Force.

USA.gov 

USA.gov has a directory of COVID-19 websites managed by government agencies. 

Health information from CDC 

CDC's COVID-19 web page includes a number of resources, including specific guidance for:

CDC Video

Protecting Civil Rights of People with Disabilities

On March 28, the HHS Office of Civil Rights published OCR Bulletin: Civil Rights, HIPAA, and the Coronavirus Disease 2019 (COVID-19) to ensure that entities covered by civil rights authorities keep in mind their obligations under laws and regulations that prohibit discrimination on the basis of race, color, national origin, disability, age, sex, and exercise of conscience and religion in HHS-funded programs. 

The bulletin states that, "…persons with disabilities should not be denied medical care on the basis of stereotypes, assessments of quality of life, or judgments about a person's relative "worth" based on the presence or absence of disabilities or age. Decisions by covered entities concerning whether an individual is a candidate for treatment should be based on an individualized assessment of the patient and his or her circumstances, based on the best available objective medical evidence."

Behavioral health resources to help during social distancing and quarantine 

Information for Medicare beneficiaries

Medicare.gov's COVID-19 page includes information for beneficiaries.  A few key things:

Beware of fraud and scams 

FTC Guidance: Scammers are taking advantage of fears surrounding COVID-19.  

Tips to help keep them at bay:

Don't click on links from sources you don't know. They could download viruses onto your computer or device. Watch for emails claiming to be from the Centers for Disease Control and Prevention (CDC) or experts saying that have information about the virus.
For the most up-to-date information about the Coronavirus, visit the Centers for Disease Control and Prevention (CDC) and the World Health Organization (WHO).
Ignore online offers for vaccinations. There currently are no vaccines, pills, potions, lotions, lozenges or other prescription or over-the-counter products available to treat or cure Coronavirus disease 2019 (COVID-19) — online or in stores.
Do your homework when it comes to donations, whether through charities or crowdfunding sites. Don't let anyone rush you into making a donation. If someone wants donations in cash, by gift card, or by wiring money, don't do it.
More details can be found by clicking here. 

Investor Alert: Look Out for Coronavirus-Related Investment Scams

Department of Justice Guidance on Reporting Fraud

The Department of Justice is remaining vigilant in detecting, investigating, and prosecuting wrongdoing related to the crisis. If you think you are a victim of a scam or attempted fraud involving COVID-19, you can report it without leaving your home:

Another resource to help older adults, and their family and friends, is the National Elder Fraud Hotline at 833–FRAUD–11 (833–372–8311).

More COVID-19 information from the Department of Justice.

Mail Scams

The United States Postal Inspection Service is tracking and providing resources on coronavirus-related scams. If you've encountered a coronavirus scam, and the U.S. Mail® has been used in any way, the United States Postal Inspection Service wants to help. Please report the crime using their online form. 

IRS warning: watch out for schemes tied to economic impact payments

The Internal Revenue Service is urging taxpayers to be on the lookout for a surge of calls and email phishing attempts about the Coronavirus, or COVID-19. These contacts can lead to tax-related fraud and identity theft.

Scammers may:

Emphasize the words "Stimulus Check" or "Stimulus Payment." The official term is economic impact payment.
Ask the taxpayer to sign over their economic impact payment check to them.
Ask by phone, email, text or social media for verification of personal and/or banking information saying that the information is needed to receive or speed up their economic impact payment.
Suggest that they can get a tax refund or economic impact payment faster by working on the taxpayer's behalf. This scam could be conducted by social media or even in person.
Mail the taxpayer a bogus check, perhaps in an odd amount, then tell the taxpayer to call a number or verify information online in order to cash it.

The IRS also reminds retirees who don't normally have a requirement to file a tax return that no action on their part is needed to receive their $1,200 economic impact payment. Seniors should be especially careful during this period. 

Taxpayers are encouraged not to engage potential scammers online or on the phone. Learn more about reporting suspected scams by going to the Report Phishing and Online Scams page on IRS.gov.

Official IRS information about the COVID-19 pandemic and economic impact payments can be found on the Coronavirus Tax Relief page on IRS.gov. 

New! CARES Act Economic Impact Payments for Individuals and Businesses

On March 27, the President signed the Coronavirus Aid, Relief and Economic Security Act, or CARES Act, into law. The law provides This law provides direct payments to individuals and support to small businesses.

Economic Impact Payments for Individuals

Eligible individuals will receive economic impact payment of up to $1,200 for individuals or $2,400 for married couples and up to $500 for each qualifying child. In a recent blog post, the Social Security Administration provided some clarification about how the payments will be processed for beneficiaries. Two key points:

Social Security beneficiaries who receive an SSA-1099 or a RRB-1099  will not need to file an abbreviated tax return to receive an Economic Impact Payment. (This FAQ on the IRS website provides additional information about how these payments will be deposited.)
SSA is working with Treasury to address the outstanding questions about how SSI recipients will receive payments. Important note for SSI recipients:  Economic impact payments will not count as income, and the payments are excluded from resources for 12 months. 

Assistance for Small Businesses:

The Paycheck Protection Program ensures that small businesses can continue to pay employees and cover costs during this unprecedented health crisis. For up to eight weeks, this program can be used to cover the entire cost of payroll and other eligible expenses.

Private non-profit organizations are eligible for the Paycheck Protection Program.

Resources from the Department of the Treasury:

Private non-profit organizations are eligible for the Paycheck Protection Program.

Financial Tips From the Consumer Financial Protection Bureau 

The Consumer Financial Protection Bureau has resources to protect and manage your finances during the COVID-19 emergency. Some of the resources are specifically for those facing financial difficulties as a result of the pandemic.
Resources from our non-federal partners
The COVID-19 situation is fast-moving, and what people need to know is changing fast as well. In the interest of providing information as quickly as we can, we are sharing resources created by our partners in the aging and disability networks and non-governmental agencies when a comparable resource from a government source does not exist. This does not constitute endorsement for one organization over another or indicate support for opinions expressed by the organizations.
For family caregivers

New! Remote Communication Tools

The National Council on Aging (NCOA) has developed a detailed overview of remote video communication options titled, Tools for Reaching a Remote Audience. NCOA provides pros and cons for each tool, including Facebook Live, Google Hangouts, Zoom and several others. Links to additional information are included in the document. This resource is a convenient first stop for people wanting to connect to each other remotely and also includes information about tools that can be used for meetings and presentations.

Information for people with developmental disabilities and self-advocates

The ACL-funded Self-Advocacy Resource and Technical Assistance Center (SARTAC) and Green Mountain Self-Advocates have created a series of plain language resources for people with developmental disabilities:
New! The Washington State Developmental Disabilities Council worked with self-advocate Ivanova Smith to create "What in the World is Going On? Plain talk for Pandemic Times."
New! The Michigan Developmental Disabilities Institute at Wayne State University has compiled self-care resources addressing physical, mental, emotional, and spiritual well-being
University of North Carolina: Supporting Individuals with Autism Through Uncertain Time
New! People First WIsconsin has videos with fun things to do online and  tips to stay healthy during the coronavirus pandemic.
New! The California State Council on Developmental Disabilities has fact sheets for people with disabilities, including:

Emergency communications tools for people who do not use verbal communication

Emergency communication tool from Temple University Institute on Disabilities: Communication during times of emergency is critical. However, many individuals may not use verbal communication due to their disability, injury, or shock. These communication tools may be used during times of emergency when spoken English or Spanish may not be an option.
The UConn Center for Excellence in Developmental Disabilities has developed a flipbook provides communication strategies for addressing the needs of people who do not communicate through speech to express themselves and/or to understand what is being said to them. Aids include an emergency QWERTY board for typing, pain charts, sign language basics, and icon-based options. It can be printed out and hung inside emergency vehicles for easy reference on the job.
New! The Patient-Provider Communication Forum, with the support of the United States Society of Augmentative and Alternative Communication (USSAAC), is providing a free bank of communication supports to patients and their health care workers during the coronavirus pandemic.
 

For people with paralysis  

The Paralysis Resource Center, an ACL grantee, has created this resource for people living with paralysis. See also:

Updated: Resources for Health Professionals and First Responders

AADMD Resources for Those Serving People with Intellectual and Developmental Disabilities

AADMD's Coronavirus Center is a resource and knowledge-sharing hub for individuals, caregivers, and, in particular, health care workers serving people with intellectual and developmental disabilities.

Tips for First Responders

Tips for First Responders was developed by the University of New Mexico, Center for Development and Disability, the American Association on Health and Disability, and other partners offers quick, easy-to-use procedures for assisting people with disabilities in
an emergency. The guide includes specific tips to support:

Seniors
People with service animals
People with mobility impairments
People with Autism
People who are deaf or hard of hearing
People who are blind or visually impaired
People with cognitive disabilities
People with multiple chemical sensitivities
People who are mentally ill
Childbearing women and newborns
People With Seizure Disorders

Resources for LGBT Older Adults and People Living with HIV

New! Accessibility at Drive-Thru Medical Sites

Drive-thru medical sites are one way that hospitals and health departments provide intermittent medical services with greater ease and/or safety for their patients. The sites are especially useful for medical testing during times of an outbreak since keeping patients in vehicles can help to minimize exposure to a contagious disease.

Whether these drive-thru medical services are funded/operated by the state, county, or city or a private business, the Americans with Disabilities Act (ADA) requires that the services are accessible to people with disabilities. The Northwest ADA Center has created a fact sheet that lists considerations and strategies to promote accessibility at drive-thru medical sites.

Fact sheet for older adults and people with disabilities

Common Questions and Answers About COVID-19 for Older Adults and People with Chronic Health Conditions, created by the Alliance for Aging Research and the National Foundation for Infectious Diseases.

Cross-disability resources from the Southeast ADA Center

The NIDILRR-funded Southeast ADA Center is regularly updating a list of resources for people with disabilities.
American Sign Language
COVID-19 resources are now available in American Sign Language on CDC's YouTube page:
En Español
Ver más