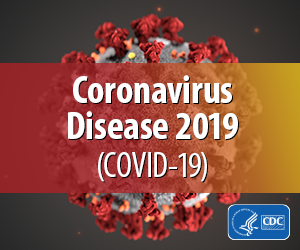 ---
What's New (Dec 30 - January 19)
Here are the latest additions to this page. Sign up for ACL Updates to receive these and other updates via e-mail.
In the section "Economic Impact Statements" we have added a link to an FTC article that explains that the latest round of economic impact checks are meant for "the PERSON, not the place they might live." (Posted Jan. 13)

We've added a new section to this page, titled "Vaccination Information."  In the new section, you will find up-to-date resources related to vaccinations. We have also added links to state-specific vaccination resources; see the "Follow your state's guidance" section to learn about vaccinations in your state. Scroll down to learn more. (Posted Jan. 11)

The Traumatic Brain Injury Technical Assistance Resource Center has published slides from their December 18 webinar, "Telehealth During a Pandemic: Maintaining Accessible Services." (Posted Jan. 7)

The National Center for State Courts, the American Bar Association, and the National Guardianship Association have released a two-page brochure addressing common questions about guardians and the COVID-19 vaccine for long-term care facility residents. (Posted Jan. 4)

ACL and CMS are hosting a webinar on Thursday, January 14 at 3:00 pm ET on reducing food insecurity and nutrition-related chronic diseases during the COVID-19 pandemic among Medicaid HCBS beneficiaries. (Posted Dec. 30)
What do Older Adults and People with Disabilities Need to Know?
Your risk of serious COVID-19 illness may be increased
It is particularly important for you to avoid exposure and be aware of the symptoms and emergency warning signings.  Not sure whether you should seek medical attention?  CDC's COVID-19 home page includes a Self-Checker tool to help you make decisions. 
Stay safe -- and protect others!
Everyone, regardless of age or disability, should follow CDC's recommendations to help prevent the spread of the virus.
Stay Connected and Engaged
Staying at home and social distancing are critical to avoiding exposure to the virus, but social isolation and loneliness can be a devastating result. In fact, a study showed that they can be as bad for your health as smoking 15 cigarettes a day.  There are many ways to stay engaged, active and connected--both with and without technology. These resources can help you get started. (Some of them were created with older adults in mind, but the suggestions and resources they offer are good for people of any age.)
Vaccination Information
Vaccinations will help prevent the spread of COVID-19 and bring this pandemic to an end. As additional Americans get vaccinated over the next few months, it is important to continue to follow public health safety measures. Wear a mask, wash your hands, and watch your distance to protect yourself, your loved ones, and your community.
The Food and Drug Administration has authorized two COVID-19 vaccines and the Advisory Committee on Immunization Practices (ACIP) has developed recommendations on how vaccines could be allocated. States and territories are now distributing the vaccines, you can find information on vaccine distribution in your state in the "Follow your state's guidance" section of this page (scroll down to locate this section).
Follow your state's guidance
Decisions about community measures will be made by local and state officials, in consultation with federal officials as appropriate,  based on the scope of the outbreak and the severity of illness. It's important for everyone to pay close attention to information and instructions published by states. States are also the best source or information for the latest information on vaccine allocation and availability in your community.
For the Aging and Disability Networks
The links and resources in this section are available to anyone, but they are specifically intended for  organizations that serve older adults and people with disabilities, particularly those who receive funding from ACL. 
Resources for Reopening
Reopening timelines and progress will be different from state to state, and one size won't fit all, but in this section, we'll share guidelines and information to help as your state establishes its "new normal."
Adapting to a "New Normal"
Many Americans are adjusting to a "new normal" as a result of the COVID-19 – one that balances the critical need to prevent the spread of coronavirus with the other factors that also affect health and well-being. The pandemic has also brought about both positive and negative long-term changes that will outlast the virus itself.
Promising Practices - Highlights from the network
There isn't enough space to list all of the outstanding examples of how the aging and disability networks are adapting and innovating to meet the needs of older adults and people with disabilities, but this is a small sampling of some of them.
Guidance for ACL Programs
Guidance from other federal programs
More resources for organizations that serve older adults and people with disabilities
Resources for Everyone 
The COVID-19 situation is fast-moving, and what people need to know is changing fast as well. In the interest of providing information as quickly as we can, we are sharing resources created by our partners in the aging and disability networks and non-governmental agencies when a comparable resource from a government source does not exist. This does not constitute endorsement for one organization over another or indicate support for opinions expressed by the organizations.
About COVID-19 overall
Protecting civil rights 
Protecting Personal Finances
For Medicare, Medicaid, Social Security and SSI beneficiaries
More resources
American Sign Language
CDC COVID-19 resources are now available in American Sign Language via YouTube. You can see the entire Playlist on YouTube  (20 videos, as of April 28) or browse by topic:
The National Association of the Deaf is compiling a list of other coronavirus-related ASL videos. 
En Español