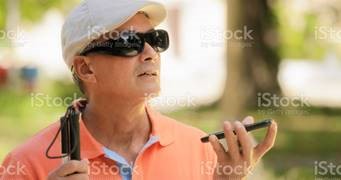 There are countless apps – many of them free -- available to help people who are blind or who have low vision. 
Some are single-purpose – for example there are a number of apps that magnify and illuminate text and objects, tools that map ATM locations, clocks that tell you what time it is audibly, and more  (more examples of tools that were developed for people with disabilities but which benefit people without disabilities, too.)
Others have more complex identification capabilities thanks to artificial intelligence. Microsoft's Seeing AI (iOS only) can translate a wide range of visual experiences into audio. For example, it can read text in real time, identify the denomination of paper money, scan documents, describe people – including their emotions, identify products by their bar codes, describe images from other apps, identify colors, and more.  iDentifi and TapTapSee (both iOS only) allow the user to take a photo and get an instant description.  Facing Emotions (Android only) translates facial expressions of emotions into corresponding sounds. 
Still others connect visually impaired users to sighted volunteers for assistance with things like checking expiration dates on food, distinguishing colors, reading instructions and more.  Be My Eyes connects users and volunteers via live video calls, while BeSpecular allows users to send a photo and voice message to a community of volunteers to quickly get a description.
The wide range of options make it possible for users who are blind or visually impaired to create an individual toolbox with the apps that meet their individual needs to help them navigate the world independently.