October 28, 2014
By Christopher Coleman, CEO and Founder of the Unconfined Life Institute
For the fourth and final blog in observance of National Disability Employment Awareness Month, we invited author and disability rights advocate Christopher Coleman to share his story. Mr. Coleman, who was born with cerebral palsy, has overcome many barriers to realize his personal and professional dreams. His story illustrates the challenges people with disabilities face in the workforce and the potential they have to inspire and lead others.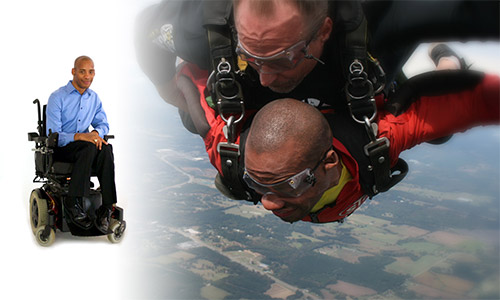 Everyone is confined in some aspect. From the moment I was born, and pronounced dead, my life has been one miraculous breakthrough after another. Doctors thought I would never talk, move or even think for myself. With determination I taught myself how to read, graduated top of my high school class and became the first to graduate college in my family. Few thought I'd be able to move to a major city alone, become a homeowner, and successfully jet-set around the country to conduct business. Even though I live my life in a wheelchair, I realize that it's not my disability that confines me. Society's response to equality, inclusion and diversity is what confines us all.
A person can be confined personally, physically, spiritually, professionally, and financially. We all have boxes people put us in, lines that we draw, and imaginary walls that we believe to be real. Knowing this is why I have accepted the responsibility of being America's "Unconfined Life Coach," motivational speaker, author and confidence-builder. As a result I founded the Unconfined Life Institute, a nonprofit organization that helps individuals break out of the things that confines them. As I begun to build my career, I realized that the boxes are smaller and stronger, the lines are more defined, and the imaginary walls are more vivid for an individual with a disability.
My small box was a speech impediment. Many encouraged me not to pursue a career as an effective communicator on large and prestigious platforms, only youth. Some boxes cannot be busted out of. Instead we have to slowly poke small holes into one side of it. The accumulation of these small holes will eventually connect and form one big hole that can be used to escape. When I spoke to groups of teens, I knew there would be adult leaders at each of these events. Therefore, my presentations contained a universal message that could easily carry over into the lives of adults. The adults in those rooms were also members of adult groups and were key people in the workplace. Over time I found myself being invited to step out of the box and serve as a consultant to major corporations. These organizations found my message to be as valuable and important as any other motivational speaker's message. The small box that I was confined to collapsed due to the many small holes I had poked into it over the years.
I thought it was necessary for me to draw a line very early on in my career and take a realistic approach to life. I knew as an individual with a severe disability that I could only go so far on my own. It is important to have people on the other side of the line who believe you should be there as well. Those who helped me enter the corporate world became my advocates, advisors, and board members. They pulled me across the line I drew in my own life.
The imaginary wall I had in my career was the toughest to break free from because it was built on belief. Having Christian beliefs made me think being open with my sexuality would play a negative role in my career. I imagined all of the negativity that would come out of being open about my same sex attraction. However, I learned that the most effective way to tear down an imaginary wall is to dream beyond it. Now my dream is to be an icon for diversity, equality, inclusion, and unconditional love. So I am marketing myself to companies who have torn down these walls in their own organizations.
I believe for anyone to be unconfined vocationally and financially they must do three things: be dedicated to poking holes in the sides of the boxes that people may put them in; be creative in crossing the lines that have been drawn for or by them; and dream beyond the imaginary wall that limits potential. This process can be done within the workplace. For others, like myself, entrepreneurship may be the best avenue. Whatever the avenue is, keep on that path. It will lead you to an unconfined career.
As with all guest contributions to the ACL website, this blog reflects the experiences and thoughts of the author. Find more information about guest content on the ACL site.