ACL was established on April 18, 2012, bringing together federal advocacy for older adults and people with disabilities, along with most federal human services programs for older people and people of all ages with intellectual and developmental disabilities. The agency grew quickly, with the transfer of programs with similar missions from other agencies, including independent living, assistive technology, and traumatic brain injury programs; paralysis and limb-loss resource centers; programs that help people navigate their Medicare benefits and the health care system; and the federal government's primary disability research organization.
This work has never been more important. There are more than 77 million people who are 60 or older, and 61 million people with disabilities living in the United States, and both populations are growing. Community living is overwhelmingly preferred by older adults and people with disabilities, and people are generally happier and healthier when they live in their own communities. Expanding community living also is critical to lowering health care costs – in most cases, it costs less to provide the services and supports people need to live in the community than it costs to provide institutional care.

Finally, this work affects all of us -- more than two-thirds of us will need assistance with daily activities as we age, and one in seven of us is providing that support to an older adult or person with a disability living in the community. At some point in our lives, nearly all of us will either need or provide the assistance that makes community living possible.
To commemorate our first ten years – and look ahead to all we can achieve in our next decade – we are kicking of a season of celebration. Watch this site for more information!
---
 Watch the (virtual) celebration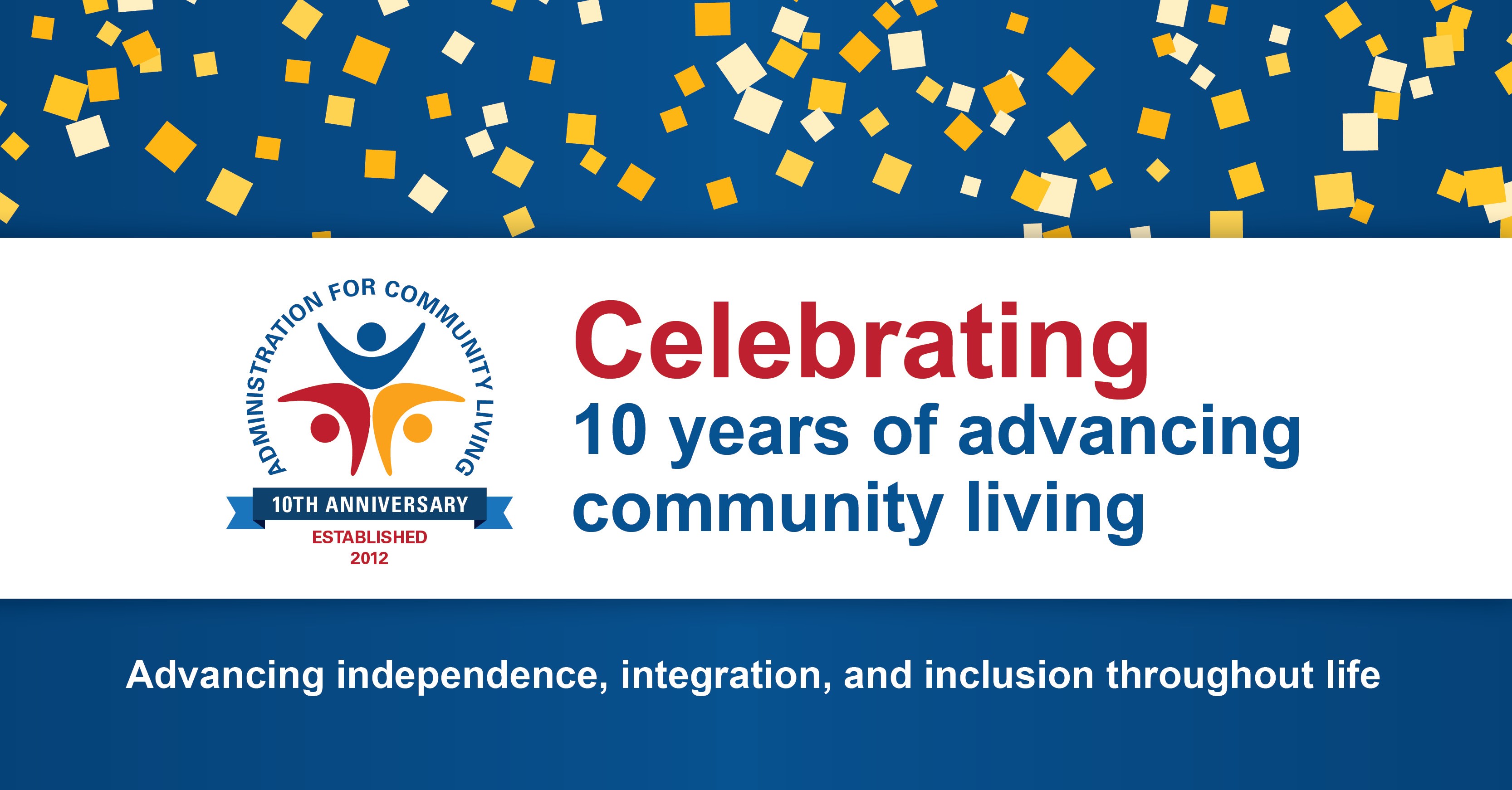 On Tuesday, April 26, we gathered virtually to celebrate ACL's first ten years, explore the opportunities in front of us and what we're doing to take advantage of them, and look ahead to what's needed to achieve our vision for the future of our country: community living as the expectation for all people, true inclusion and integration of older adults and people with disabilities in our communities, and the aging and disability networks working together to advance both. 

Hosted by ACL Acting Administrator Alison Barkoff, the event included remarks by HHS Secretary Xavier Becerra and the White House Domestic Policy Council's Jessica Schubel and two panel discussions with national leaders from the aging and disability communities. 
The first panel, moderated by ACL's Deputy Assistant Secretary for Aging Edwin Walker, included ACL's co-founders. Kathy Greenlee, Henry Claypool and Sharon Lewis talked about how they came together to form ACL, key accomplishments during the early years and unfinished business, and more.  
The second panel, moderated by Executive Director of the National Academy of Elder Care Attorneys Grace Whiting, featured three leaders from the Care Can't Wait coalition.  Ai-jen Poo, Co-founder and Executive Director of the National Domestic Workers Alliance; Kevin Prindiville, Executive Director of Justice in Aging; and Maria Town, President and CEO of the American Association of People with Disabilities. The panel talked about the coalition's intersectional approach to building a caregiving infrastructure, strategies for unifying stakeholders around shared issues, and how ACL can continue to serve as a catalyst for building those partnerships. 
You can watch the recording on HHS' Twitter, read HHS Secretary Xavier Becerra's remarks on HHS.gov and join the conversation on Twitter using #ACL10.
---
A Decade in Review
In celebration of ACL's 10th anniversary, we've pulled together some of the most significant milestones, accomplishments, and shaping events from our first decade, as well as some highlights of the work we are doing today.
Join the Celebration!
We've made it easy with social media graphics and sample posts. #ACL10