RAISE Family Caregiving Advisory Council
RAISE Family Caregiving Advisory Council
 Related news: Executive Order Expands Access to Community Living Services, Supports Family Caregivers
"I know that we will create a better future for our American families because we will do it with love, understanding, experience and without a doubt with the grit and determination that every loved one brings to caregiving for their family."  Secretary Xavier Becerra
______________________________________________________________________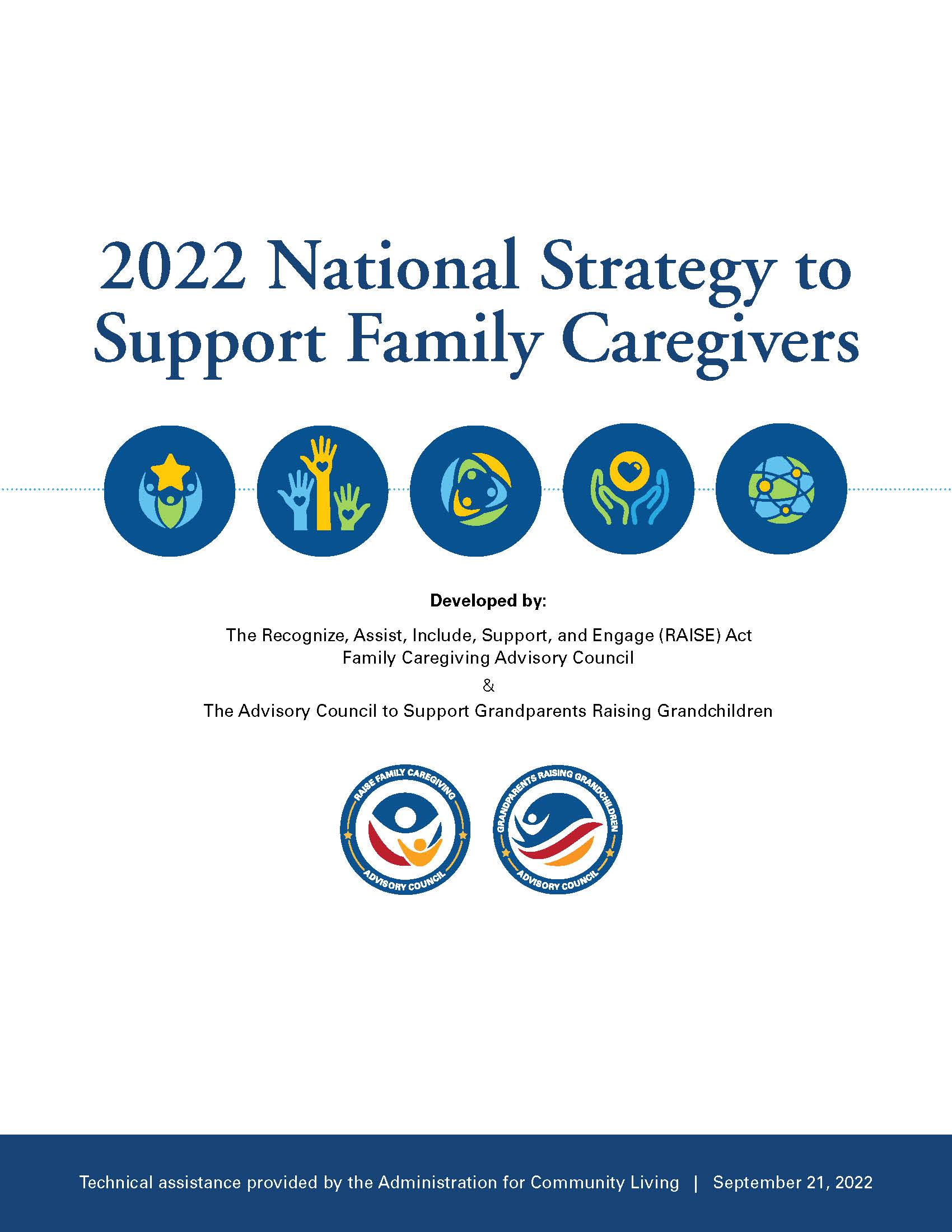 On September 21, 2022, the 2022 National Strategy to Support Family Caregivers was delivered to Congress. The Strategy includes nearly 350 actions the federal government will take to support family caregivers in the coming year and more than 150 actions that can be adopted at other levels of government and across the private sector to begin to build a system that ensures family caregivers – who provide the overwhelming majority of long-term care in the United States– have the resources they need to maintain their own health, well-being, and financial security while providing crucial support for others. The strategy was developed jointly by the advisory councils established by the Recognize, Assist, Include, Support, and Engage (RAISE) Family Caregivers Act and the Supporting Grandparents Raising Grandchildren (SGRG) Act, with extensive input from family caregivers, the people they support and other stakeholders.
---
Previous Publications
On September 22, 2021, the RAISE Family Caregiving Advisory Council released its initial report to Congress. This report outlines the challenges faced by family caregivers, federal programs currently available to support them, and provides 26 recommendations for better supporting family caregivers.The recommendations will form the foundation of the National Family Caregiving Strategy, which will include action steps to increase recognition and support for family caregivers.
On November 18, 2020, the Family Caregiving Advisory Council adopted twenty-six recommendations aimed at establishing a national approach to addressing the needs of family caregivers of all ages and circumstances.
---
The RAISE Family Caregivers Act, which became law on Jan. 22, 2018, directs the Secretary of Health and Human Services to develop a national family caregiving strategy. The strategy will identify actions that communities, providers, government, and others are taking and may take to recognize and support family caregivers, and will include:
Promoting greater adoption of person- and family-centered care in all healthcare and long-term service and support settings, with the person and the family caregiver at the center of care teams
Assessment and service planning (including care transitions and coordination) involving care recipients and family caregivers
Information, education, training supports, referral, and care coordination
Respite options
Financial security and workplace issues
Full Statute - RAISE Family Caregivers Act  
With support from The John A. Hartford Foundation, the National Academy of State Health Policy (NASHP) created the RAISE Act Family Caregiver Resource and Dissemination Center to:
Develop family caregiving resources for state and federal policymakers and other stakeholders;
Provide support to the council and its subcommittee member as they craft policy recommendations;
Convene experts and thought leaders to provide perspectives and expertise to the council; and
Support states as they develop policies to address family caregiver issues.
---
RAISE Family Caregiving Advisory Council
To support the development and execution of the strategy, the RAISE Act also directed the establishment of the Family Caregiving Advisory Council. The council is charged with providing recommendations to the Secretary of Health and Human Services on effective models of both family caregiving and support to family caregivers, as well as improving coordination across federal government programs.
The law specified that the council must include up to 15 voting members who reflect the diversity of family caregivers and people who receive support, with at least one from each of the following constituencies:
Caregivers
Older adults who need long-term services and supports
Individuals with disabilities
Health care and social service providers
Providers of long-term services and supports
Employers
Paraprofessional workers
State and local officials
Accreditation bodies
Veterans 
In addition, the council includes non-voting representatives from federal departments and agencies who play role in these issues.
Advisory Council Members
Non-federal members

Coming soon.

Federal members

Coming soon.
ACL RAISE Family Caregiving Advisory Council Progress Report
RAISE Family Caregivers Act: Progress Toward a National Strategy to Support Family Caregivers
---
You may also be interested in...
Last modified on 07/21/2022
Next Full Advisory Council Meeting 
To be announced
Past Full Advisory Council Meetings
September 2022

On September 21, 2022, the RAISE Family Caregiving Advisory Council and the Advisory Council to Support Grandparents Raising Grandchildren held their second joint meeting to announce the release of the first-ever National Strategy to Support Family Caregivers.

January 2022

The RAISE Family Caregiving Advisory Council and the Advisory Council to Support Grandparents Raising Grandchildren held their first joint meeting on January 25, 2022 to begin the development of the National Family Caregiving Strategy.

 

September 2021

On September 21,2021 the RAISE Family Caregiving Advisory Council (FCAC) convened for its ninth meeting. The primary focus of the meeting was to discuss the release and dissemination of the Initial Report to Congress on Wednesday, September 22, 2021. .  Representatives from the White House Domestic Policy Council and the National Alliance for Caregiving provided insight on key priorities of the administration, as well as other emerging legislative initiatives that impact family caregiving in the US, as the Council's attention shifts to its next task of developing a National Family Caregiving Strategy.

April 2021

On April 28, 2021, the RAISE Family Caregiving Advisory Council (FCAC) convened for their eighth full council meeting.  Alison Barkoff, Acting Administrator and Assistant Secretary for Aging, Administration for Community Living (ACL), called the meeting to order.  Acting Administrator Barkoff welcomed members and other participants to the meeting, providing a detailed introduction of herself to the members while thanking them personally and collectively for the work they have done since they first met in August 2019.

Representatives from the Older Adults' Equity Collaborative (OAEC) gave a presentation about how to ensure access and equity in aging services programs, particularly when working with caregivers. The OAEC speakers represented the following organizations:

MHP Salud
National Asian Pacific Center on Aging (NAPCA)
National Indian Council on Aging (NICOA)
National Center and Caucus on Black Aging (NCBA)
SAGE - Advocacy & Services for LGBT Elders Center for Healthy Aging
New York Academy of Medicine

Carol Regan, Senior Advisor at Community Catalyst and Dr. Pamela Nadash, Associate Professor in the Department of Gerontology, McCormack Graduate School at the University of Massachusetts, Boston shared their findings from the stakeholder listening sessions. 

The three Council Co-chairs facilitated the Council's discussion about the final draft of their Report to Congress.

The meeting concluded with an expression of appreciation to Council members for what they have accomplished while reminding them about next steps involving development of the Family Caregiving National Strategy, which will be discussed in Council's subcommittees meetings in May 2021.

For additional information please see the meeting summary link below.

January 2021

The RAISE Family Caregiving Council met virtually for its seventh meeting on January 19, 2021. The National Academy for State Health Policy provided an overview of various state Medicaid programs supporting the needs of family caregivers. Community Catalyst presented the feedback collected from family caregivers of diverse age, race, ethnicity, employment status, and family structure, with additional tailored groups such as Latinx, teen, and grandparent caregivers over the course of 15 listening sessions.  

November 2020

On November 18, 2020, the council held a groundbreaking meeting to finalize and approve the recommendations for their report to Congress. In recognition of Caregiver Month Mike Wittke, Senior Director of Public Policy and Advocacy with the National Alliance for Caregiving, provided an overview of the Caregiver Vignette Project which highlights the stories of 27 caregivers across the Nation.

August 2020

On Wednesday, August 12, 2020, the RAISE Family Caregiving Advisory Council convened its fifth full council meeting via webinar.  Lance Robertson, ACL Administrator and Assistant Secretary for Aging expressed gratitude to the members for the progress they have made so far on drafting the Report to Congress and the National Family Caregiving Strategy.  Although Alex Azar, Secretary of Health and Human Services was not able to attend, he addressed the council via video, expressing gratitude for their diligent work in support of family caregivers, and the progress made over the past year. Helen Lamont and Katie Brandt, of the National Alzheimer's Project Act Advisory Council, also provided an overview of the project, key similarities with the RAISE Act, opportunities, and cross-cutting recommendations to improve long term services and support for family caregivers.

July 2020

The RAISE Family Caregiving Advisory Council held their fourth full council meeting via webinar on July 16. ACL Administrator and Assistant Secretary for Aging, Lance Robertson, provided opening remarks for the meeting, noting, "…the level of support for caregivers has never been larger than it is now". The speakers for this meeting provided expert insight into "Medicare and Family Caregivers" and "Medicaid and State Programs."  These presentations provided an abundance of information. Closing out the meeting, council members engaged in an interactive workshop on the initial report to Congress.

 

May 2020

The RAISE Family Caregiving Advisory Council held its third full council meeting, via webinar, on May 20th and 21st.

Please visit the links below to view the meeting agenda, presentations, live stream recording, and a summary of the meeting.

Agenda Presentation (Coming Soon) Live Stream Recording 

May 20: https://www.youtube.com/watch?v=0JHuKYRSGCw

May 21: https://www.youtube.com/watch?v=6Oe4zukIGak

 

February 11 - 12, 2020

The RAISE Family Caregiving Advisory Council held its second full council meeting via webinar on February 11th and 12th.

 

August 28 - 29, 2019

RAISE Family Caregiving Advisory Council

The first Family Caregiving Advisory Council meeting took place August 28-29, 2019 in Washington, DC.

Please visit the links below to view the live stream recording and other meeting materials.

Agenda

Family Caregiving Advisory Council (FCAC) Meeting (PDF 454kb)

 

Meeting Pictures

RAISE Council Photos RAISE and SGRG Joint Session Photos

Resources and Materials

Annotated Resources (PDF 150kb) Materials (PDF 318kb)

Meeting Summary

RAISE Family Caregivers Act Council Meeting Summary (DOCX 96kb)

Live Stream Recordings

Family Caregiving Advisory Council (FCAC)
August 2019 | Day 1, Part 1 Family Caregiving Advisory Council (FCAC)
August 2019 | Day 1, Part 2 Family Caregiving Advisory Council (FCAC)
August 2019 | Day 1, Part 3 Family Caregiving Advisory Council (FCAC)
August 2019 | Day 1, Part 4 Family Caregiving Advisory Council (FCAC)
August 2019 | Day 2, Part 1 Family Caregiving Advisory Council (FCAC)
August 2019 | Day 2, Part 2