Supporting Grandparents Raising Grandchildren
Supporting Grandparents Raising Grandchildren
"Both kinship and grandparents provide leadership, loving and stable homes for millions of children, those with disabilities, those who cannot — who remain with their household and it is important that we recognize that." —Secretary Xavier Becerra
______________________________________________________________________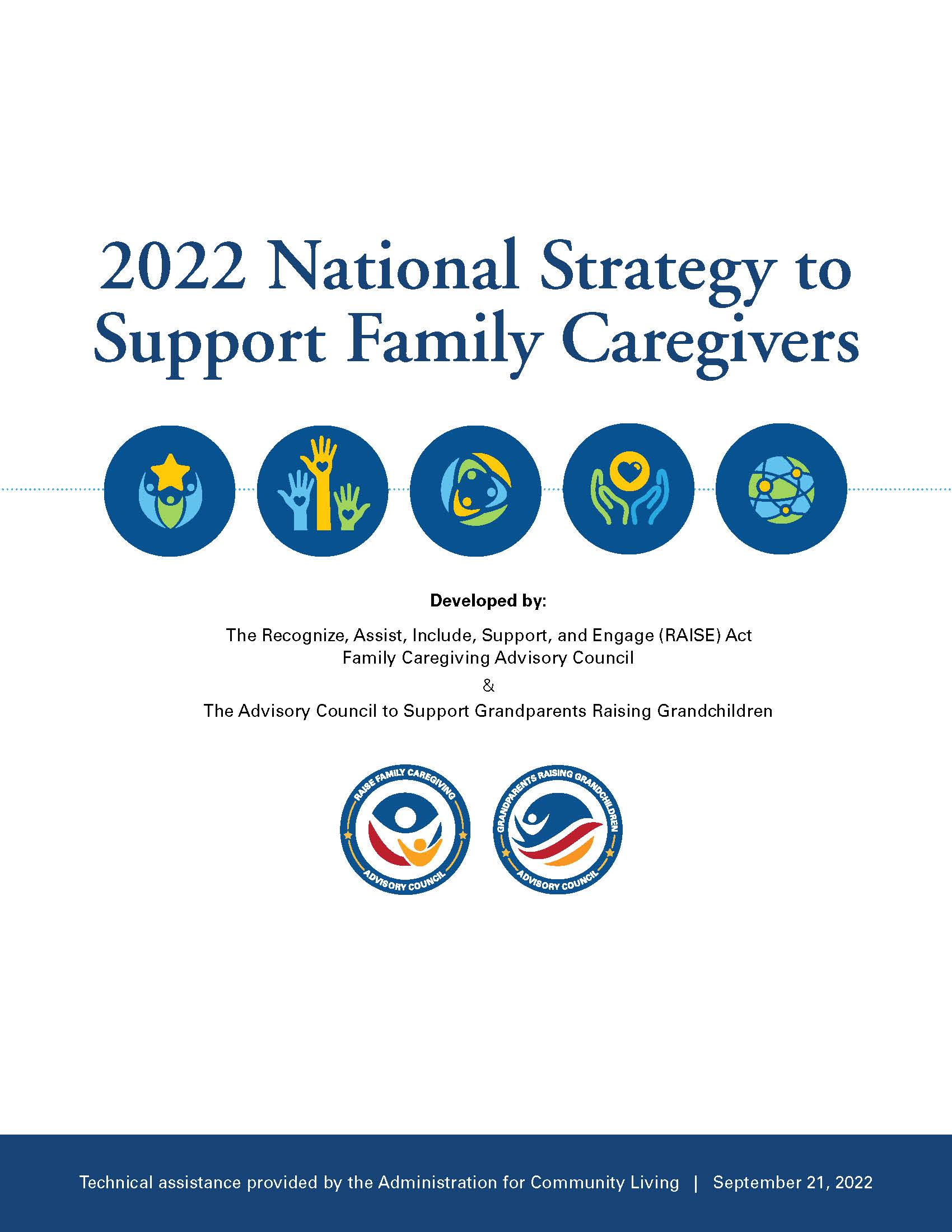 On September 21, 2022, the 2022 National Strategy to Support Family Caregivers was delivered to Congress. The Strategy includes nearly 350 actions the federal government will take to support family caregivers in the coming year and more than 150 actions that can be adopted at other levels of government and across the private sector to begin to build a system that ensures family caregivers – who provide the overwhelming majority of long-term care in the United States – have the resources they need to maintain their own health, well-being, and financial security while providing crucial support for others. The strategy was developed jointly by the advisory councils established by the Recognize, Assist, Include, Support, and Engage (RAISE) Family Caregivers Act and the Supporting Grandparents Raising Grandchildren (SGRG) Act, with extensive input from family caregivers, the people they support, and other stakeholders.
---
Previous Releases
On November 16, 2021, the Advisory Council to Support Grandparents Raising Grandchildren released its initial report to Congress. This report outlines the joys, challenges, gaps, and unmet needs faced by kin and grandparent caregivers. It also describes federal programs currently available to assist them and provides 22 recommendations for better supporting kinship families and grandfamilies. The recommendations will inform the development of the National Family Caregiving Strategy, which will include action steps to increase recognition and support for kin and grandparent caregivers.
On October 20, 2020, the Supporting Grandparents Raising Grandchildren (SGRG) Advisory Council finalized 22 recommendations intended to advance change and improve supports to kinship families and grandfamilies of all ages.
The report highlights council activities since the passing of the Supporting Grandparents Raising Grandchildren Act, including member selection, subcommittees, key meetings, and the future report to Congress.
During emergency circumstances, including natural disasters or pandemics, challenges are amplified for kinship families and grandfamilies. Recognizing this, the Advisory Council to Support Grandparents Raising Grandchildren developed the linked COVID-19/Emergency Preparedness Resource Guide.
---
Advisory Council to Support Grandparents Raising Grandchildren
The number of grandparents and other older relatives who are caring for children is significant and growing, in part due to the opioid crisis. Although caregivers' lives are enhanced by the experience, providing full-time care to children can decrease caregivers' abilities to address their own health and well-being needs.
Recognizing that these caregivers would benefit from improved coordination of resources intended to support them, as well as better dissemination of information about those resources, the Supporting Grandparents Raising Grandchildren Act established an Advisory Council to Support Grandparents Raising Grandchildren.
The Advisory Council will identify, promote, coordinate, and disseminate to the public information, resources, and the best practices available to help grandparents and other older relatives both meet the needs of the children in their care and maintain their own physical and mental health and emotional well-being.
---
Advisory Council Responsibilities
The Advisory Council will develop a report that includes best practices, resources, and other useful information for grandparents and other older relatives raising children. This report will be delivered to the Secretary of Health and Human Services, Congress, and the state agencies responsible for carrying out family caregiver programs.
The Advisory Council will establish a process for obtaining public input to inform the development of both the initial report and the subsequent update.
Advisory Council Mission
The mission of the Advisory Council to Support Grandparents Raising Grandchildren (SGRG) is to identify, promote, coordinate and disseminate information, resources, and best practices to help grandparents and older relative caregivers of children meet the health, educational, nutritional, and other needs of the children in their care, while maintaining their own physical, mental, and emotional well-being. As part of this vision, all recommendations will consider the needs of members of Native American tribes and families affected by the opioid crisis.
Advisory Council Vision
The Advisory Council to Support Grandparents Raising Grandchildren (SGRG) will be a leader for identifying and sharing resources to support, educate, empower, and advocate for kinship families and grandfamilies. The Council will increase awareness and understanding of the needs of these families to ensure they are treated with respect and dignity. By honoring cultures, values, and diversities, we will create a better future so that families can flourish.
Advisory Council Membership
The SGRG Act specifies that the Advisory Council will include at least one grandparent who is raising a grandchild and at least one older relative caring for children. In addition, the Council includes representatives from federal departments and agencies who play a role in these issues.
Grandparents and older relatives

Gail Engel and her husband, Joe, are raising their 12-year-old grandson with intellectual and development disabilities – autism and fetal alcohol spectrum disorder. "If we would not have taken him in, he would have been moved from home to home and most likely would not have survived." Their grandson struggles and is unsupported by the school system. They assist their daughter, a single mother, who almost lost her children to the welfare system due to mental illness. With no assistance from the child welfare system, they have overcome what many said was impossible. Their family is whole. Many of the families in their county have suffered tremendously due to poverty, emotional and physical health issues, and lack of supports. Children are living in poverty and grandparents in isolation. So, Gail took charge.

Gail is the founder of the nonprofit organization Grand Family Coalition, helping families connect to resources and others in their situation. She is the co-chair for Larimer County Alliance for Grandfamilies, a member of Generations United - GrAND Voices Network, and a member of the Family First Prevention Services Act (FFPSA) Implementation Team for Colorado. She has received certificates in Grandfamilies Leadership training, Family Leadership training, and training in FASD, trauma, and more. She is the recipient of a 7Everyday Hero Award, a Colorado Non-Profit - William Funk Award and the Brookdale Foundation Grandfamilies Award. She has been recognized for her work by Larimer County Behavioral Health and is supported by the community in her work with grandfamilies.

Toni Kleckley, M.A., D.Th., is a 10-year chaplain, licensed and ordained, with her doctorate in theology and M.A. in pastoral care and counseling. She is a published author and an entrepreneur — founder and executive director of Trans4mation Now Inc., a 501(c)(3), and the G.E.M.S. (Grandparents Educating Minds) program. She works as the faith community relations liaison for a local hospital; ambassador for Central Ohio African American Chamber of Commerce (COAACC); volunteer for the American Red Cross of Central Ohio, Spiritual Care Division; and serves on the board of Ohio Grandparents Kinship Coalition (OGKC).

In 2012, Dr. Kleckley assumed the role of caregiver to her grandchildren who were facing homelessness due to their mother's illness. As this was an informal emergency placement, Dr. Kleckley was not involved with the child welfare system or the courts. Recently her daughter suffered illness again, and it was during this illness that Dr. Kleckley learned how her grandson has been directly affected by the opioid crisis. She's helping her grandchildren to steer away from the tide of peer pressure and the exposure to this drug epidemic, besides being there for other grandparents with grandchildren as she mentors in the school system.

Dr. Kleckley's newfound role stems from the lack of services available to grandparents who are not in the foster care system. Her passion is to build robust and lasting support networks where guardians can locate immediate assistance. She firmly believes that offering a supportive network will help grandparents maintain social, physical, and financial sustainability.

Sharon Olson had raised her children and was in the process of opening a new business back in 1994 when she got a call that changed her life. A New Mexico child protection worker was calling to ask whether she and her husband, who lived in Minnesota, would be willing to take her two grandchildren and a step-grandchild, ages 1, 3, and 7. Of course the answer was yes, but shortly after the children arrived, the Olsons discovered that no services followed, and very little was available since Minnesota was not the state that removed the children.

Sharon has a long history of advocating for children — she is a past president of the Minnesota Kinship Caregivers Association and currently serves on the Minnesota Children's Justice Initiative (CJI) team and the Sherburne County Safe Child Council. Sharon was instrumental in the writing and passage of Minnesota's De Facto Custodian legislation, which was adopted in 2002 after years of research, advocacy, and coalition building.

Working at the national level, Sharon has been a long-time member of the advisory committee for Generations United and is the GrAND network representative for Minnesota. In 2013, she was recognized for her dedication and hard work when she received the Casey Excellence for Children Award. Realizing the opportunity for outreach and the power of social media, Sharon created Facebook groups for grandparents and other relatives raising children.

Sharon and her husband continue to care for one of the children, now a young adult, due to severe disabilities.

Sarah L. Smalls is the family resource coordinator for Formed Families Forward. Mrs. Smalls is a grandmother raising her three grandchildren, ages 18, 15, and 14. She has worked in the kinship arena for the last 10 years, serving on various committees, taskforces, and workgroups with a focus on foster, adopted, and kinship families at the local and state levels.

She is a founding and charter member of NewFound Families (previously known as FACES) and served as their vice president of kinship for more than five years. She is a board member on the Fairfax County Virginia Kinship Family Institute and was instrumental in its founding. She is also a member of the Generations United Grandfamilies Advisory Group and serves on various committees (e.g., Family First).

She is a parent co-presenter of the Virginia DFS ARC program, which she assisted in editing for kinship families. She has worked for the Fairfax County Public Schools as a parent liaison, ensuring that the school and parents have access to necessary resources. She also does outreach for families whose children have special educational needs.

Mrs. Smalls is experienced in researching law regarding kinship, able to define complex issues regarding law. She prepares and participates in workshops for foster, adoptive, and kinship caregivers. Mrs. Smalls is an advocate for grandparents and other relatives raising children.

Charlotte Stephenson was confronted with devastating news in July 2011 when she learned that her daughter was addicted to painkillers and her grandson, Cameron, had been born addicted. Cameron's father and mother never married. Cameron's father was also addicted and died of a heroin overdose in 2015.

Since July 2011, Charlotte's daughter has been in inpatient treatment for opioid addiction five times. The length of time she has spent in each facility has ranged from ten days to one year. Cameron is now 8 years old and has lived with Charlotte and her husband since he was 4 months old. Cameron's father filed a custody petition, but after two years in family court, Charlotte was able hold onto Cameron and keep him out of harm's way. She and her husband have been a stabilizing force in his life, and they remain committed to supporting Cameron however they can so that he can live a successful life.

Anyone can see the surface view of a grandparent raising a grandchild, things like putting off retirement due to financial strain, finding childcare, forgoing personal time or interests, being the oldest PTA volunteer, or having a unique family structure. What most people do not see is the isolation, stigma, sadness, fear, immeasurable sacrifice, or stress that a grandparent raising a grandchild in the midst of an addiction hurricane experiences.

Members appointed because of their professional expertise

Martha R. Crowther, MPH, Ph.D., is the associate dean for research and a professor with tenure in The University of Alabama College of Community Health Sciences. She is a faculty member in the Departments of Community Medicine and Population Health and Family, Internal, and Rural Medicine.

Dr. Crowther is an investigator in the Institute for Rural Health Research. She received her Ph.D. from Duke University in clinical psychology, her MPH, focused on chronic disease epidemiology, from Yale University, and her B.A. in psychology from The University of California, Berkeley.

Dr. Crowther has built a solid and evolving program of research and a research-based educational portfolio on aging and diversity in urban and rural populations. The primary focus of this research program has been the elimination of mental and physical health disparities, as well as the assessment of caregiving-related stressors and outcomes. She is the recipient of research funds from a wide variety of sources including state, federal, foundations, and industry.

Her clinical and research projects range from individual-based interventions to multi-level strategies to improve population health. Her work allows her to consider the reduction of health disparities through community-engaged research. This work includes gaining a better understanding of the individual, intrapersonal, community, organizational, and policy/environmental factors associated with disease or disorder and the design and implementation of interventions to address these factors. She has published journal articles and book chapters on topics including custodial grandparenting, mental health, sexuality, aging, and doctoral student training.

Yvonne S. Lee, MSW, has been a licensed social worker since 2011. She is currently a Ph.D. candidate who has been serving as the lead social worker for the Healthy Grandfamilies program since 2015.

Yvonne currently teaches as a full-time professor in the social work department at West Virginia State University. She serves on the boards of WV CARES, Charleston Institute Alumnae Chapter of Delta Sigma Theta Sorority Inc., the Adverse Childhood Experiences Coalition of West Virginia (ACEs Coalition of West Virginia), Kanawha Chapter of the NAACP, and West Virginia Child Advocacy Network (WVCAN).

Yvonne participates in her community as a mentor, advocate, and leader for at-risk youth. Yvonne is also an entrepreneur; she owns her own business called My September LLC., which provides case management to aged and disability waiver participants.

Patrick Donavan has worked directly with kinship families for more than 15 years. Initially an ongoing caseworker, he transitioned into the role of kinship navigator in 2004. Since 2015, he has supervised the kinship unit as well as Adult Protective Services. In 2008, he was awarded the Friend of Recovery award from the Mental Health and Recovery Services Board. Mr. Donavan has served as a panelist and has advocated for kinship in numerous local and national arenas, including both the State and National "Grand Rally." Mr. Donavan has trained at the Public Children Services Association of Ohio state conference, training line staff how to engage with kinship providers to ensure placement stability. He has presented to a multi-state consortium in Washington, DC, discussing the benefits of a kinship strategy under ProtectOHIO.

Mr. Donavan has served in every officer position with the Ohio Grandparent-Kinship Coalition and has remained active with the coalition continuously since 2004. He is a past member of the Ohio Department of Job and Family Services Kinship Advisory Board. He is past president of the Council on Community Resources. He has given recent testimony on House Bill 14. In November of 2018, he served on the Kinship Action Planning Group to provide recommendations regarding a menu of supports for kin families. As recently as July 2019, Mr. Donavan served as a stakeholder with Ohio KAN working to develop a Statewide Kinship model for Ohio.

Sarah Hedden, B.S., MSW, J.D., is a supervising attorney with the Kinship Care Legal Services Program at a nonprofit law firm, the Center for Elder Law & Justice, in Buffalo, New York. She represents non-parent relatives of children at risk of placement in foster care.

She worked previously as a licensed master social worker in the child welfare system, with a focus on mental health and substance use issues. She worked with youth and families in the therapeutic foster care system. She also worked with the Niagara County Department of Social Services in Child Protection matters to avoid removals and reduce recidivism rates. In her work with youth in therapeutic foster care with non-relatives, she saw first-hand the importance and necessity of continuing and strengthening the relationship between children and their birth families.

Sarah is a member of the New York State Bar Association, Bar Association of Erie County, Bar Association of Niagara County, Women Lawyers of Western New York, and the Women's Bar Association of Western New York. She is co-chair of the Family and Matrimonial Law Committee of the Women's Bar Association, Western New York Chapter. She has presented Continuing Legal Education programs on Family Law and Kinship Care.

Sarah earned her Bachelor of Science in social work from SUNY College at Buffalo in 2009, Master of Social Work from SUNY School of Social Work in 2013, and Juris Doctor from SUNY Buffalo Law School in 2014. Sarah was admitted to the New York State Bar in 2015.

Bette Hoxie is the former director of Adoptive and Foster Families of Maine, Inc. & the Kinship Program (AFFM), where she dedicated more than 20 years to helping kinship, foster, and adoptive families. She currently serves as a kinship specialist for AFFM. She has worked in the child welfare field as an advocate for adoptive, foster, kinship, and birth parents of special needs children since 1980. Bette is also a board-certified trainer on aspects of fetal alcohol spectrum disorder.

Bette was a foster parent for 30 years, caring for more than 150 children since 1972. She has 3 biological adult children, 8 adopted children, and 9 former foster children for whom she is still mom. She raised her 20-year-old grandson since infancy and currently provides kinship care to grandchildren ages 4 and 3. She also had power of attorney for a 15-year-old granddaughter. She is the proud "Gramma" to more than 40 of the world's most remarkable grandchildren, one of whom she delivered, and 5 great grandchildren. Bette maintains contact with more than 30 of her former foster children.

Bette is a strong and passionate advocate for children and their families. She is dedicated to assisting members of the child welfare system and children and families separated by foster care, adoption, or kinship care to see the merit in maintaining healthy and meaningful connections. Bette served as a court appointed special advocate (CASA) and provides training on a number of child welfare related topics.

Jaia Peterson Lent is the deputy executive director of Generations United, whose mission is to improve the lives of children, youth, and older people through intergenerational collaboration, public policies, and programs for the enduring benefit of all. Lent joined Generations United in 2000 and provides direction for its National Center on Grandfamilies, a leading voice for issues affecting families headed by grandparents or other relatives. She oversees its work providing technical assistance on grandfamilies issues.

Lent leads the national effort to set a unified agenda and coordinates the work of organizations serving and advocating for grandfamilies. She is a trusted voice on Capitol Hill on issues related to grandfamilies and intergenerational cohesion, having testified before the U.S. Senate Special Committee on Aging and in several briefings.

Under her leadership, legislation passed to support grandfamilies in areas ranging from housing to family caregiving to child welfare. She is a sought-after speaker, nationally recognized columnist and blogger, and respected media resource who has been quoted by multiple national media outlets. In 2017, Lent was named one of the Top 50 Influencers in Aging by Next Avenue.

Lent received her MSW from Syracuse University and is a licensed social worker. Her passion for advocating for grandfamilies stems from her early years working in Child Protective Services, observing the disparities between support for non-related foster parents and relative caregivers. Her passion continues to be driven by her relationship with the GrAND Voices caregiver network who guide the work of Generations United.

Ethlyn McQueen-Gibson, DNP, MSN, RN-BC, serves as associate professor at Hampton University's School of Nursing in Hampton, VA, and director for their Gerontology Center of Excellence. The Gerontology Center focuses on developing inter-professional health care providers to deliver care for older adults, developing community-based programs to address social determinants of health for older adults and leading community-engaged research, of which grandparents raising grandchildren is one area of focus.

She holds a Doctor of Nursing Practice degree from Ursuline College in Cleveland, OH, a Master of Science degree in nursing from the Medical College of Georgia in Augusta, GA, and a Bachelor of Science degree in nursing from Ursuline College in Cleveland, OH. She has practiced nursing for more than 35 years to include clinical and administrative positions, and is a veteran, having served as a commissioned officer in the U.S. Army Nurse Corps.

Dr. McQueen-Gibson's doctoral clinical research focuses on development of community-based interventions to improve health indicators and promotion of healthy behaviors for grandmothers raising grandchildren. The community-based intervention focuses on improving management of chronic disease during visits to the school-based clinic in the neighborhood.

Dr. McQueen-Gibson serves on the Virginia Board of Nursing, the Board of the Southern Gerontological Society, and volunteers at the Community Free Clinic of Newport News, VA. The free clinic serves as a partner to deliver care to grandparents caring for grandchildren without health insurance.

Linda Miller, RN, is the director of the Iowa Department on Aging. Prior to being director, Linda was a representative in the Iowa Legislature for 10 years.

In the Iowa House, she was chair of the Human Resources Committee for six years. She also served on the House Health and Human Services Budget Subcommittee for 10 years. She was instrumental in bringing forth legislation and policy that transformed Iowa's health care system.

Linda's service to Iowa extends beyond her career achievements. She belongs to several civic and professional organizations, including the Quad Cities Chamber of Commerce, Bettendorf Rotary, Scott Community Foundation Board, Davenport Community School Foundation Board, the Iowa Medical Alliance, and the Scott County Medical Alliance

She attended the Iowa Methodist School of Nursing, Drake University, and the University of Iowa, where she graduated in 1968. She is a registered nurse and her husband, Harold, is a family practice physician. She previously managed her family's private practice for 17 years.

Federal members

Department of Health and Human Services (HHS)

Administration for Community Living (ACL)

Alison Barkoff, SGRG Council Chair, was sworn into office as the Principal Deputy Administrator on January 20, 2021. In this capacity, she provides executive direction, leadership, guidance and coordination for ACL programs nationwide and advises the HHS Secretary on issues affecting people with disabilities and older adults.

Ms. Barkoff comes to ACL from the Center for Public Representation, where she served as Director of Advocacy. In that position, she led policy advocacy with federal agencies and Congress and legal advocacy nationally to advance community living and inclusion, including in the areas of healthcare, Medicaid home- and community-based services, employment, housing, and education. She led and participated in numerous coalitions with disability and aging organizations, including as co-chair of the Long-Term Services and Supports Task Force of the Consortium for Citizens with Disabilities. She has testified before Congress and the U.S. Commission on Civil Rights on disability rights and was appointed to serve on the federal Advisory Committee for Competitive Integrated Employment of People with Disabilities.

Ms. Barkoff previously served as Director of Advocacy at the Bazelon Center for Mental Health Law, where she worked on a range of disability, healthcare, education and civil rights issues. In earlier government roles, she served as Special Counsel for Olmstead Enforcement in the Civil Rights Division of the Department of Justice, leading efforts to enforce the rights of people with disabilities to live, work and fully participate in their communities. She also worked with the Centers for Medicare & Medicaid Services within the Department of Health and Human Services on policies related to Medicaid home- and community-based services and with the Department of Labor on issues affecting the workforce providing in-home services. She is a sibling to an adult brother with developmental disabilities and been involved in disability advocacy her entire life. She received her undergraduate degree from Cornell University and her Juris Doctor from Emory University School of Law.

Administration for Children and Families (ACF)

Taffy Compain (Bio to be provided soon)

Sonya Begay is an enrolled member of the Navajo Nation and is a single grandparent raising her three grandchildren. Due to addiction issues, Sonya's son lost custody of his children who were then placed in foster care in Kentucky. The day after the children were placed, the foster parents cut the oldest grandson's long hair, disrespecting his Native American tradition. The Indian Child Welfare Act (ICWA) requires child welfare agencies to work with the tribe with which a child is affiliated. but the agency in Kentucky did not comply with the provisions of ICWA. Ms. Begay persistently fought the child welfare agency for 8 months and finally got custody of her grandchildren.

In 2010 Ms. Begay was notified that her son, the father of her grandchildren, had been murdered in Kentucky. Relocating back to Kentucky with the grandchildren, Ms. Begay began attending a local Grandparents as Parent (GAP) group where she learned how little support was available for grandparents. She started to advocate for families like herself at the state, tribal and federal level by speaking and raising her voice at public forums about the challenges and needs of the GAP community.

Presently, Ms. Begay is the management & program analyst with Administration for Native Americans (ANA) at the U.S. Department of Health and Human services (HHS). She is also part of the Generations United GrAND Voices Network.

 

Substance Abuse and Mental Health Services Administration (SAMHSA)

Anne Mathews-Younes is the Deputy Director of the Center for Mental Health Services' Substance Abuse and Mental Health Services and has been with this Federal agency for twenty-five years. She has worked in each of the CMHS divisions during her time with CMHS.

Before coming to Federal service, in 1986, Dr. Mathews-Younes worked in Massachusetts and supervised a number of day hospital, day treatment, outpatient and psychosocial programs for adults with serious mental illness.  She worked for six years with the District of Columbia's Commission on Mental Health Services as Chief of the Residential Placement Unit where she worked to bring home children with serious emotional disturbances who had been placed in out-of-state residential care.

Dr. Mathews-Younes has worked as a licensed psychologist and was trained initially as an occupational therapist.  She completed a doctorate in Counseling and Consulting Psychology from Harvard University.   She completed a Master's Degree in Theological Studies (2007) and a Doctoral Degree in Ministry (2012) at Wesley Theological Seminary in Washington, D.C.

 

Centers for Disease Control and Prevention (CDC)

Lisa McGuire, Ph.D., is the lead of the Centers for Disease Control and Prevention's (CDC) Alzheimer's Disease and Healthy Aging Program, which houses the congressionally appropriated Healthy Brain Initiative. The Healthy Brain Initiative provides data, information, and education to promote brain health, including information on Alzheimer's disease and related dementias and caregiving, through integration into public health practice.

Dr. McGuire earned a Ph.D. in lifespan developmental psychology from Bowling Green State University and completed a National Institute of Mental Health postdoctoral fellowship in the Gerontology Center at The Pennsylvania State University, where she worked on the Seattle Longitudinal Study.

She joined CDC in 2004 and has published more than 100 articles and book chapters on aspects of cognition, disability, caregiving, and aging. Dr. McGuire is a member of the National Alzheimer's Project Act Federal Advisory Council, Board of Directors for the National Alliance for Caregiving, Advisory Board of Emory Brain Health Center, Editorial Board of The Gerontologist, and co-lead for Healthy People 2020 & 2030 Older Adults and Dementia Including Alzheimer's. Dr. McGuire holds fellow status in the American Psychological Association and the Gerontological Society of America. Dr. McGuire is passionate about caregiving both professionally and personally, as a caregiver for her mother with mixed dementia.

Health Resources and Services Administration (HRSA)

Joan Weiss, Ph.D., RN, CRNP, FAAN, is an adult and gerontological nurse practitioner who serves as the senior advisor in the Division of Medicine and Dentistry at the Health Resources and Services Administration (HRSA). She is the primary advisor to the Director on geriatrics-related issues and all phases of management responsibilities for the Division of Medicine and Dentistry.

Her experience in interprofessional practice and education spans 30 years. She is the designated federal official for the Federal Advisory Committee on Interdisciplinary Community-Based Linkages. She is the HRSA representative on the U.S. Department of Health and Human Services' (HHS) Advisory Council on Alzheimer's Disease Research, Care, and Services; the Family Caregiving Advisory Council; and the Grandparent Advisory Council. She also serves on HHS interagency workgroups on palliative care, elder justice, and caregiving. She advises on the development of performance measures for HRSA's geriatrics education programs.

She has served in many leadership positions at HRSA including director of the Division of Public Health and Interdisciplinary Education and acting director of the Division of Nursing. She is the recipient of the 2015 Secretary's Meritorious Group Award for taking important steps to find a cure and improve care for people with dementia. She is the recipient of the 2011 University of Pennsylvania School of Nursing Outstanding Nursing Alumni Award and numerous Public Health Service awards. She was inducted as a Fellow into the American Academy of Nursing in 2013.

National Institute on Aging (NIA), National Institutes of Health (NIH)

Amelia Karraker, Ph.D., is a health scientist administrator in the Population and Social Processes Branch in the Division of Behavioral and Social Research at the National Institute on Aging at the National Institutes of Health. She manages a portfolio in demography and social epidemiology of aging as well as social genomics. Her Ph.D. in sociology was awarded by the University of Wisconsin-Madison.

Office of the Assistant Secretary for Planning and Evaluation (ASPE)

Helen Lamont, Ph.D., is a senior long-term care analyst in the Office of Disability, Aging, and Long-Term Care Policy in the Office of the Assistant Secretary for Planning and Evaluation in the U.S. Department of Health and Human Services. Dr. Lamont leads work on aging, Alzheimer's disease, support for informal caregivers, adult maltreatment, and disability data. Currently, Dr. Lamont is working on a project to examine how family caregivers are included on care teams in integrated health systems.

Dr. Lamont was the project officer for the Caregiver Supplement to the National Health and Aging Trends Study (NHATS), which collected data on the status of caregivers that can be linked to the needs and characteristics of their care recipients. Dr. Lamont leads the implementation of the National Alzheimer's Project Act including the National Plan to Address Alzheimer's Disease and the Advisory Council on Alzheimer's Research, Care, and Service and is on the Steering Committee for the 2020 National Research Summit on Care, Services, and Supports for Persons with Dementia and their Caregivers

Dr. Lamont joined ASPE in 2007, after receiving her Ph.D. in aging studies from the University of South Florida. She holds a B.S. in psychology with a focus in human development from Duke University.

Consumer Financial Protection Bureau (CFPB)

Michael Herndon joined the Consumer Financial Protection Bureau (CFPB) in January 2017 as deputy assistant director of the Office for Older Americans. He brings to this position more than 20 years' experience in personal finance issues, public policy, and consumer outreach. Prior to CFPB, he worked at AARP on two different occasions, with his most recent role being the vice president of financial resilience programs. His experience also includes serving as consumer outreach officer for the U.S. Commodity Futures Trading Commission, the director of public affairs for the Certified Financial Planner Board of Standards, and as manager of government relations for the International Association for Financial Planning. Mr. Herndon earned a Bachelor of Science in business administration from the University of Tennessee and a Master of Public Administration from Georgia State University, where he received the Dan Sweat Scholarship for Academic Excellence.

Corporation for National and Community Service (CNCS)

Senior Corps

Deborah Cox-Roush was appointed by the president as director of Senior Corps for the Corporation for National and Community Service (CNCS).

As director of Senior Corps, Ms. Cox Roush leads the Foster Grandparent, Senior Companion and RSVP. Senior Corps has a history that spans more than 50 years, engaging the skills, talents, and experience of Americans 55 and older, retired or not, to meet a wide range of community needs.

More than 200,000 Senior Corps volunteers serve through a network of three programs that support more than 65,000 local organizations: The Foster Grandparent Program serves vulnerable children; the Senior Companion Program provides peer support for independent living services; and RSVP helps public and nonprofit agencies build infrastructure to provide a wide range of vital community programs and services.

Senior Corps awards grants to nonprofit organizations, community agencies, institutions of higher education, government, and faith-based and tribal organizations to administer these programs to help meet the needs of their communities.

Debbie brings more than 30 years of high-level professional experience in management, advocacy, and volunteer coordination. She has a long history of involvement with community, nonprofit, and philanthropic causes related to women, economic empowerment, small business development, and job creation.

Before joining Senior Corps, she served as special assistant to the secretary at the U.S. Department of Education.

U.S. Department of Education (ED)

Tammy Proctor, M.Ed., is the supervisory education program specialist for early learning in the Office of Innovation and Early Learning (IEL), Office of Elementary and Secondary Education (OESE) at the U.S. Department of Education (ED).

Ms. Proctor is responsible for the oversight and supervision of the daily operations, grant making, program implementation and monitoring and accountability activities for the early learning programs. She also oversees the Preschool Development Grants (PDG); Preschool Pay for Success (PFS) Initiative; Race to the Top Early Learning Challenge (RTT-ELC) and the Ready to Learn Television (RTL) grant programs.

Prior to her current position, Tammy provided oversight and monitoring at the Federal level for the Individuals with Disabilities Education Act (IDEA), Parts B and C in the Office of Special Education Programs at the ED. She has more than 25 years of Early Childhood Education experience in state, local and federal government. She worked as the supervisor of early childhood programs in the Prince Georges County Public School System in Maryland; director of the disabilities services for the Head Start Program under the District of Columbia's Public School System; and the Child Find/Public Awareness coordinator for the Infants and Toddlers with Disabilities Program. Through her past work, she began to understand kinship care of children and the importance of providing support to families providing care for their young relatives.

Tammy holds a bachelor's degree from North Carolina Central University and a master's in early childhood education administration from the University of the District of Columbia.

Carmen Sánchez is an education program specialist in the Office of Special Education Programs at the U.S. Department of Education, managing the parent center program, which consists of grants with Parent Training and Information Centers and Community Parent Resource Centers for families of children with disabilities throughout the country. More information about the network of parent centers that support families of children with disabilities can be found at parentcenterhub.org. Parent centers report a significant rise in the number of grandparents seeking their services, as grandparents navigate complex systems to get the developmental, educational, and behavioral supports their grandchildren need.

Prior to joining the Department of Education, Carmen worked for local government providing information and referrals on disability issues across the lifespan. As the mother of a young adult with a disability, Carmen is keenly aware of the importance of supporting families so that all members may grow and thrive.
---
You may also be interested in...
RAISE Family Caregiving Advisory Council
The RAISE Family Caregivers Act, which became law on Jan. 22, 2018, directs the Secretary of Health and Human Services to develop a national family caregiving strategy...
Last modified on 07/21/2022
Next Full Advisory Council Meeting
To be announced
Past Full Advisory Council Meetings
September 2022

On September 21, 2022, the Advisory Council to Support Grandparents Raising Grandchildren and the RAISE Family Caregiving Advisory Council held their second joint meeting to announce the release of the first-ever National Strategy to Support Family Caregivers.

January 2022

The Advisory Council to Support Grandparents Raising Grandchildren and the RAISE Family Caregiving Advisory Council held their first joint meeting on January 25, 2022 to begin the development of the National Family Caregiving Strategy.

November 2021

On November 16, 2021 the Advisory Council to Support Grandparents Raising Grandchildren announced the release of the report to Congress during its fourth convening. The council Co-Chairs gave a presentation on overarching themes discussed in the report to Congress, including the five priorities which guided the Council's work. Generations United gave an overview of ACL's newly funded National Technical Assistance Center on Kinship Families and Grandfamilies. The third highlight of the meeting was an open forum for Council members to reflect on the report and shifting focus to the development of a National Family Caregiving Strategy that closely aligns with the Council's five goals. For a detailed summary, see below.

September 2020

The SGRG Council met virtually for its third meeting on September 15, 2020. In recognition of the one year anniversary of the council, the Secretary of Health and Human Services provided welcoming remarks and thanks to the council's hard work in improving the lives of caregivers within Kinship families and Grandfamilies. The council was presented with an analysis of the 2019 public Request for Information (RFI), covering major areas of concern faced by Kinship and Grandfamilies within the U.S such as legal and financial resources. To conclude the meeting the council was able to come to a consensus on recommendations covering the span of five areas of concern that will be applicable to the National Caregiver Strategy and wellbeing of Kinship families and Grandfamilies.

Please visit the links below to view the meeting presentations, live stream recording, and a summary of the meeting outcomes.

April 2020

"The SGRG Council met virtually for its second meeting on April 23, 2020. During that meeting, Council members solidified their vision and adopted a set of guiding principles that will shape their work on their Report to Congress and other efforts they undertake to improve our nation's response to the needs of grandparents and older relative caregivers." (May 01, 2020 Blog Post) -Lance Robertson, ACL Administrator and Assistant Secretary on Aging)

Please visit the links below to view the meeting presentations, live stream recording, and meeting summary.

August 2019

On August 28th and 29th, 2019, Supporting Grandparents Raising Grandchildren Advisory Council (SGRG) convened for the first time to discuss their guiding values, establish priorities, and determine how to best identify and disseminate information to the public on resources and best practices that will assist grandparents and older relatives.

Lance Robertson, ACL Administrator and Assistant Secretary for Aging, and Eric Hargan, Deputy Secretary, Department of Health and Human Services, emphasized the importance of the Council's work and the significance of federal investments in support of grandparents raising grandchildren.

Speakers shared personal experiences, results, resources and strategies from advocacy efforts, national research, and state/local initiatives to support grandparents raising grandchildren.

Please visit the links below to view the live stream recording and other meeting materials:

Agenda and Slides

Live Stream Recordings

Meeting Summary

Additional Materials

Meeting Pictures