Supporting Grandparents Raising Grandchildren
Supporting Grandparents Raising Grandchildren
  Related news: Executive Order Expands Access to Community Living Services, Supports Family Caregivers
"Both kinship and grandparents provide leadership, loving and stable homes for millions of children, those with disabilities, those who cannot — who remain with their household and it is important that we recognize that." —Secretary Xavier Becerra
______________________________________________________________________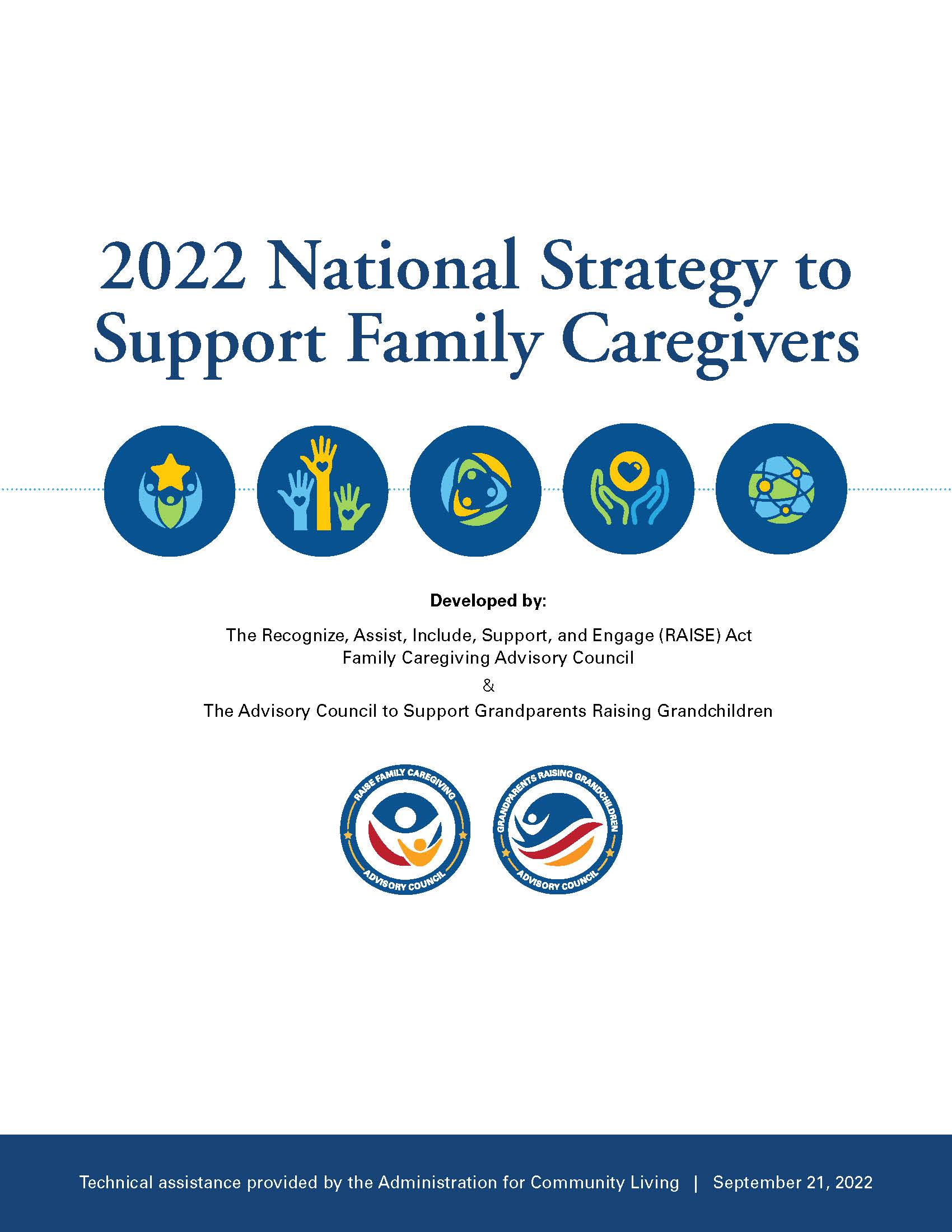 On September 21, 2022, the 2022 National Strategy to Support Family Caregivers was delivered to Congress. The Strategy includes nearly 350 actions the federal government will take to support family caregivers in the coming year and more than 150 actions that can be adopted at other levels of government and across the private sector to begin to build a system that ensures family caregivers – who provide the overwhelming majority of long-term care in the United States – have the resources they need to maintain their own health, well-being, and financial security while providing crucial support for others. The strategy was developed jointly by the advisory councils established by the Recognize, Assist, Include, Support, and Engage (RAISE) Family Caregivers Act and the Supporting Grandparents Raising Grandchildren (SGRG) Act, with extensive input from family caregivers, the people they support, and other stakeholders.
---
Advisory Council to Support Grandparents Raising Grandchildren
The number of grandparents and other older relatives who are caring for children is significant and growing, in part due to the opioid crisis. Although caregivers' lives are enhanced by the experience, providing full-time care to children can decrease caregivers' abilities to address their own health and well-being needs. Recognizing that these caregivers would benefit from improved coordination of resources intended to support them, as well as better dissemination of information about those resources, the Supporting Grandparents Raising Grandchildren Act established the Advisory Council to Support Grandparents Raising Grandchildren.
The advisory council's mission is to identify, promote, coordinate, and disseminate information, resources, and best practices to help grandparents and older relative caregivers of children meet the health, educational, nutritional, and other needs of the children in their care while maintaining their own physical, mental, and emotional well-being. As part of this effort, all recommendations will consider the needs of members of Native American tribes and families affected by the opioid crisis. The advisory council will be a leader in identifying and sharing resources to support, educate, empower, and advocate for kinship families and grandfamilies. It will increase awareness and understanding of the needs of these families to ensure they are treated with respect and dignity. By honoring cultures, values, and diversities, we will create a better future so that families can flourish.
Advisory Council Members
The SGRG Act specifies that the council will include at least one grandparent who is raising a grandchild and at least one older relative caring for children. In addition, it will include representatives from federal departments and agencies who play a role in these issues.
Non-federal members

Donna Aguiniga, Ph.D., M.S.W., is a professor in the School of Social Work at University of Alaska Anchorage. She is one of the co-founders of the University of Alaska Anchorage School of Social Work's Kinship Care Research Group, a project devoted to understanding and designing supports for extended family involvement in the support of children. She lived with her mother's parents for several years as a child and provided kinship care for her niece while the niece was in high school. She is excited to use both her personal experience and professional expertise to help improve the support system for kinship caregivers, including access to information.

Ana Beltran, J.D., is director of the Grandfamilies & Kinship Support Network: A National Technical Assistance Center, through an American Rescue Plan-funded cooperative agreement from ACL to Generations United. Beltran has firsthand experience as both care recipient and caregiver. She was raised in part by her grandmother. Later, Beltran was both caregiver and power of attorney for her father, who had Alzheimer's disease. She looks forward to continuing the important work of the first Advisory Council to Support Grandparents Raising Grandchildren.

Anntesha Chesterton contributes professional and personal expertise with caregiving. Initially raised by her maternal grandparents, Chesterton and one sister were subsequently placed in foster care until age 18. She believes that, had her grandparents had more support, she would have been able to remain with them and out of the foster care system. Chesterton is the mother of three children and, for 1.5 years, she also cared for her sister's four children. She hopes to use her lived experience, both as a child and as a kinship family, to bring much needed and positive changes to help kinship families get the support they need to be successful. Chesterton is currently studying for a degree in psychology.

Carole Cox, M.S.W., Ph.D., is a professor in the Graduate School of Social Service at Fordham University who has worked with kinship caregivers since 1999. She developed the Grandparent Empower Program, a curriculum designed to help kinship and grandparent caregivers improve their caregiving skills. According to Cox, the program has reached hundreds of grandparent caregivers and has been translated into several different languages, including Russian, Spanish, and Swahili. During the COVID-19 pandemic, she developed, in collaboration with the NYC Department for the Aging, a seven-week online version of the program, which focused on empowering caregivers during this difficult period. In recognition of her work, she received the CURA award, Kinship Champion of 2022, from the New York State Navigator and NYS Kincare Coalition.

Megan Dolbin-MacNab, Ph.D., LMFT, is a professor in the Department of Human Development and Family Science at Virginia Tech who studies grandfamilies' relational challenges and strengths. Her grandmother helped care for her when she was growing up and acted as an additional parental figure. She is passionate about identifying practices to help grandfamilies develop strong, supportive relationships. She is excited to learn from her fellow council members and contribute to developing supports and resources to enhance the well-being of grandfamilies and kinship families. 

Bert Hayslip Jr., Ph.D., is a Regents Professor emeritus of psychology at the University of North Texas. He has worked with grandparent caregivers for more than 30 years and has conducted research, led focus groups, and consulted with a number of organizations serving grandparents raising grandchildren. He has a special interest in resilience among grandparents raising grandchildren and is excited to influence the design and implementation of services and related policy to support them.

Rainie Jueschke, CFRE, is a nonprofit executive with more than 30 years of experience. She is currently executive director of Innovative Solutions for Disadvantage and Disability, a 501(c)(3) organization providing evidence-based support services for Atlanta Metro kinship families. Having aged out of the foster care system, Jueschke understands the importance of keeping children with their families. She looks forward to working with fellow council members to raise awareness about the strengths of kinship care and find solutions to the challenges families face.

Keith Lowhorne is vice president of kinship for the Alabama Foster and Adoptive Parents Association. Lowhorne and his wife are raising five grandchildren, two of whom were born with drugs in their systems. The couple distributes food, school supplies, clothing, household items, and presents to more than 25,000 grandfamily members in Alabama. He wants to bring awareness to the challenges faced by grandfamilies and kinship families, especially as they relate to education, food, and health.

Cheryl Miller, MLS, is an enrolled member of the Assiniboine Sioux Tribe and director of Children & Family Services for the Port Gamble S'Klallam Tribe. She has worked in child welfare (primarily Indian Child Welfare) for 36 years, working with formal and informal kinship families and foster families to give support and connect them to resources, such as Temporary Assistance for Needy Families. She is looking forward to serving on the council to update and implement the 2022 National Strategy to Support Family Caregivers.

Federal members

U.S. Department of Health and Human Services (HHS) 

Administration for Children and Families (ACF) 
Pending 


Centers for Disease Control and Prevention (CDC) 
Greta Kilmer, M.S.


Health Resources and Services Administration (HRSA) 
Joan Weiss, Ph.D., R.N., CRNP, FAAN 


Indian Health Service (IHS) 
Valerie Jones 


National Institutes of Health (NIH)/National Institute on Aging (NIA) 
Amelia Karraker, Ph.D. 


Office of the Assistant Secretary for Planning and Evaluation (ASPE) 
Emma Nye  


Substance Abuse and Mental Health Services Administration (SAMHSA) 
Elizabeth Sweet 


AmeriCorps  
Atalaya Sergi 


Consumer Financial Protection Bureau (CFPB)  
Beverly Yang, J.D.


Social Security Administration (SSA) 
Rebecca Ortiz 


U.S. Department of Education (ED) 
Tammy Proctor 
Advisory Council Responsibilities
The advisory council will develop a report that includes best practices, resources, and other useful information for grandparents and other older relatives raising children. This report will be delivered to the Secretary of Health and Human Services, Congress, and the state agencies responsible for carrying out family caregiver programs.
The advisory council will establish a process for obtaining public input to inform the development of both the initial report and the subsequent update.
---
Previous Releases
On November 16, 2021, the Advisory Council to Support Grandparents Raising Grandchildren released its initial report to Congress. This report outlines the joys, challenges, gaps, and unmet needs faced by kin and grandparent caregivers. It also describes federal programs currently available to assist them and provides 22 recommendations for better supporting kinship families and grandfamilies. The recommendations will inform the development of the National Family Caregiving Strategy, which will include action steps to increase recognition and support for kin and grandparent caregivers.
On October 20, 2020, the Supporting Grandparents Raising Grandchildren (SGRG) Advisory Council finalized 22 recommendations intended to advance change and improve supports to kinship families and grandfamilies of all ages.
The report highlights council activities since the passing of the Supporting Grandparents Raising Grandchildren Act, including member selection, subcommittees, key meetings, and the future report to Congress.
During emergency circumstances, including natural disasters or pandemics, challenges are amplified for kinship families and grandfamilies. Recognizing this, the Advisory Council to Support Grandparents Raising Grandchildren developed the linked COVID-19/Emergency Preparedness Resource Guide.
---
You may also be interested in...
RAISE Family Caregiving Advisory Council
The RAISE Family Caregivers Act, which became law on Jan. 22, 2018, directs the Secretary of Health and Human Services to develop a national family caregiving strategy...
Last modified on 07/21/2022
Full Advisory Council Meeting
On Tuesday, September 19, 2023, ACL hosted a meeting focused on an analysis of public comments on the 2022 National Strategy to Support Family Caregivers and updates from federal agencies about their progress in implementing the strategy. 
Past Meetings
July 2023

On Thursday, July 27, 2023, ACL held a swearing-in and kick-off meeting for new members of the RAISE Family Caregiving Advisory Council and Advisory Council to Support Grandparents Raising Grandchildren.

September 2022

On September 21, 2022, the Advisory Council to Support Grandparents Raising Grandchildren and the RAISE Family Caregiving Advisory Council held their second joint meeting to announce the release of the first-ever National Strategy to Support Family Caregivers.

January 2022

The Advisory Council to Support Grandparents Raising Grandchildren and the RAISE Family Caregiving Advisory Council held their first joint meeting on January 25, 2022, to begin the development of the National Family Caregiving Strategy.

November 2021

On November 16, 2021, the Advisory Council to Support Grandparents Raising Grandchildren announced the release of the report to Congress during its fourth convening. The council Co-Chairs gave a presentation on overarching themes discussed in the report to Congress, including the five priorities which guided the Council's work. Generations United gave an overview of ACL's newly funded National Technical Assistance Center on Kinship Families and Grandfamilies. The third highlight of the meeting was an open forum for Council members to reflect on the report and shifting focus to the development of a National Family Caregiving Strategy that closely aligns with the Council's five goals. For a detailed summary, see below.

September 2020

The SGRG Council met virtually for its third meeting on September 15, 2020. In recognition of the one-year anniversary of the council, the Secretary of Health and Human Services provided welcoming remarks and thanks to the council's hard work in improving the lives of caregivers within kinship families and grandfamilies. The advisory council was presented with an analysis of the 2019 public Request for Information (RFI), covering major areas of concern faced by kinship and grandfamilies within the U.S such as legal and financial resources. To conclude the meeting the council was able to come to a consensus on recommendations covering the span of five areas of concern that will be applicable to the National Caregiver Strategy and wellbeing of kinship families and grandfamilies.

Please visit the links below to view the meeting presentations, live stream recording, and a summary of the meeting outcomes.

April 2020

"The SGRG Council met virtually for its second meeting on April 23, 2020. During that meeting, advisory coucil members solidified their vision and adopted a set of guiding principles that will shape their work on their Report to Congress and other efforts they undertake to improve our nation's response to the needs of grandparents and older relative caregivers." (May 01, 2020 Blog Post) -Lance Robertson, ACL Administrator and Assistant Secretary on Aging)

Please visit the links below to view the meeting presentations, live stream recording, and meeting summary.

August 2019

On August 28th and 29th, 2019, the Advisory Council to Support Grandparents Raising Grandchildren convened for the first time to discuss their guiding values, establish priorities, and determine how to best identify and disseminate information to the public on resources and best practices that will assist grandparents and older relatives.

Lance Robertson, ACL Administrator and Assistant Secretary for Aging, and Eric Hargan, Deputy Secretary, Department of Health and Human Services, emphasized the importance of the advisory council's work and the significance of federal investments in support of grandparents raising grandchildren.

Speakers shared personal experiences, results, resources and strategies from advocacy efforts, national research, and state/local initiatives to support grandparents raising grandchildren.

Please visit the links below to view the live stream recording and other meeting materials:

Agenda and Slides

Live Stream Recordings

Meeting Summary

Additional Materials

Meeting Pictures