National Older Adult Mental Health Awareness Day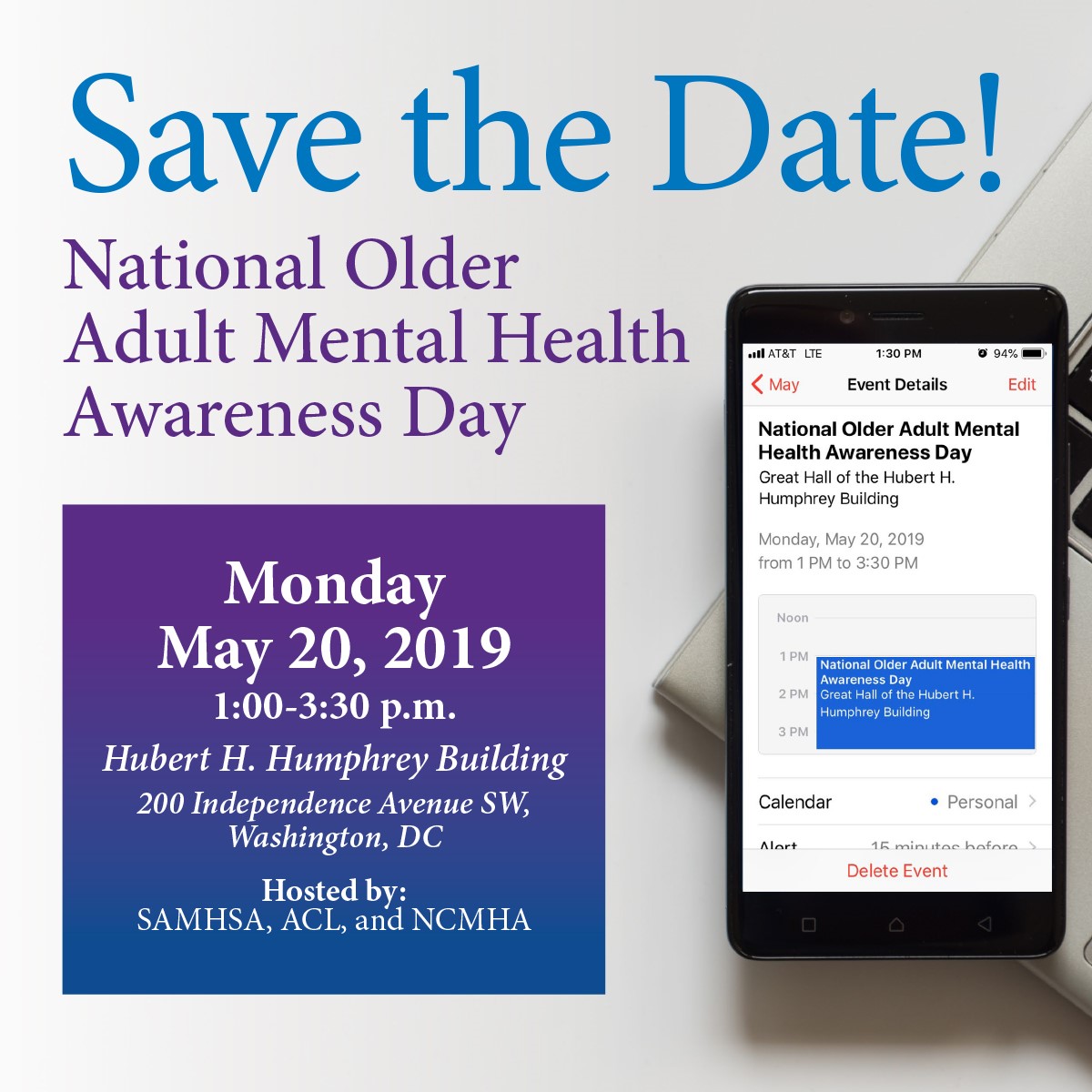 May 20, 2019, 1:00-3:30 PM ET, Hubert Humphrey Building, 200 Independence Ave SW, DC
Hosted by ACL, SAMHSA, and the National Coalition on Mental Health and Aging, this event aims to raise awareness of older adults' mental health needs and promote evidence-based prevention, treatment, and recovery supports. It will encourage collaboration between mental health and aging networks and highlight where to seek services when needed. Register to attend the event.
Find Help
Suicide Prevention Lifeline 1-800-273-TALK (8255) or TTY: 1-800-799-4889
Veterans Crisis Line 1-800-273-TALK (8255), Press 1 or TTY: 1-800-799-4889
National Treatment Helpline 1-800-662-HELP (4357) or TTY: 1-800-487-4889
ACL Programs: Connecting People to Services
Overview
Behavioral health is the promotion of mental health and well-being, the treatment of mental and substance use disorders, and the support of those who experience and/or are in recovery from these conditions.
Anyone, regardless of age or ability, can experience a behavioral health condition, such as depression, substance misuse, or suicidal thoughts. Behavioral health problems are not a normal part of aging or of living with a disability, but older people and people with disabilities are less likely to receive mental health treatment.
Knowing the signs of behavioral health problems and the resources available can lead to faster diagnosis and treatment and help prevent social isolation, increased disability, and other complications.
Through its Aging and Disability Networks, ACL offers a wide range of resources to help older adults, people with disabilities, families, caregivers, and communities support behavioral health and well-being.
The following resources from ACL, the Substance Abuse and Mental Health Services Administration (SAMHSA), the National Institute of Mental Health (NIMH), the National Council on Aging (NCOA), and others offer a range of information on behavioral health topics.
Training and Toolkits
Publications
Fact Sheet: Opioids and Older Adults (ACL)
Issue Brief: The Opioid Public Health Emergency and Older Adults (ACL)
A Guide to Using Mental Health and Substance Use Disorder Services (SAMHSA, CMS)
Fact Sheet: Chronic Illness and Mental Health (NIMH)
A Day in the Life of Older Adults: Substance Use Facts (SAMHSA)
Growing Older: Providing Integrated Care for an Aging Population (SAMHSA, HRSA)
Behavioral Health Profiles
The following profiles help communities identify focus areas, select goals, and target services to address priority issues for older adults. They compare state trends with those in the region and the nation.
Archived Event Materials