July 23, 2015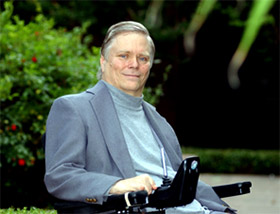 As the 25th anniversary of the Americans with Disabilities Act (ADA) approaches, ACL is featuring guest blogs from leaders in the disability community. In this blog, Lex Frieden, a disability rights activist who is widely regarded as a founder of the independent living movement, reflects on how understanding the history of the disability rights movement allows today's leaders to create a vision that meets the needs of future generations.
This year marks the 25th Anniversary of the Americans with Disabilities Act (ADA). Many think of its signing by President George H.W. Bush on July 26, 1990, as the start of the disability movement. This view is reinforced by media accounts, speeches, and retelling of stories reflecting on the progress (and, in cases, lack thereof) that has been made since the law was enacted. There will be lots of commentary about what we have achieved and what remains to be done.
During this season of celebration, I have an opportunity to expound on what has been achieved since that summer day, when I sat with 3,000 friends and colleagues on the White House lawn and listened to the President assert, "We will not accept, we will not excuse, we will not tolerate discrimination in America." He reassured businesses by insisting that the ADA would "unlock a splendid resource of untapped human potential." However moving, it is important for post-ADA advocates to understand that the disability movement started long before that day.
I will take every opportunity to describe how, in the early 1970s, people with significant disabilities who wanted to live in their communities were frustrated by a lack of access and the absence of community-based services and supports. I will tell how Ed Roberts, Fred Fay, Elmer Bartels, Max Starkloff, a few other novice advocates, and I founded independent living centers in a few cities around the country, and how our determination persuaded Congress to include a provision in the Rehabilitation Act Amendments of 1978 to provide federal funding for 10 model independent living centers.
I will talk about how Judy Heumann, John Lancaster, Eunice Fiorito, Al Pimentel, Fred Schreiber, Oral Miller, and other emboldened advocates founded the American Coalition of Citizens with Disabilities, a national, trans-generational, cross-disability advocacy organization. I will describe how Frank Bowe, the group's astute, young leader organized nationwide protests over the failure of government to promulgate regulations implementing Section 504 of the Rehabilitation Act of 1973 (PDF), the first disability rights law.
I will talk about how the Berkeley-based Disability Rights Education and Defense Fund emerged to support the fledgling disability rights movement and how they and other colleagues in California organized and managed a 28-day sit-in at the federal office building in San Francisco.
I will recollect how, in 1977, my colleagues and I in Houston obtained a rare federal training grant from the Rehabilitation Services Administration to sponsor the startup of our Independent Living Research Utilization program. Its intent was to introduce people with disabilities, rehabilitation program administrators, and public officials to the concept of independent living. I will recount how we used our personal experiences to show how independent living is more a matter of self-direction and personal initiative than it is a matter of doing things literally by or for oneself, or without the assistance of an interpreter, a reader or guide, a coach, or a personal-care assistant.
I will share my observations about the early 1980s, when the then mostly separate independent living and disability rights movements morphed into a unified disability movement. I will tell about how almost no one took the National Council on Disability (then the National Council on the Handicapped) seriously when we proposed the ADA in January of 1986.
At some point, I will acknowledge that while my reflections may be edifying in an historical sense, the most important take-away from our celebrations ought to be a vision for a new future—a 21st  century vision that incorporates the potential benefits of new science, engineering, technology, social norms, and a rapidly changing demographic landscape.
We should begin a new dialogue about meeting the outstanding needs of people with disabilities, and about how to prepare for meeting the impending needs of 76 million baby boomers that will soon begin to acquire disabilities as a result of the natural aging process. We need to translate what we have learned about facilitating independent living by younger people with disabilities into lessons for aging Americans about how to successfully age in place.
The disability community's work to date has helped prepare the environment for a generation of people who may soon use scooters, hearing aids, and fall detection devices. I opine that older persons who may be losing their hearing will discover the benefits of captioned TV; seniors who walk less steadily will appreciate handrails; retirees who acquire mobility impairments will appreciate widened doorways to restrooms and other places; and many people with vision loss or waning stamina will choose to avail themselves of paratransit services.
Finally, I will suggest that we need to recalibrate our vision for the disability movement, stepping outside the ADA box in order to reach the goals of full participation and inclusion. In addition to completing the mission of full implementation of the ADA, we need to adjust the sights of our disability movement, aiming toward the empowering tenets of independent living and rededicating ourselves to the principle of full participation.
Just as early disability rights and independent living advocates combined their efforts to produce a much larger, more encompassing, and more powerful disability movement, disability advocates must now reach out to embrace the aging movement. We must merge our interests and focus collective energy on expanding options for community living and ensuring equal opportunity, full inclusion, and integration across the disability and aging spectrums.
Finally, of all the things I will do to commemorate the ADA, I will salute our progress, and urge everyone to CELEBRATE ADA 25!
Lex Frieden is Professor of Biomedical Informatics and Rehabilitation at The University of Texas Health Science Center at Houston. He also directs the Independent Living Research Utilization Program (ILRU) at TIRR Memorial Hermann. ILRU is a research, training and technical assistance program on independent living for people with disabilities and seniors.
Frieden has served as chairperson of the National Council on Disability, president of Rehabilitation International, and chairperson of the American Association of People with Disabilities. He is recognized as one of the founders of the independent living movement by people with disabilities. He was instrumental in conceiving and drafting the Americans with Disabilities Act (ADA) of 1990.

As with all guest contributions to the ACL website, this blog reflects the experiences and thoughts of the author. Find more information about guest content on the ACL site.