January 9, 2019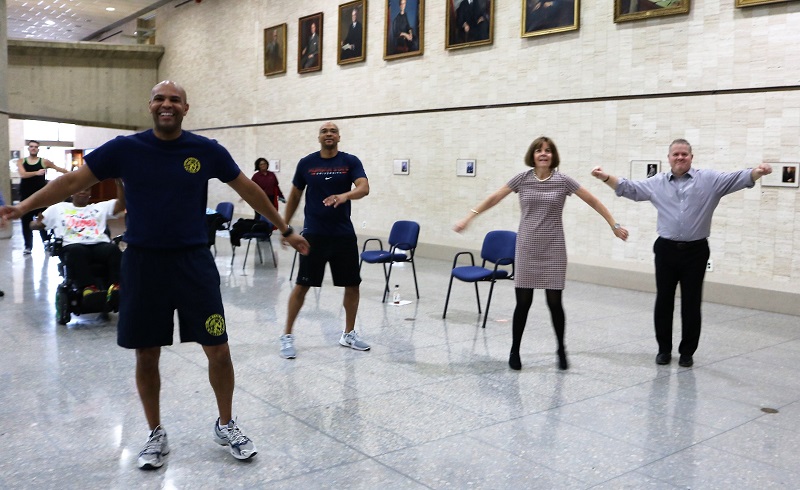 On Monday, ACL closed out the 2018 Combined Federal Campaign with a lunchtime Zumba class. Surgeon General VADM Jerome Adams, and ACL's Lance Robertson and Mary Lazare, joined a diverse group of staff at HHS headquarters for a heart-pumping demonstration of how exercise can bring people of all ages and abilities together. It also was an opportunity to illustrate how CFC contributions can make a difference – Zumba classes are often offered by community centers that receive funding through the CFC. 
One of the participants was Regina Blye, a program specialist at ACL's Independent Living Administration, who also happens to be a certified Zumba instructor. After the event, we asked  her about her experiences with Zumba as a wheelchair user and about the importance of accessible physical activities.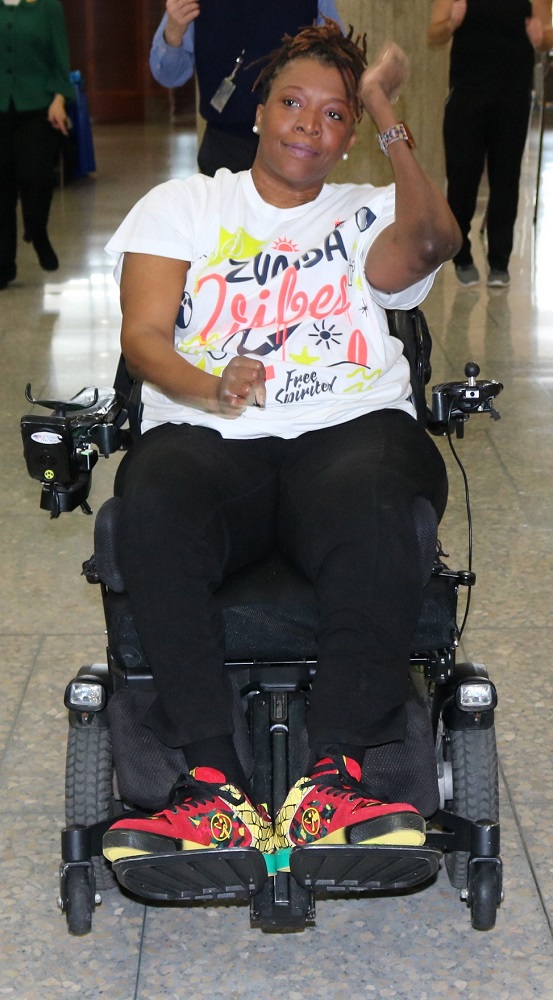 How did you decide to be a certified Zumba instructor?
Regina Blye: I am usually not a shy person, but for some reason, it took some effort for me to attend a Zumba class by myself because I was worried about what people would think about me attending a class as a person that uses a wheelchair. I quickly got over that fear and realized that doing Zumba was solely about my health and well-being and not about people's thoughts about me, so I rolled into the class with confidence and got hooked on the workout. 
 
When I first started, I was usually the only person in the class that had a significant disability, so a few of the instructors did not focus on incorporating moves that would work for me. I started choreographing my upper body dance moves myself, and over time the instructors started incorporating upper-body movement for all of the routines, and they started to ask me for my input and tips on how to be more inclusive. These experiences gave me the idea of becoming an instructor so I could help others with disabilities, limited movement, and health conditions feel comfortable with Zumba. I have been an instructor since June 5, 2016.
 
What drew you to Zumba?
Blye: I am a fan of Zumba because of the beautiful coupling of high-impact music and dance. It is a natural combination since I am a music enthusiast and I love to dance. Zumba is an aerobic party that incorporates Latin dance moves that increases your heart rate and tone muscles. 
 
It can be a challenge for people who are sedentary to find good exercise options that can successfully stimulate your heart rate and firm your muscles. Zumba can be a suitable option for people with various abilities to consider. 

Why do you think it is important for people with disabilities to be able to participate in programs like Zumba?
Blye: People with disabilities should be able to participate in cardio programs and have access to accessible gym equipment because they improve quality of life and strengthen the mind and body. Exercise and an appropriate diet can combat health conditions and stimulate your cardiovascular system to prevent heart disease. Unfortunately, not all gyms are accessible, so advocacy is needed so people with disabilities can participate without any barriers. 

What advice would you give to fitness instructors who would like to make their classes more inclusive?
Blye: During introductions, they should talk about expectations and different dance moves students should consider to accommodate their abilities. They should give verbal cues to people who are blind or have low vision. Instructors should also repeat some of the moves to make it easier for those with cognitive disabilities to learn the dance moves. Instructors should focus on the whole body by choreographing routines that include upper and lower body activity. It also helps to talk to students before and after class to receive feedback on ways to make the class more inclusive for everyone.