November 13, 2017
Stop for a minute and think about what it means to be a family caregiver. What comes to mind? Is it calling to check on a friend or loved one several times a week? Driving mom or dad to doctors' appointments? Negotiating with a school about the individual education plan for a child with a disability? Helping with personal and household tasks? Helping to coordinate care and service delivery from across the country? If you're like most, family caregiving is probably a mix of one or more of these or similar tasks, plus a host of other responsibilities you must balance. While the experience of supporting loved ones who need assistance is unique to each of us, perhaps the one common element is the time such a commitment entails.
According to a 2015 report from AARP and the National Alliance for Caregiving, caregivers of adults spend approximately four years providing care, with nearly one-quarter doing so for five years or longer. On average, family caregivers provide 24.4 hours of care per week. Data collected by ACL in 2016 shows that caregivers served by the National Family Caregiver Support Program (NFCSP) had been providing care for 5-10 years (29.9 percent) while 12 percent had been doing so for 11-20 years. These caregivers spend considerable portions of their day providing care, with fifty percent indicating that their loved ones needed 13-24 hours of help, daily. When asked about the biggest difficulty they faced as family caregivers, 21 percent said they did not have enough time for themselves or their families.
Here at the Administration for Community Living (ACL), one of our central priorities is supporting families and family caregivers to help them manage their day-to-day tasks more effectively, help connect them to resources and develop a support network that works for their families, and to provide them with a break, a respite, from their daily routines. The aging and disability networks have a long history of supporting families and family caregivers, and with an estimated 43.5 million family caregivers supporting children and adults of all ages with special needs, our programs see firsthand the considerable needs and extraordinary sacrifice of these amazing individuals. ACL's family and caregiver support programs are making a difference in the lives of family caregivers and are helping them better manage the round-the-clock nature of their caregiving commitments.
For the past 17 years, the NFCSP has anchored ACL's efforts to support family caregivers of older adults, persons with Alzheimer's disease and related disorders, and older relatives caring for children. The NFCSP serves more than 750,000 family caregivers annually, providing them with: information; assistance with accessing services and supports; counseling, training and support groups; respite; and supplemental goods and services like transportation, home modifications and medical equipment. This program has been shown to be a true catalyst for states and communities to address the needs of family caregivers in creative, flexible and person-centered ways. The NFCSP improves the lives of family caregivers by enabling them to better manage their commitments and take time for themselves. Sixty-one percent of family caregivers served said the NFCSP services afforded them more time for personal activities, and 74 percent felt less stress as a result of the services they received.
More recently, the six states participating in ACL's Supporting Families Community of Practice (CoP) initiative concluded five-year projects in which the LifeCourse framework to support innovations led to better outcomes for supporting families. The LifeCourse framework is a theoretical platform that states use to guide their work to support families by offering a more holistic approach to planning the life trajectories of both individuals and family units. For example, the Missouri Family to Family program developed Charting the LifeCourse Respite materials. This program was part of the state's University Center for Excellence in Developmental Disabilities Education, Research and Services (UCEDD) at the University of Missouri–Kansas City Institute for Human Development, and they collaborated with the ARCH National Respite Network and Resource Center. The materials they developed help family caregivers caring for anyone, of any age or disability, to create a plan to access respite services within and outside the formal services system. The goal is to provide information on the importance of respite for the well-being of the family caregiver and all family members; tools for thinking about and planning for respite; and additional resources for finding respite in the community. Information on how to use the Charting the LifeCourse respite materials can be found in a presentation from the 2017 ARCH National Lifespan Respite Conference.
stands committed to supporting families and caregivers in person- and family-centered ways and celebrates this year's theme for National Family Caregivers Month: "Caregiving Around the Clock." For many who take on this important role, it is a 24/7, daily commitment that is necessary for helping their loved ones live in their homes and communities. As we observe National Caregiver Month this November, we do well to keep in mind the importance of reaching out to lend our support, offer respite and, where possible, give of our own time to allow them the opportunity to rest and recharge.
See also: Presidential Proclamation for National Caregiver Month, published on October 31, 2017.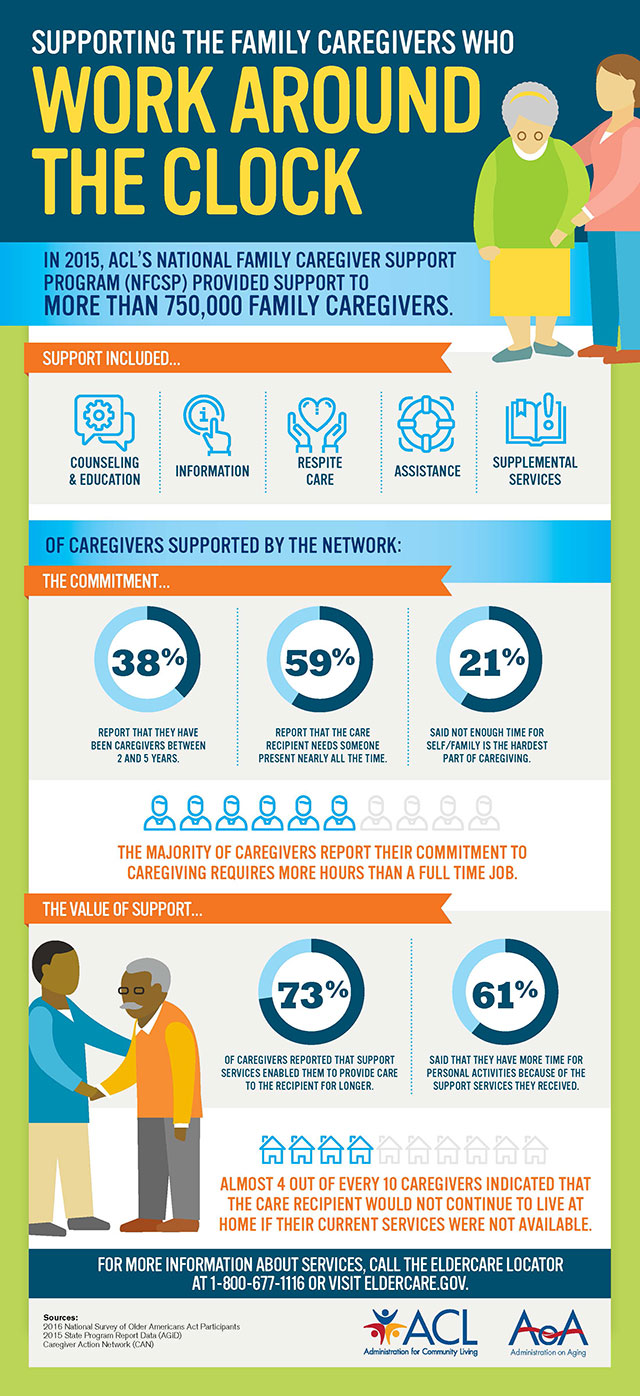 Editor's Note:  Download Infographic as accessible PDF.
Comments
Maximizing all resources, including proper care and retirement planning - Can have a profound impact. This is a great visual to highlight the selfless individuals that move the earth to care for loved ones. Nicely done!
AS @ www.alerstallings.com