February 6, 2020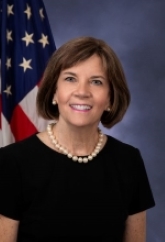 I recently visited Bay Aging in Urbanna, Virginia, to learn more about their current work and receive an update on their Veteran Directed Care (VDC) program. I met with personnel from Bay Aging, veterans enrolled in the VDC program, and staff from the U.S. Department of Veterans Affairs, specifically the Hunter Holmes McGuire VA Medical Center.
Bay Aging, one of Virginia's Area Agencies on Aging, has been helping older adults and people with disabilities by providing a long list of services for more than forty years. Some of their programs have even spread into nearby states and Washington, D.C. The number of people they serve has steadily grown to over 26,000, and their VDC program has seen an impressive 34 percent increase since I last visited in 2017.
The VDC program was developed by the Veterans Health Administration and the Administration for Community Living to offer veterans and their caregivers greater access, choice and control over the long-term services and supports that help veterans live at home and remain a part of their communities. As I listened to veterans and their families describe their experiences with Bay Aging's VDC program, it was clear that the program is meeting crucial human needs.
Veterans in the VDC program have significant disabilities; each is eligible for nursing home-level care. However, VDC provides a community-based alternative that allows them to live and receive care in their own homes. If an eligible veteran chooses VDC, he or she has access to a flexible budget that can be used to fund a care plan that best fits their life, including hiring family, friends and neighbors to provide individualized support to help meet their needs.  Counselors from organizations in the aging and disability networks, such as Bay Aging, support the veteran in a variety of ways, including providing financial management assistance to the veteran as they develop their service plan, find and train workers, and secure needed goods and services. The veterans I met emphasized that when they needed help or advice, staff at Bay Aging answered the phone or quickly returned their calls.
Not only are veterans and their families pleased with the VDC program, the average cost to support a veteran in the VDC program is $144 per day less than the cost of living in a local community nursing home. That amounts to a savings of $52,800 per veteran, per year compared to nursing home costs. For the 204 veterans in Bay Aging's VDC program, those savings add up to over $10 million per year. And, as I said, the program is growing, so the savings will grow as well.
A survey of veterans in Bay Aging's VDC program found that 97 percent of them are satisfied. Not one veteran has ever opted out in the nine years that Bay Aging has operated the program. I'm not surprised, given what I heard from VDC participants. As the wife of one veteran put it, "This program gave us our lives back."
Unfortunately, this win-win program isn't yet available everywhere. One veteran, who was considering a move to Florida, put it this way: "I served the United States, but if I need or want to move to another part of the United States, most likely I won't find a program like this." The decision to offer VDC is made locally.  Currently the program is available in 68 of the 152 VA Medical Centers.
I came away from my site visit resolved to share the program's success and impact. It just makes too much sense; the veterans who choose VDC remain in control of their own lives, they continue to live with family in their own homes, and the government saves money. This is not too good to be true. This is a practical option that Bay Aging and the Hunter Holmes McGuire VA Medical Center – and other partnerships between VAMCs and the aging and disability networks across the country –  have shown can work.
Bay Aging told me that they are willing to share what they have learned; lessons that prove the VDC model can work well for veterans, the VA and community-based organizations. In fact, Bay Aging's president and CEO, Kathy Vesley invites calls from colleagues in the aging and disability networks, including other Area Agencies on Aging. Her phone number is 804-758-2386, extension 1217.
I believe the financial and operational model Bay Aging developed can be duplicated across America.  All we need is the determination to make sure that all veterans who are eligible for nursing home level of care have the same access to supports as the veterans in Virginia.