July 26, 2018
Earlier this month we celebrated Independence Day, commemorating the day in 1776 when the Continental Congress adopted the Declaration of Independence, which asserted:
We hold these truths to be self-evident, that all men are created equal,
that they are endowed by their Creator with certain unalienable Rights,
that among these are Life, Liberty and the pursuit of Happiness. 
Today we celebrate another historical moment for independence. On this day in 1990, President Bush signed the Americans with Disabilities Act, which affirms those rights for people with disabilities and significantly expanded their opportunities for independence.
One of our country's most comprehensive pieces of civil rights legislation, the ADA prohibits discrimination on the basis of disability and establishes that people with disabilities have the right to the same opportunities as people without disabilities. It ensures access to public spaces, transportation, employment, and countless other things that most of us take for granted. Its fundamental purpose is the integration of people with disabilities into the mainstream of American life.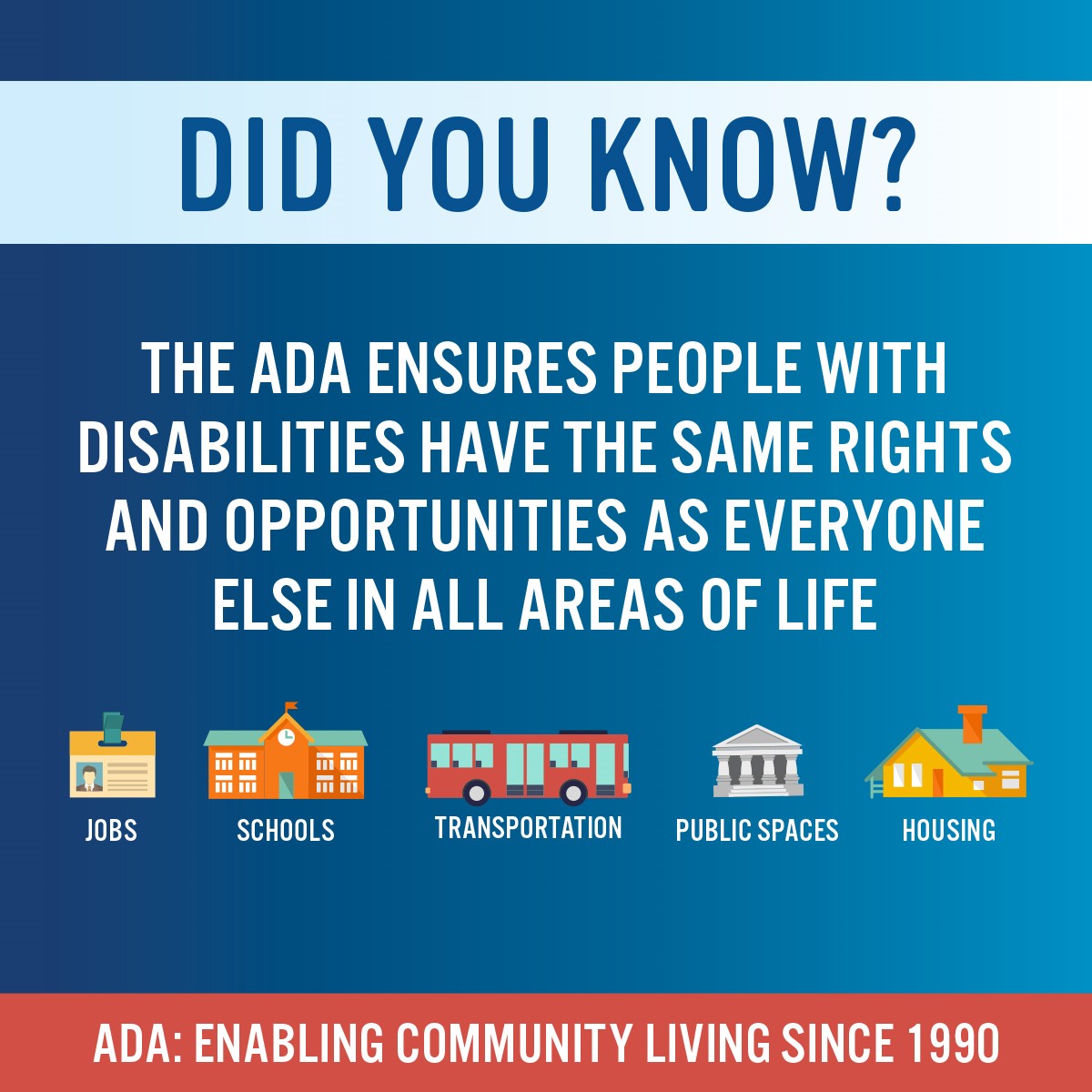 We still have work to do, but the ADA, together with legislation like the Individuals with Disabilities Education Act, has changed our world. Curb cuts are now so common that many younger people have no idea they originally were created to make sidewalks accessible for people with disabilities. Innovations and new developments in assistive technology have exponentially increased access to workplaces, entertainment, and self-sufficiency. Special education is now a service, not a place, and children are growing up with the realization that disability is a normal part of life.
Because of these advances, and many others like them, people with and without disabilities increasingly live, work and play side by side. A generation after the ADA, community living is the expectation for all people, regardless of age or disability.
That is not only good for people with disabilities. It is good for all of us. The strongest and most vibrant communities include people of all ages and abilities, each adding their voice, perspective and talents. We all benefit when everyone can contribute to their full abilities, work and grow the economy, and actively participate in community activities.
The Administration for Community Living was created around the fundamental principle that older adults and people of all ages with disabilities should be able to live where they choose, with the people they choose and with the ability to participate fully in their communities. By funding services and supports provided by networks of community-based organizations, and with investments in research and innovation, ACL helps make this principle a reality for millions of Americans.
At ACL:
We believe community living should always be the expectation.
"Community" means places where people of all ages, with and without disabilities, live, grow, learn, work, are valued and create a better shared future together. 
We are committed to upholding the rights guaranteed in the Americans with Disabilities Act and reinforced through the U.S. Supreme Court's decision in Olmstead v. L.C. – a decision we fully support. 
We are firmly committed to supporting the Centers for Medicare and Medicaid Services in implementing the federal home- and community-based settings rule.
In short, at ACL, we are fully committed to making community living possible for all.
We are proud of the work that has been done, and we celebrate the gains achieved since the ADA was passed. That progress fuels our passion for our work.
As we celebrate the 28th anniversary of the Americans with Disabilities Act, we also confirm and renew our commitment to working with people of all ages with disabilities, our grantees and other disability advocates, and partners across government, industry, academia, and communities to improve the availability and quality of the services and supports people need to live in their communities. Working together, we can fully realize the promise of the ADA.