January 29, 2019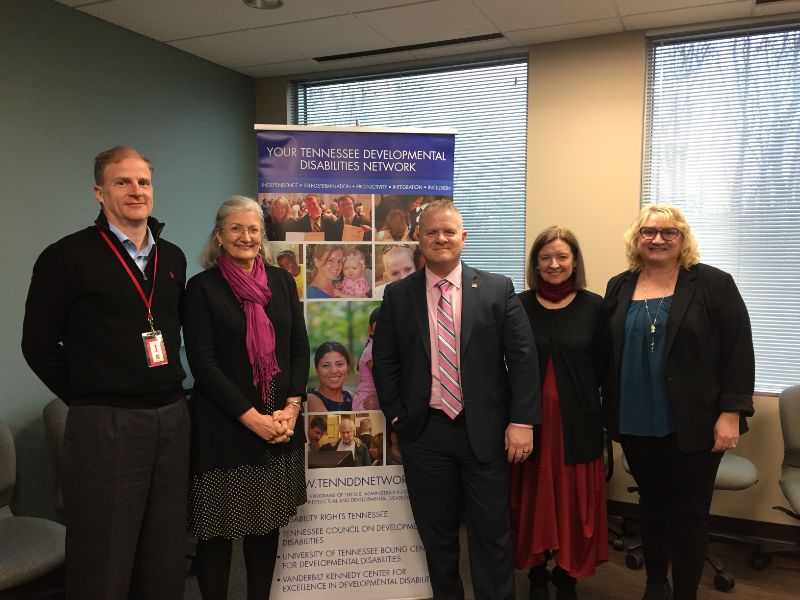 Note from ACL Administrator Lance Robertson:
Earlier this month, I traveled to Tennessee to speak at the Vanderbilt Kennedy Center. While I was there, the Tennessee DD Network organized an outstanding series of meetings with the DD Act programs. It was a great opportunity for me to hear first-hand how the programs are working in Tennessee, and even better, how the programs are partnering with each other, and with others in the aging and disability networks, to expand opportunities for community living. We asked the Tennessee DD Network to contribute this guest post to share some of the highlights.
I want to say thank you to the Network for all they did to create such a productive visit, and for putting together this recap so we could share it with everyone. 
--Lance 
The DD Act Programs at Work in Tennessee
The Developmental Disabilities Act creates three programs in every state, all overseen by ACL and united by the shared values of community living. Earlier this month, Assistant Secretary for Aging Lance Robertson visited Tennessee to deliver the Vanderbilt Kennedy Center Martin Luther King, Jr. Disability Policy lecture and to learn how the DD Act programs work collaboratively to impact the lives of Tennesseans with disabilities and their families. Said Elise McMillan, Co-Director of the Vanderbilt Kennedy Center, "Hardly a week goes by that we DD Network leaders are not meeting or talking. We work as a network, just as the DD Act envisioned."
Robertson began his visit meeting with faculty, staff, and trainees at Vanderbilt to learn about the work of Tennessee's University Centers for Excellence in Developmental Disabilities (UCEDDs). He met with leaders from programs that began at Vanderbilt Kennedy Center: TennesseeWorks, a statewide partnership that has built the capacity of communities, districts, and agencies all across the state to elevate employment outcomes in noticeable ways and Putting Faith to Work, an employment model that taps into the personal network, creativity, and commitment existing within any congregation.
During his remarks on Monday, January 14 at Vanderbilt, Robertson encouraged Tennessee to think intentionally about how federal dollars are spent, calling for a more unified message across aging and disability programs. He named TN Disability Pathfinder, the state's central disability services database launched more than two decades ago through a partnership between DD Network programs, as an example of this. Launched with funding from the Council and operated by Vanderbilt Kennedy Center, "Pathfinder" provides free information, resources, support, and referrals to Tennesseans which is perfectly aligned to one of ACL's pillars: connecting people to resources. Pathfinder's robust Multicultural Outreach program and Camino Seguro Spanish database were developed in partnership with the state's other UCEDD, The University of Tennessee's Boling Center for Developmental Disabilities. 
On Tuesday, Robertson heard directly from leaders in the aging and disability services field about how Tennessee puts the tenets of collaboration and a common vision into practice. Tennessee's Chief of Medicaid Long Term Support Services, Patti Killingsworth, shared how the DD Act programs are consulted on policy decisions and program design, convening different interest groups and advancing conversations toward common goals. Tennessee's Protection and Advocacy agency, Disability Rights TN, leverages collaboration with state agencies via memorandums of understanding (MOUs), which often fosters more efficient resolutions of systemic issues. Brandon Brown, Executive Director of Empower Tennessee, a Center for Independent Living, shared that having connection and collaboration between the DD and Independent Living communities is a direct result of the two being connected through the ACL family. Brown said, "We are all doing the same work to promote community living. It just makes sense to do it together." Jim Shulman, Executive Director of the Tennessee Commission on Aging and Disability, agreed with Brandon and cited the close connection between the Commission and the Tennessee Council as a key reason for both agencies' successes in the state.
Expanding employment opportunities, one of ACL's five pillars and a priority for Tennessee's newly elected governor, Bill Lee, is an area where the DD Act programs have a track record of success. For more than 10 years, the Tennessee Council has convened state agencies and DD Act program directors to discuss increasing employment outcomes for youth and adults with disabilities. Consistent communication between the nearly 30 representatives from 9 state agencies has led to tangible returns. This Employment Roundtable has established statewide employment goals, created a one-of-a-kind MOU between agencies providing transition services for youth with disabilities, and connected data points that help highlight gains and gaps in the service system. 
This positive, solutions-oriented culture that these leaders created puts the DD Act to work in Tennessee. "Each of our programs is distinct – but we need each other," commented Executive Director of the TN Council on Developmental Disabilities Wanda Willis. "There will always be a need for research and training; for advocacy and protection of rights; and for evaluating and improving our systems with all stakeholders at the table. This is the brilliance of the DD Act; now it's up to us to carry out our work in their vision."