July 5, 2016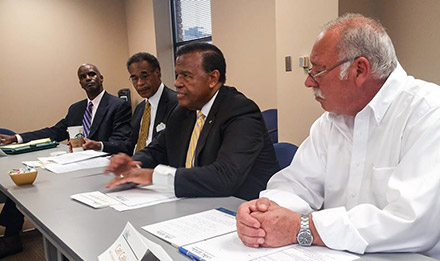 In my time at ACL, I have been a part of many conversations about disability and diversity. Usually, these involve disability advocates talking to each other about the need for more diverse voices in our movement and greater cultural and linguistic competency in our programs. These conversations, and the actions they inspire, make the disability community stronger. They must continue, but they are just one part of a larger picture.
Last week I had the privilege of participating in a community conversation in Kansas City, Mo. that was unique.
The group of more than 20 local leaders was convened by ACL, Congressman Emanuel Cleaver, and the Institute for Human Development (IHD) at the University of Missouri-Kansas City. It was memorable because it built on these conversations within the disability community to consider how we could accomplish more by collaborating with local leaders working on other civil and human rights issues.
Congressman Cleaver kicked off the event by reminding us that diversity has made our country stronger and more beautiful. He spoke about the contributions of the Mormon community as an example of this diversity. He also spoke about the contributions of African Americans with disabilities as an example of the diverse subgroups that exist within every group. Congressman Cleaver emphasized the importance of viewing our civil rights work as connected, speaking of disability rights in the context of Dr. Martin Luther King's fight for civil rights and quoting Muhammad Ali, who once said, "Everyone needs someone in their corner."
University of Missouri-Kansas City Chancellor Leo Morton echoed this sentiment, noting that people with disabilities can sometimes be overlooked in diversity and inclusion work. Chancellor Morton said he was "the product of a disabled man." He described his father, an African-American man who had polio, as a role-model and a community leader in Birmingham, Alabama. "Most of the things that we develop to be helpful to people with disabilities end up separating them," he observed, reflecting a theme that came up several times that day.
The discussion that followed touched on a wide range of issues and experiences. A few themes that stood out to me include:
Recognizing common challenges: So many of the challenges that were discussed, including employment, transportation, housing, education, and consistent service delivery impact many different communities. By working in coalition with other civil rights groups, we can tackle these issues more effectively.

Learning from each other: Many discussions of program successes and failures demonstrated how much we can learn from each other. For example, staff from a Jewish social service non-profit helping new refugees integrate into the community and find jobs offered lessons that could inform transition work for youth with disabilities. The use of social media by LGBT advocates could offer lessons for many communities fighting against stigma.

Following the community's lead: The group discussed the importance of respecting and listening to the communities you work in, using IHD's work within the city's Hispanic community as a case study. This requires building trust, partnering with established leaders and non-profits in the community, knowing when to step back and defer to the community, and focusing on the long-term, rather than trying once and giving up.

Emphasizing strengths and high expectations: Group members pointed out that people with disabilities, people of color, and people from other stigmatized communities often face low expectations and are seen only for what they can't do. By setting high expectations developed around individuals' strengths, we can challenge many different stereotypes.
I am grateful for all those who brought their voices and passion to this dialogue. These discussions are not always easy ones to have but they are critical for all of our communities.
By engaging in dialogue we can understand different perspectives and seek out opportunities to work in coalition. We can challenge each other to think of our civil rights work in the broadest sense and show up as allies for each other's struggles. We might even discover people in our own communities whom we have previously overlooked and battles we never thought were ours to fight. As the participants made clear, not only do our communities overlap but so do the challenges we each confront.
These conversations, both within and beyond the disability community are critical to our futures, and those of our children and grandchildren. ACL is committed to promoting this dialogue about disability, diversity, and civil rights on a local and national level and our goal is for this meeting in Kansas City to be just the beginning. We hope the experiences of community leaders in Kansas City will offer lessons that can inform future work in communities around the country.
As Dr. King once said, "It is not possible to be in favor of justice for some people and not be in favor of justice for all people."