April 17, 2015
The importance of rigorous data collection to inform international development programs aimed at empowering women and girls can hardly be overstated. For these efforts to be successful, however, all women and girls, regardless of age or ability, must be included.
This week, reporting by the Thomson Reuters Foundation brought attention to the troubling absence of older women in much of the research that informs global health and development priorities. Women over the age of 49 comprise nearly a quarter of the world's female population, yet many surveys on important topics such as HIV, access to economic resources, and intimate partner violence focus primarily on women of reproductive age.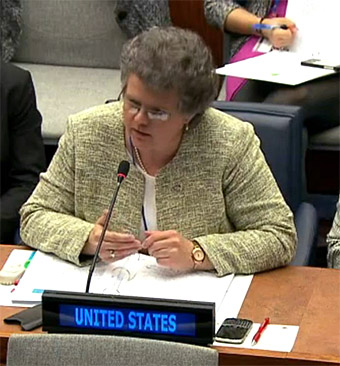 The result is that women who are older remain invisible in policies and programs addressing global gender issues. The same is often true for women and girls with disabilities of all ages. This is especially problematic in the development of strategies to combat gender-based violence, as women and girls with disabilities suffer alarmingly high rates of abuse.
When we do include all women and girls in research, we should not assume that a 65-year-old and a 95-year-old, or a wheelchair user and a woman with a developmental disability, have similar needs and experiences. By digging deeper and disaggregating data by gender, age, and disability, we could design high-quality domestic and international programs that serve women and girls holistically and more effectively.
Last month, I joined my colleagues from the State Department and USAID as part of the U.S. Delegation to the 59th United Nations Commission on the Status of Women. While at the UN, I had the privilege of representing the United States in panel discussions on the importance of rigorous data collection, empowerment of marginalized women and girls, and promoting social norms that value the human rights of all people.
I was particularly proud to speak on a panel at a side-event hosted by HelpAge International and the Permanent Mission of Argentina to the U.N. on the crisis of violence against older women. As we commemorate the 20th anniversary of the Beijing Declaration and Platform for Action, it is critical we recognize those women and girls for whom progress has stalled.
Women and girls from marginalized communities—including those who are older, have disabilities, are living with HIV, are indigenous, or identify as a sexual or gender minority–face disproportionate rates of violence and abuse. This violence constitutes a public health and human rights crisis that we simply cannot ignore.
Activists and policymakers are working hard every day on behalf of women and girls. We refuse to accept that more than half of the world's population is denied their full human rights and equal participation simply because of their gender. I am proud to be an advocate for the rights of women and girls of all ages and abilities, so that no one is invisible. I hope you will join me.