November 10, 2021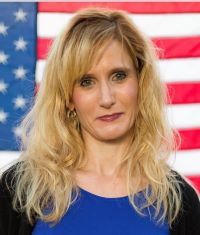 Veterans Day, November 11, is dedicated to honoring American veterans. About 19 million Americans –  seven percent of the population - have served in the military. I am proud to stand as one of them. Because I'm a petite woman – and only about 1 in 10 veterans are women – people are often surprised to discover that I served in the military. Even other veterans are often surprised. (However, once I identify as a former Navy Corpsman, there is an automatic bond between us like no other.)
Perhaps my experiences in the Navy working in the health and wellness field led me to my work in the aging network. During my time working as a program manager at a local senior center, I encountered so many veterans. I enjoyed listening to the stories and experiences they had to share. I have always felt that working in the community, helping older adults and people with disabilities, was really an extension of my days as a corpsman. As a corpsman, my job was to help Sailors and Marines stay healthy and to connect them to the resources they needed to do that. As part of the aging network, I was similarly able to help veterans in my community find the programs and services that could help them. 
More than 15 percent of people over the age of 60 – and more than 43 percent of those over 75 – are veterans, and not all of them qualify for programs or services through the Department of Veterans Affairs.  The aging network plays an important role in helping them stay healthy and independent as they age.
Let's look at, for example, the Senior Nutrition Program. Everyone needs to eat! This program provides both home-delivered meals and healthy meals that are served in congregate settings, such as senior centers and faith-based locations.  Our most recent data from the 2019 National Older Americans Act Participants Survey shows that 15 percent of home-delivered meals participants are veterans, and approximately 17 percent of congregate meals participants are veterans. 
In addition to healthy meals, the nutrition programs provide a range of services, including nutrition screening, assessment, education, and counseling. Nutrition services also provide an important link to other supportive in-home and community-based supports. People come in because they are hungry and leave with all sorts of valuable services. For example, they can receive homemaker and home-health aide services, home repair and modification assistance, transportation, and physical activity programs
They also can connect to evidence-based programs to help them manage chronic health conditions and/or reduce their risk of falling.  By participating in an evidence-based program, they learn to take control of their health, which also makes them wiser and stronger advocates for their health. 
Many programs offered through our network are focused specifically on supporting veterans. One example is a 2018 falls-prevention grantee partnering with their local Heroes to Hives program. The Heroes to Hive program is a beekeeper-training program for veterans. Our Oasis Institute grantee is teaching Tai Chi for arthritis and fall prevention to Heroes to Hive participants to help promote mindfulness, stress management and physical health – and helping them learn to stay calm, which is important when working with bees!
As veterans, we love to give back to our communities. I think volunteerism is just a part of us – we seek to serve for the greater good. Veterans across this nation volunteer in our senior centers, tribal programs, the Senior Health Insurance Assistance Program, and more. Our network relies on them heavily, and they have come through during difficult times.  
On behalf of all of us at ACL, I want to say thank you to all who have worn the cloth of our nation. And to the many veterans who are selflessly sharing their time as volunteers in ACL's programs, we thank you for your continued service.  
Keri Lipperini is the director of ACL's Office of Nutrition and Health Promotion Programs, which administers health, prevention, and wellness programs for older adults. These programs provide behavioral health information, chronic disease self-management education, diabetes self-management, disease prevention and health promotion services, falls prevention programs, HIV/AIDS education, nutrition services, and oral health promotion. 
Meet more of ACL's veterans through our ongoing photo feature on Facebook.
To find programs and services available to older veterans through the aging and disability networks, contact the Eldercare Locator, which is available 24/7 at eldercare.acl.gov, or by calling 1- 800-677-1116, Monday through Friday from 9 a.m. to 8 p.m. (Eastern Time)