October 31, 2017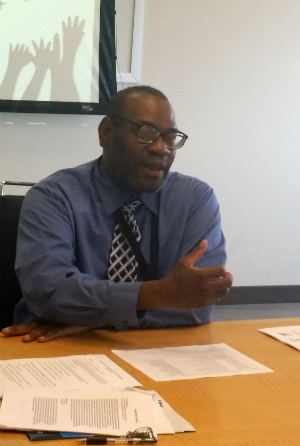 As National Disability Employment Awareness Month comes to a close, we wanted to share the story of a worker with a disability who is making his voice heard as a self-advocate.
Steven is a Washington, D.C. native who grew up with intellectual and learning disabilities, as well as mental health conditions. As he was growing up, he always maintained the aspiration to work. He got his first work experience at the age of 14 through the DC Summer Youth Program as an office clerk for the Navy and the Department of Agriculture.
Though his disabilities prevented him from perusing his initial goal of joining the military, he didn't let that stop him in his journey for growth and independence. For 12 years, Steven worked at a law firm, becoming the "right hand man" for a partner at the firm.
After doing office work for many years, Steven followed in his father's footsteps and obtained employment in the grocery/retail industry. Steven first worked at CVS and recently celebrated his tenth anniversary at Safeway.At the Kennedy Institute, a special education program for youth and young adults with disabilities in D.C., Steven developed his passion and skills for self-advocacy. Steven currently serves as the Co-Vice President for Project ACTION!, DC's statewide self-advocacy coalition. Steven is a strong self-advocate and excellent communicator and activist who works hard to continue learning as well as educate others about important disability rights issues.
In addition to working at Safeway, Steven started a fellowship at Washington D.C.'s Department on Disability Services (DDS) focused on protecting and promoting human rights. The fellowship is a collaboration between ACL's national Self Advocacy Resource Technical Assistance Center, D.C.'s Department of Disability Services, and Project ACTION!
Steven dreams of opening a comic book store and coffee shop. In his free time, Steven enjoys drawing, watching Dr. Who and Star Trek, and spending time with his mom, girlfriend, friends, and nephews.
Last year, ACL staff got to hear from Steven as part of a workshop on person-centered planning and D.C.'s No Wrong Door system. DC has also received a Partnerships in Integrated Employment Systems Change Grant.
Watch Steven's presentation to ACL staff and read more community living success stories