March 6, 2015
Each March, we celebrate National Nutrition Month® to highlight the importance of proper nutrition in promoting wellness. Along with promoting physical health and well-being, ACL's nutrition program creates a positive ripple effect on the personal and social lives of older people.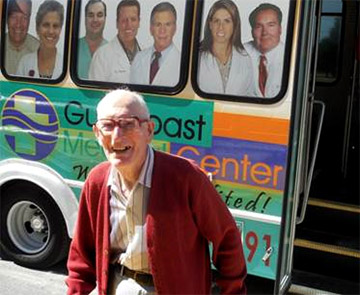 Keith, a 94-year-old widower in Florida, was hospitalized but lived alone and could not prepare his own meals when he was well enough to leave the hospital. His doctors were concerned when he refused to move to a nursing home or an assisted living facility. Keith was clear: he wanted to live independently, in his own home, and is doing so today, thanks to a person-centered approach to planning services and supports that match his needs and preferences.
Although home-delivered meals were a possibility, getting out and about was important to Keith, so he started participating in one of Pasco County's senior lunch programs at the Galen Wilson Congregate Dining Site. He now "enjoys coming to see all his friends and having a good, hot meal" five days a week.
Keith has benefited from more than just the meals and socializing while at the dining site. When the center's staff noticed he was unsteady on his feet, they arranged transportation for him. When rising waters forced him to evacuate his home after Tropical Storm Debbie, staff helped him get in contact with the Federal Emergency Management Agency so his home could be evaluated.
Keith's doctors are amazed at how well mentally, physically and socially he is doing. Keith told the Pasco County Board of County Commissioners last year that "the Nutrition Program saved my life."
As the Older Americans Act (OAA) celebrates its 50th anniversary this year, it is important to recognize the wide range of benefits the OAA Nutrition Program provides as the largest health promotion program funded by the OAA.
These programs, which are administered by ACL through direct grants to states, have two primary components: home delivered meals and congregate meals.  According to the most recent data, ACL funds provided more than 273 million home-delivered meals, 170 million congregate meals and nutrition education 6 million times to nearly 2.5 million people in 2012. Having access to a nutritious meal and information can help older adults improve their overall health. Being well nourished helps people manage and prevent chronic diseases such as diabetes, heart disease, and osteoporosis.
President's FY16 Budget Proposal
The impact of the OAA Nutrition Program on the physical, mental, and emotional health of older people is significant. Investing in nutrition services for seniors is money well spent.
President Obama's budget proposal for FY16 includes a $59.9 million budget increase for the OAA Nutrition Programs, as well as funding for new nutrition initiatives.
$19.9 million more for Congregate Nutrition
$20 million more for Home-Delivered Nutrition
$20 million for a new nutrition modernization demonstration program which "would support competitive grants to translate research into evidence-based models states can use to implement more efficient and effective home-delivered and congregate nutrition programs."
For more information, see the ACL Nutrition Program website.