May 16, 2016
This week the Harry and Jeanette Weinberg Center for Elder Abuse Prevention presented Assistant Secretary for Aging and ACL Administrator Kathy Greenlee with a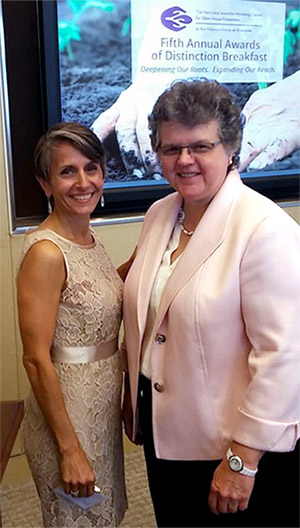 Champion for Justice award. The award recognizes a public official who advances elder abuse prevention and innovation.
Greenlee describes elder abuse a "moral outrage that erodes the humanity in all of us." She has been an outspoken advocate for a more coordinated federal response to elder abuse in the United States and for action to address elder abuse as an international public health crisis. She has brought attention to the issue in venues as diverse as the White House Conference on Aging and the 59th United Nations Commission on the Status of Women. Under her leadership, ACL established the first federal home and federal grants to support state Adult Protective Services systems which respond to elder abuse.
Presenting the award, Weinberg Center Director and Managing Attorney Joy Solomon said Greenlee's time in Washington "has been marked by tremendous concrete progress towards a better coordinated, better recognized, and better supported elder justice movement."
Reflecting on the progress of the elder justice movement, Greenlee wrote last week:
Sometimes, when we try to tackle a problem this big and this important, it can seem impossible. It feels like pushing a boulder up a hill. But I can tell you that we have moved this one. Progress is slow but certain. Both now and in the future we must keep pushing. At every level, in every way, we must continue to move forward and upward. Older adults deserve the dignity, independence, and security we all seek, and they are more than worth our effort.
Established in 2005, the Weinberg Center is the nation's first elder abuse shelter serving eligible individuals 60 years and older. Past "Champions for Justice" include Manhattan District Attorney Cyrus Vance, Jr.; incoming New York Court of Appeals Chief Judge Janet DiFiore; the late Judith Kaye, former Chief Judge of the New York Court of Appeals; and NYPD Deputy Commissioner Susan Herman.