December 5, 2018
Statement from ACL Administrator and Assistant Secretary for Aging Lance Robertson:
On Friday, our nation lost a great American, President George H.W. Bush.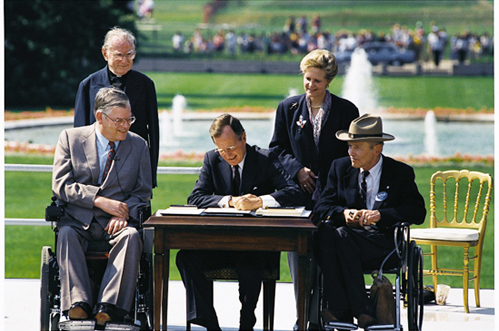 As President Donald J. Trump noted, President Bush's life "personified two of our Nation's greatest virtues: an entrepreneurial spirit and a commitment to public service."
That commitment was on full display on July 26, 1990, when Pres. Bush signed into law the landmark Americans with Disabilities Act. From curb cuts and accessible buses to the integration of people with disabilities in schools, workplaces, businesses, and neighborhoods, the ADA has made our communities more accessible and more inclusive. Thanks to President Bush's leadership, millions of older adults and people with disabilities have been able to enter through doors, both literal and metaphorical, that were previously closed to them.
"Together, we must remove the physical barriers we have created and the social barriers that we have accepted," President Bush said as he signed the ADA into law. "For ours will never be a truly prosperous nation until all within it prosper."
Today, our nation pauses to honor the legacy of a great public servant. When all the ceremonies and services are over, we can continue to honor his legacy by removing even more barriers and moving even closer to the truly prosperous nation President Bush imagined. 
Media coverage on President George H.W. Bush and the ADA: