July 22, 2021

ACL is pleased to announce that the Nutrition and Aging Resource Center website is now at acl.gov/senior-nutrition. Content has been reorganized into key sections, including training and tools; success stories; and data and evaluation. A broad range of subsections further organize content into categories such as innovative models and events.
Resources on the website will continue to grow and be improved based on the needs and activities of senior nutrition programs across the country.
Spotlight on COVID-19 Resources
The National Senior Nutrition Program has been developing and gathering COVID-19 resources since the earliest days of the pandemic.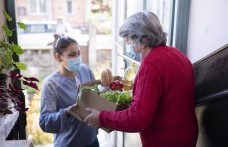 The new Nutrition and Aging Resource Center website includes an expanded section of COVID-19-related resources for nutrition programs, including considerations around the complexities of reopening, real experiences and advice from programs, and a range of tips and FAQ for program managers.
---
ACL's National Resource Center on Nutrition and Aging – also known as the Nutrition and Aging Resource Center – serves to build the capacity of senior nutrition programs funded by the Older Americans Act (OAA) to provide high quality, person-centered services, and to assist ACL and stakeholders with identifying opportunities to enhance program sustainability and resiliency. OAA-funded senior nutrition programs work to reduce food insecurity, hunger, and malnutrition; enhance socialization; and promote health and well-being of older adults.
Resource Center Quick Links
About Us | Training & Tools | Success Stories | Data & Evaluation