August 27, 2020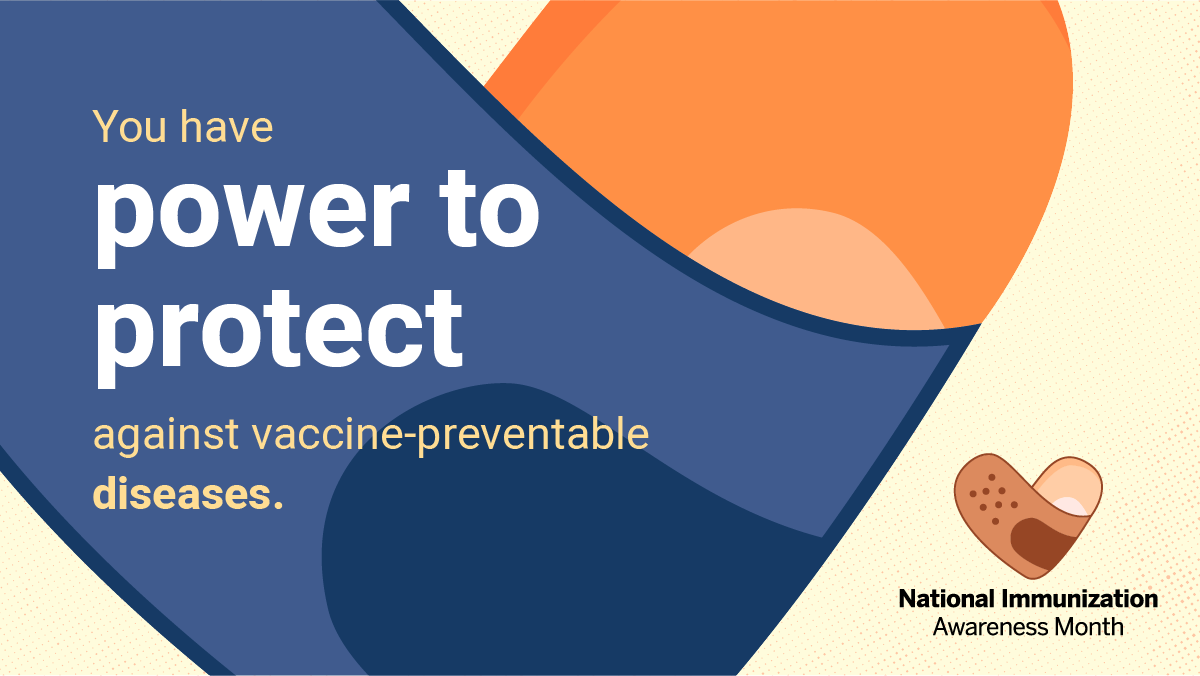 You have the power to protect yourself against serious diseases like shingles, pneumonia, and flu. Vaccines aren't just for kids. Adults may need vaccines to protect against whooping cough, flu, pneumonia, and shingles. Ask your doctor about vaccines you may need for your age, health conditions, job, or lifestyle.
The best way to prevent seasonal flu is to get vaccinated every year. Everyone six months of age and older should get a flu vaccine every season, especially people at high risk. Over 60 percent of flu-related hospitalizations occur in people 65 years and older. Learn more about preventing seasonal flu.
This year's flu season may be complicated by the ongoing COVID-19 pandemic. Because some of the symptoms of flu and COVID-19 are similar, it may be hard to tell the difference between them based on symptoms alone, and testing may be needed to help confirm a diagnosis. To learn more about COVID-19, visit Coronavirus (COVID-19).
While there is currently no vaccine for COVID-19, you can safely get a flu vaccine at multiple locations including your doctor's office, health departments, and pharmacies. Use VaccineFinder.org to find flu vaccines available near you. 
To protect against tetanus, diphtheria, and pertussis (whooping cough), people over 50 years old should get the Tdap vaccine, if you did not receive it as an adolescent. Then you should get a Td (tetanus, diphtheria) booster shot every 10 years. 
If you have a condition that weakens the immune system, a cerebrospinal fluid leak, or cochlear implant should ask your doctor about other important vaccines.
As we get older, our immune systems tend to weaken, putting us at higher risk for certain diseases. In addition to flu vaccine and Td or Tdap vaccine (tetanus, diphtheria, and pertussis), older adults should also talk with their doctor or other healthcare professional to find out which vaccines are recommended.
Ask about vaccines that protect you against:
Shingles (recommended for healthy adults 50 years and older). Almost 1 out of every 3 people in the United States will develop shingles in their lifetime and your risk of shingles increases as you grow older. 
Meningitis, pneumonia, and bloodstream infections. This is recommended for all adults 65 years or older, and for adults younger than 65 years who have certain health conditions.
Learn more about recommendated vaccines for various health conditions.
Every year thousands of adults in the U.S. become seriously ill and are hospitalized because of diseases that vaccines can help prevent. By getting vaccinated, you can help protect yourself and your family from serious, sometimes deadly, diseases.
Find out more at vaccines.gov.