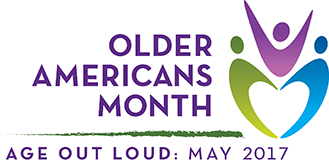 The Administration on Aging, part of the Administration for Community Living, is pleased to announce the theme for Older American's Month 2017. The theme, Age Out Loud, is intended to give aging a new voice—one that reflects what today's older adults have to say about aging.
The 2017 theme gives us an opportunity to shine a light on many important issues and trends. More than ever before, older Americans are working longer, trying new things, and engaging in their communities. They're taking charge, striving for wellness, focusing on independence, and advocating for themselves and others. They expect to continue to live their lives to the fullest, and they're insisting on changes that make that possible. What it means to age has changed, and OAM 2017 is a perfect opportunity to recognize and celebrate what getting older looks like today.
In May, AoA and ACL will amplify the many voices of older Americans and raise awareness of vital aging issues across the country. Join us as we speak up and out loud for OAM! To start promoting online, use the official hashtags #OAM17 and #AgeOutLoud.
Stay tuned for more information and materials coming soon!