November 13, 2015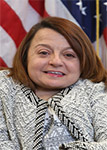 ACL is mourning the loss of Jamie Kendall, Acting Director of the Independent Living Administration, who died November 12, 2015.
Jamie was an inspirational leader, brilliant colleague and dear friend, but these words do not begin to really capture who she was, or how many people she touched. In sharing memories, her colleagues at ACL universally speak of her infectious optimism, quick wit, and ready laughter, which were matched by a unique intellect and a gift for analyzing problems and leading people to develop solutions.
She is remembered also as a mentor who blended a genuine concern for people with a no-nonsense expectation of excellence. She set the highest example, and people were motivated to live up to it. Because of her, countless people who were not "disability people" came to understand that true inclusion, and enabling people to live the lives they choose for themselves, are simply human rights.
Her legacy includes a team of colleagues who are committed to continuing the work she not only started, but significantly advanced throughout her career. She was a tireless advocate and was dedicated to her work, but her family was the center of her world. The stories she shared from day-to-day reflected a love for her husband Tim, their children and new grandbaby, and their extended family that was evident to all.
Jamie had a tremendous love for life, and she shared that with everyone she encountered. In turn, she was loved by many, and we will miss her terribly.
Note: In lieu of flowers, the family asks that gifts be sent to the Osteogenesis Imperfecta Foundation (804 Diamond Ave, Suite 210, Gaithersburg, MD 20878) or Alexandria Animal Rescue (4101 Eisenhower Ave, Alexandria, VA 22304). Cards or other warm wishes may be sent to Tim Domdro and Family, care of ACL, 330 C Street SW, Washington, DC 20201.
More Tributes and Obituaries