July 22, 2020
Celebrating the 30th Anniversary
of the Americans with Disabilities Act
This year marks the 30th anniversary of a major milestone in our nation's history—the signing of the Americans with Disabilities Act (ADA). Since it became law on July 26,1990, this landmark legislation has helped increase inclusion and opportunities for people with disabilities in almost every aspect of American life. 
The toolkit below contains social media posts, hashtags, and graphics that can be used in your celebrations of the anniversary.  Feel free to customize them, or to use them exactly as they are. 
Be sure to also check out the microsite ACL and the HHS Office for Civil RIghts created to celebrate the anniversary, and join us at noon on July 30 for our celebration event. In a livestreamed panel, leaders from across the department will discuss HHS' work to eliminate barriers for people with disabilities and to achieve the ADA's promise of true inclusion.  
Sample Facebook posts
The Americans with Disabilities Act was signed into law on July 26, 1990, by President George H.W. Bush—affirming the inherent dignity of every person. This sweeping legislation protects people with disabilities against discrimination in the workplace and ensures equal access to public accommodations, among other protections. ACL and the HHS Office for Civil Rights came together to celebrate the 30th anniversary of the ADA by telling the story of how it was created, showcasing progress made toward achieving its promise, and illustrating work across the government towards full inclusion of people with disabilities. Visit https://acl.gov/ada.
More Facebook options

The ADA is the culmination of many years of determined effort by people with disabilities and other disability advocates, and it came to life with the support of many in Congress and the Bush Administration. Through recent interviews and historical footage, some of those key figures narrate the events and milestones that led to the ADA's creation and passage. Learn more: https://acl.gov/ada.
With a national expectation of accessibility and full participation clearly established by the ADA, we have seen an explosion of tools and technology to assist people with a wide range of disabilities; advances in the accessibility of health care; and schools, workplaces, and recreational activities are more inclusive than ever before for the approximately 61 million Americans with disabilities. More: https://acl.gov/ada.
 Tell your #ADA30 story! How has your life changed #ThanksToTheADA? 
 
Sample tweets
The Americans with Disabilities Act was signed into law on July 26, 1990, by President George H.W. Bush—affirming the inherent dignity of every person, regardless of disability. #ADA30
The ADA protects people with disabilities against discrimination in the workplace and ensures equal access to public accommodations, among other protections. #ADA30
More tweets

ACL celebrates the 30th anniversary of the ADA by telling the story of how it was created, showcasing progress made toward achieving its promise, and illustrating work across the government towards full inclusion of people with disabilities. Visit https://acl.gov/ada. #ADA30
The ADA came about through many years of determined effort by people with disabilities and other advocates. Through recent interviews and historical footage, some of those key figures narrate the events that led to the ADA's creation. Learn more: https://acl.gov/ada. #ADA30
With a national expectation of accessibility and full participation clearly established by the ADA, we have new tools & technology to assist people; and schools, workplaces, & activities are more inclusive for 61 million Americans with disabilities. #ADA30
Tell your #ADA30 story! How has your life changed #ThanksToTheADA? 

Recommended Hashtags

#ADA30

#ThanksToTheADA
Graphics:
(Right click on the image to download.)
 

ADA 30th Anniversary logo: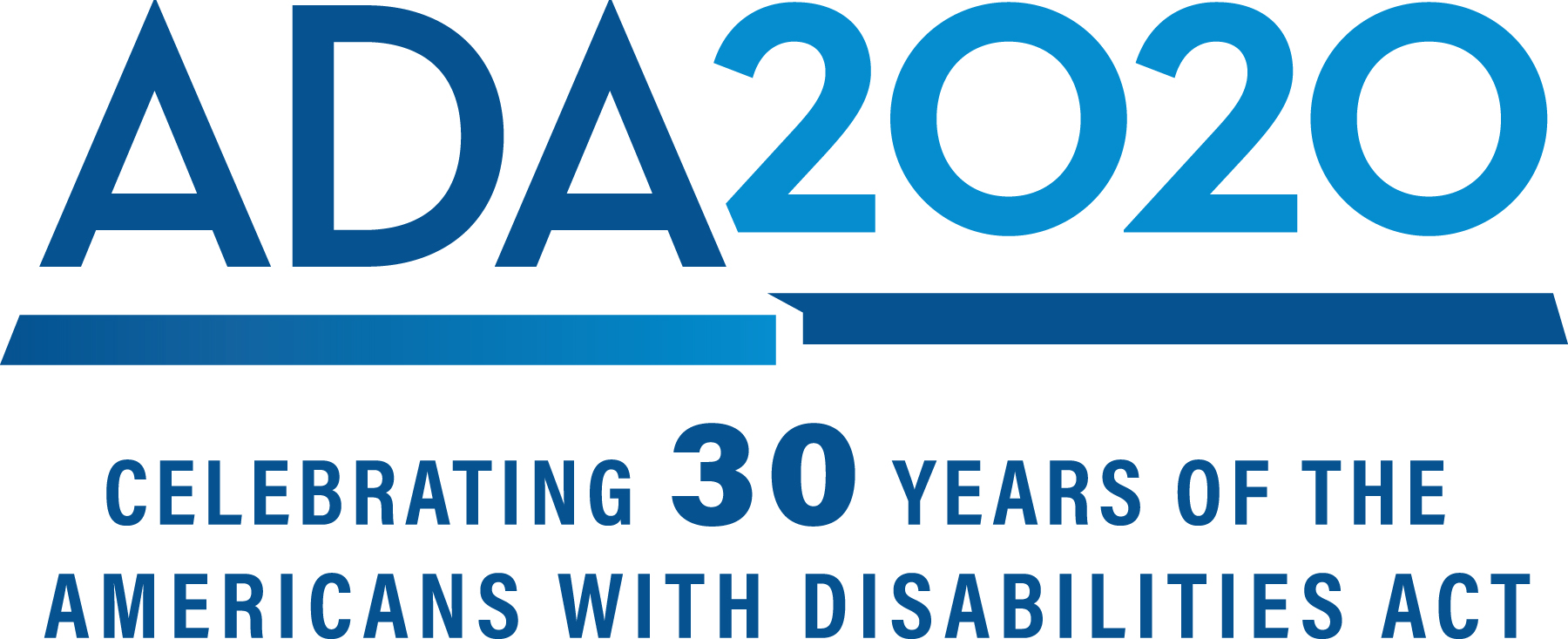 Social media images:
Facebook cover:

ADA 2020: Celebrating 30 Years of the Americans with Disabilities Act

Twitter cover:

ADA 2020: Celebrating 30 Years of the Americans with Disabilities Act