2018: Hurricanes
As Hurricane Florence approaches the East coast, we urge all of you to stay safe and be prepared. Be sure to follow local news and weather reports, as well as state and local government guidance. Here are some resources for the current hurricane situation:
For immediate help following an emergency, view response and recovery resources.
Emergency Preparedness for Older Adults and People with Disabilities
Disasters, man-made or natural, can happen at anytime, anywhere, and vary in magnitude. Older adults and people with disabilities have unique and special needs during a crisis. Approximately half of those over age 65 have two or more chronic health problems, such as heart disease, diabetes, and Alzheimer's disease. These conditions increase a person's vulnerability during periods of time without food, water, shelter, and adequate rest. People with disabilities have some of the same needs as older adults, but they may also have a wider variety of functional limitations, sometimes requiring more supports, many of which could likely be in short supply during a crisis event.
It is critical that individuals, service providers, and communities actively engage in emergency planning. Each person has a responsibility to prepare for potential crisis and make a plan for how to respond. Providers of long-term services and supports must train staff in all emergency actions (evacuation, lock-down, shelter-in-place). Community leaders and first-responders must be prepared to support the health and safety needs of older adults and people with disabilities, engage these populations in the planning process, and—to the maximum extent possible—provide services and supports in integrated Functional Needs Support Shelters.
The only way to ensure the well-being of older adults and people with disabilities during a crisis is through a "whole-community" approach to preparedness. For information and resources about how to support the needs of older adults and people of all ages with disabilities during an emergency, click on the links below under Emergency Preparedness Resources.
Materials for 2018 National Preparedness Month
To help educate older adults, people with disabilities, community-based organizations and others about emergency preparation, ACL created some materials with tips on readiness. These are free to download and available to the public for use.
Download a poster about emergency preparation for older adults and people with disabilities.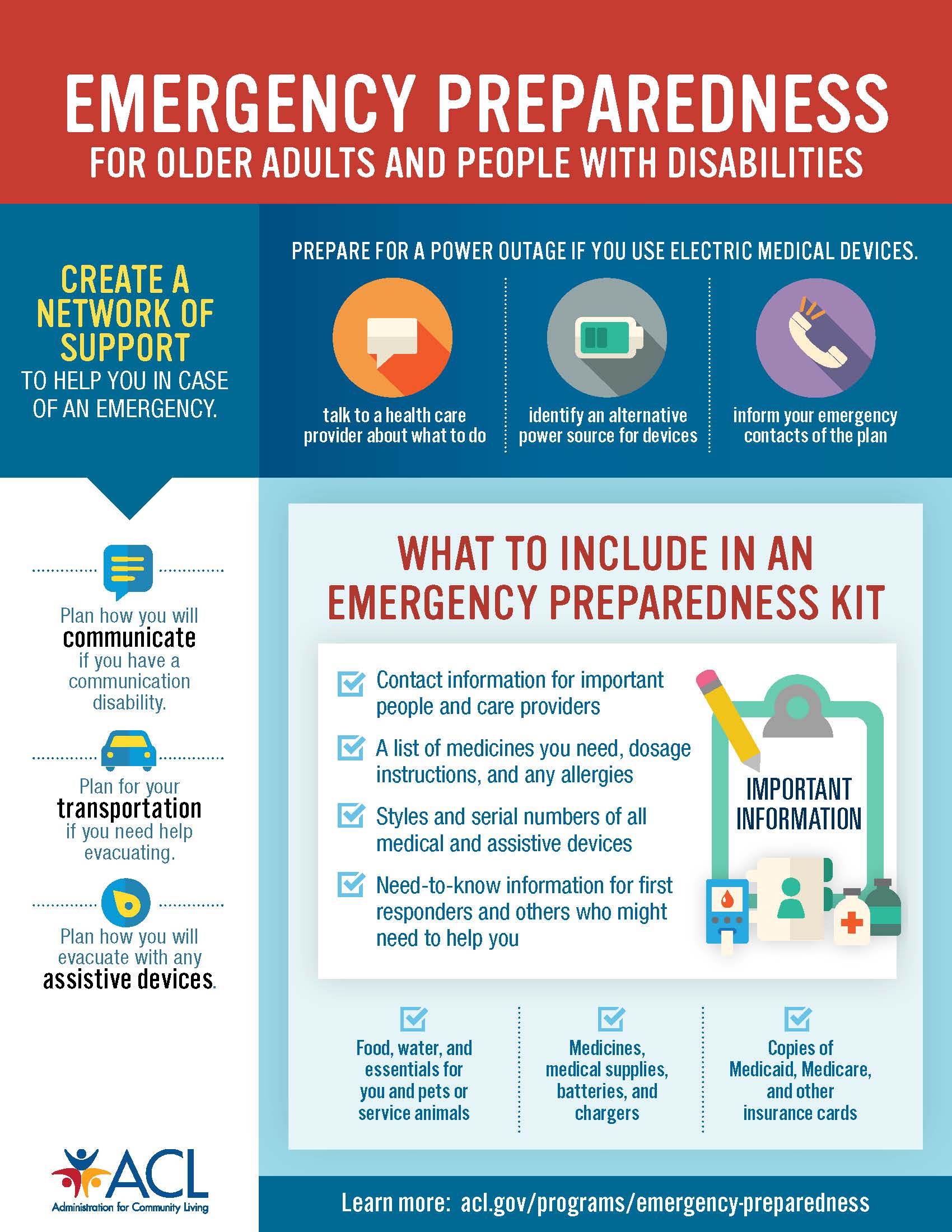 Additionally, view the Ready.gov social media toolkit for National Preparedness Month.
Emergency information card: Download this card and customize with your information to have it ready for responders during an emergency.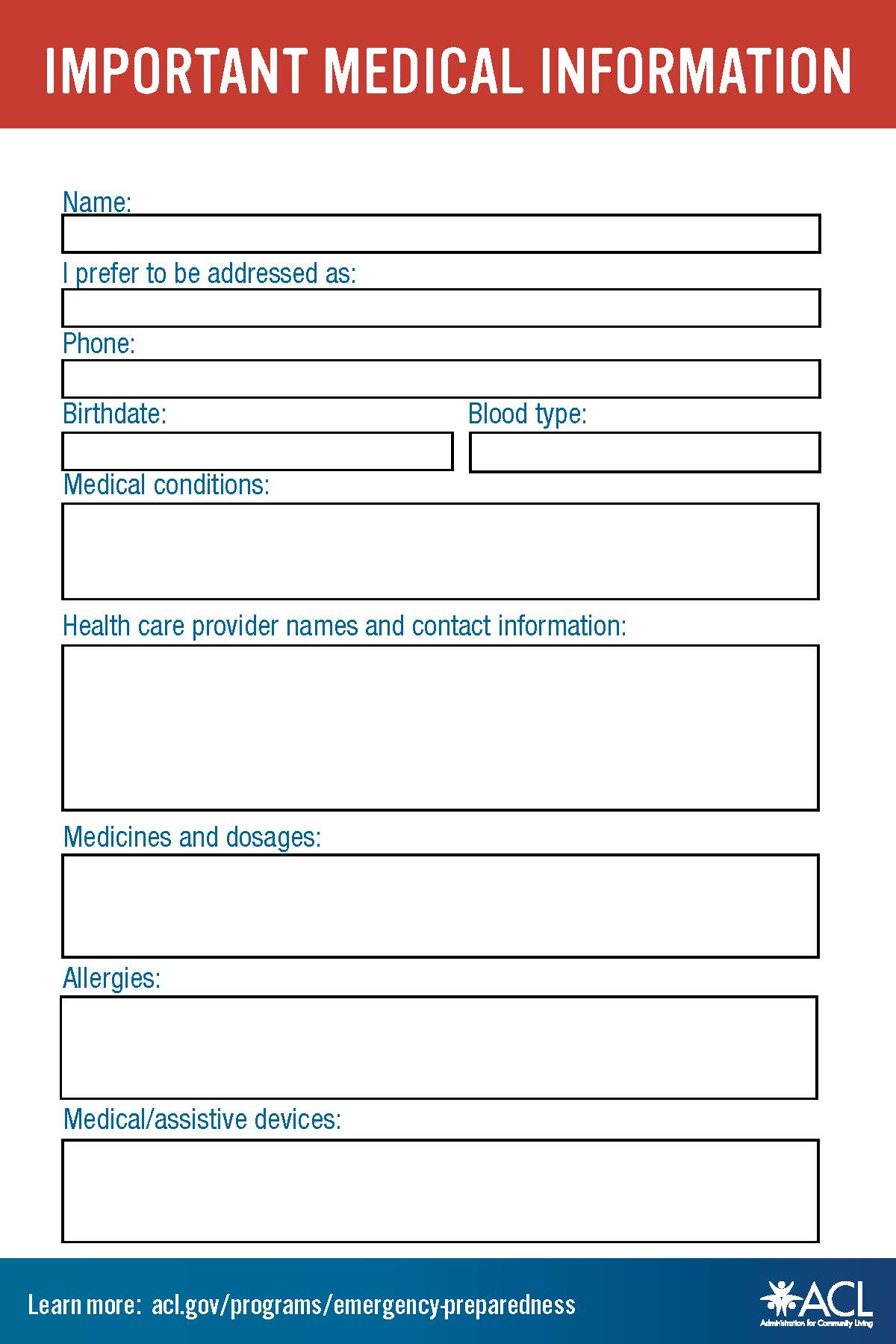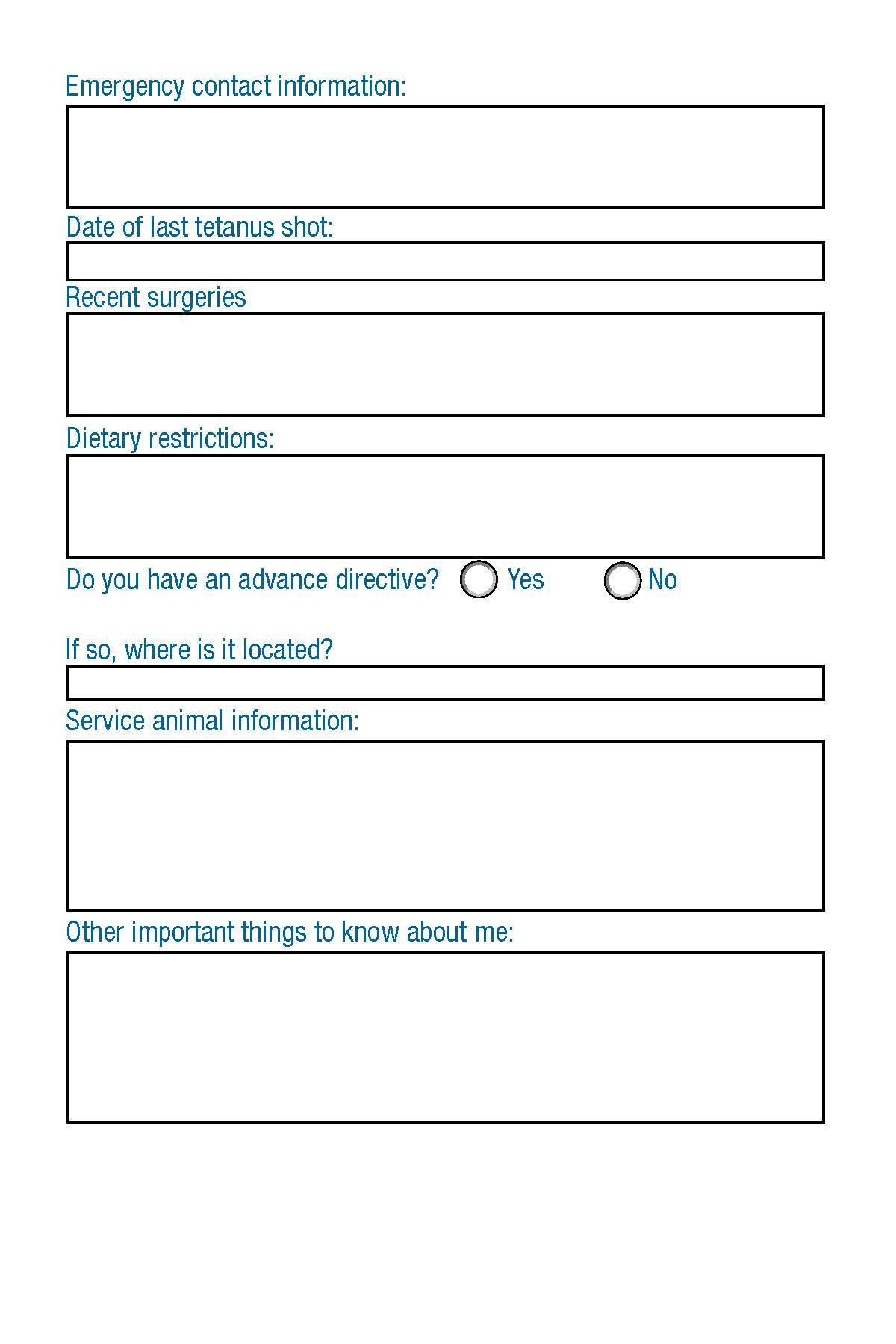 Emergency Preparedness Resources
Individual Preparedness: Best Practices and and Resources

Service Provider Preparedness: Best Practices and Resources

Community Preparedness: Best Practices and Resources

Community-Based Organization Preparedness
More resources about emergency preparedness are available at Ready.gov.