ACL's Social Care Referrals Challenge seeks health IT solutions to support health care systems and community-based organizations in partnering to provide holistic health and social care for older adults and people with disabilities.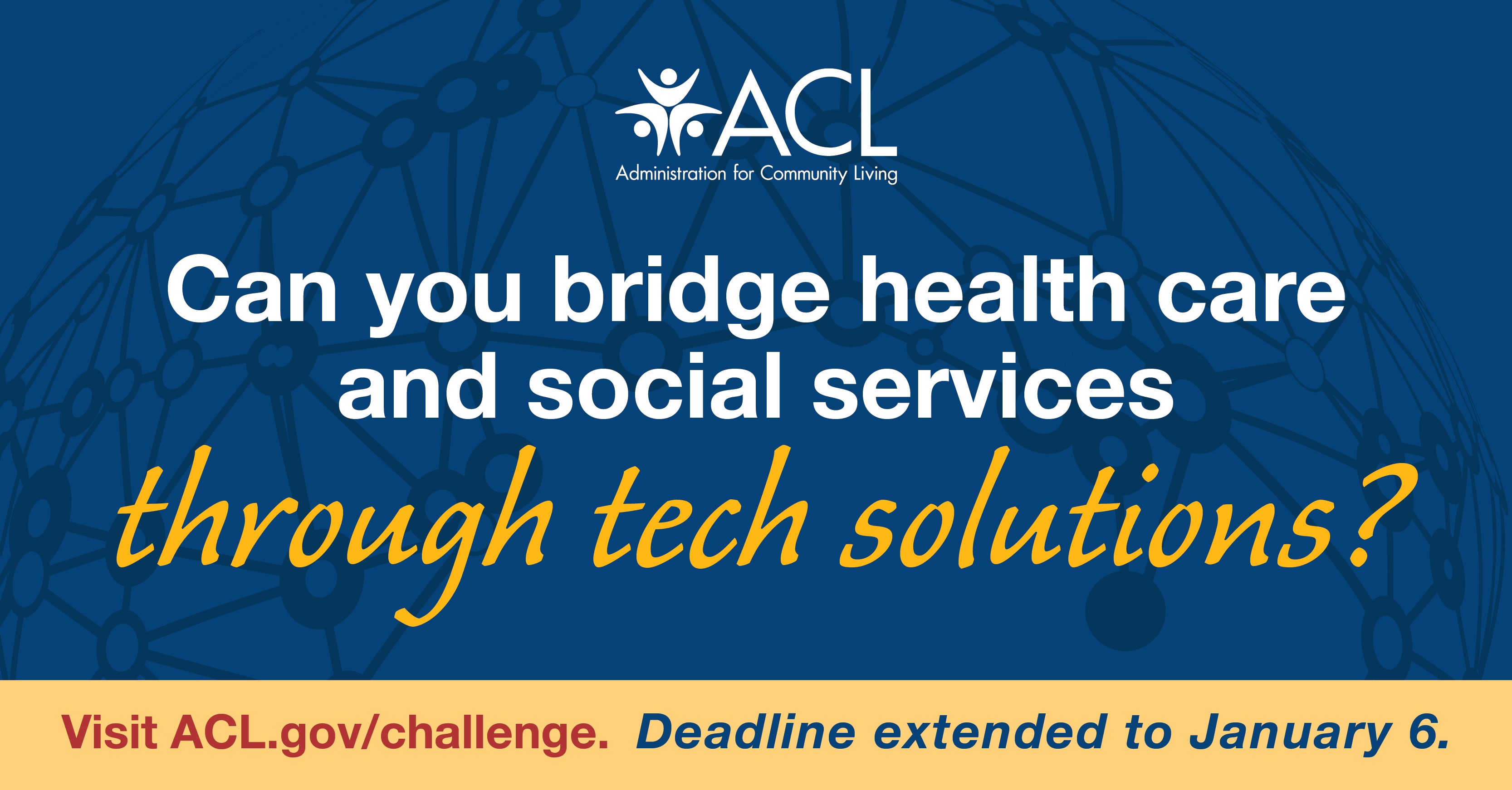 The Problem
Services delivered in the home and in the community that prevent falls, address food insecurity and transportation issues, manage chronic disease, support employment and economic independence, reduce social isolation, and address other non-medical risk factors have been shown to improve health outcomes and reduce the cost of care. 
Since 1965, the aging and disability network has been a trusted resource for meeting these needs, delivering home- and community-based services to one in five of America's older adults, as well as people of all ages with disabilities. This network includes more than twenty thousand community-based organizations and is present across the U.S. These organizations have unmatched expertise in local culture and needs, service coordination and delivery, and securing benefits, services and supports that maximize independence and functioning. Their reach into homes also provides an opportunity to identify risks and connect people to interventions before health issues become crises. Consequently, partnerships with this network have proven to be an effective way for health care organizations to include interventions to address social determinants in the continuum of care.
These partnerships are growing in both number and importance as demand for seamless integration of health care and social services continues to grow. As a result, the need for interoperable IT infrastructure to connect the partners has become critical. 
The health care and social services sectors have invested in technology independently. For example:
States have invested in resource directory and referral management systems to support their efforts to streamline and improve their systems for connecting older adults and people with disabilities to long-term services and supports.

Provider- and plan-specific referral platforms are often not leveraging the existing network that enables access to a variety of services and supports that address social needs.
In addition, health IT developers are implementing innovative platforms that refer people to community resources, but they often create wall gardens in communities because they do not incorporate common standards and lack interoperability.
This siloed development is:
Creating inefficiency in managing referrals for social services;
Creating duplicative workflows in an already strained system; and
Impeding opportunities to provide better support and care for the people served by either system.
The Challenge
The Administration for Community Living (ACL) at the U.S. Department of Health and Human Services (HHS) announces a competition for state and community leaders in the aging and disability network, health care systems, health plans, and health IT vendors to cultivate care coordination by developing and/or optimizing interoperable and scalable technology solutions. Participants are invited to work collaboratively on enhancing scalable approaches to secure sharing of standardized data on social determinants and person-centered plans through the use of open resource directories that seamlessly connect and interoperate with health care system electronic health records to community-based organizations. This Challenge includes developing prototypes and implementing technical solutions that track referral patterns and gaps in service that visibly display social service and health-related outcomes over time.
Critical partners for designing solutions to this Challenge should include a team of key stakeholders. Strong preference will be given to teams that include state leaders across aging, disability, and Medicaid programs (or their designees), community-based organizations in the aging and disability networks, health IT developers, health care providers, health plans, and others with expertise in technical standards, interoperability, and data analysis.
The Challenge will compete in three phases, with cash prizes awarded in each phase. The total prize pool available is $500,000.  
Deadlines
Phase 1: Concept & Design Submission (July – January 2021)
Form multi-stakeholder team and develop idea and concept designs that include functional enhancements, open standards, and technical specifications for enhancing health and social care integration. 

Registration and Phase 1 Application: Deadline extended to January 6, 2021.
Phase 2: Proof of Concept & Demonstration (January 2021 – June 2021)
Winners from phase 1 will develop proofs of concept and convene in-person or virtually to demonstrate proposed solutions.
Up to three prize winners at $60,000 each
Phase 3: Implementation & Testing - (July – December 2021)
Winners from Phase 2 will demonstrate implementation and real-world testing of the designed approach.
One final prize winner at $140,000 or more
How to Submit a Proposal
Applications for Phase 1 of this Challenge are due by Wednesday, January 6, 2021 by 05:00 PM EST. The team lead may apply for this Challenge by registering and submitting an application to https://socialcare.innovationchallenge.com/. To view the Challenge submission requirements, judging criteria, and competition rules, visit https://www.challenge.gov/challenge/innovative-technology-solutions-for-social-care-referrals/
Outreach Toolkit
Can you help spread the word about the Challenge? Use materials (sample email, social media posts, and graphics) from this outreach toolkit. Thanks!
Resources
Questions?
If you have questions or want to learn more, please email SocialCareChallenge@acl.hhs.gov.