May 2, 2017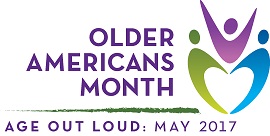 Since 1963, OAM has celebrated the nation's older citizens each May. But it's more than a celebration—OAM is at the pulse of important trends and aging issues. This year's theme is Age Out Loud, and it's all about living to the fullest, being heard, trying new things, and staying active in your community.
The Administration on Aging (AoA), part of ACL, leads OAM efforts each year and works every day to promote the well-being of older adults through programs designed to help them live independently in their homes and communities. Aging out loud is a vital piece of that well-being.
AoA supports and advocates for older adults through programs and services made possible by the Older Americans Act (OAA). The OAA provides the support that millions of Americans rely on to continue living and thriving in communities of their choice. Together with state and local funding, it has provided millions of older adults with the meals they need to stay healthy, as well as rides to doctors' offices and grocery stores. The OAA contributes to the safety of older adults through elder abuse prevention programs and ombudsman programs for people who live in long-term care facilities. It helps alleviate the strains on families, who provide most of the assistance older adults need, by providing support for caregivers. These are just a few examples of the many ways the Older Americans Act helps enable older adults to remain independent.
To AoA, Age Out Loud means having the freedom to live with dignity, choice, and opportunities. This OAM, we celebrate all the ways in which people do just that, and promise to continue the work we do to ensure that all aging Americans are considered, supported, and empowered.
So, how will you Age Out Loud? Maybe it's trying something new, volunteering, getting fit, or simply spending more time doing what you love. No matter what you choose to do, AoA wants you to know that there are resources available to help make it a reality.
Looking for support? AoA's Eldercare Locator can connect you to trustworthy services and resources in your area. From transportation and housing options to financial and legal assistance, the Eldercare Locator can point you in the right direction. Visit eldercare.gov or call 800-677-1116.
Looking for inspiration? Visit acl.gov/oam to get ideas for activities in May, download free materials, and find resources to help you and your loved ones Age Out Loud. We also want to hear from you! Get involved by sharing a selfie (or groupie) using our selfie signs and hashtag #OAM17 this month.
Comments
As we Baby Boomers age into the "Golden Years", we all need to think about what we want, need, have, how to live, thrive, love ❤️