April 7, 2020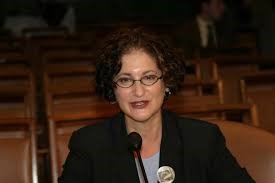 A week ago, a bright light went out.  I was shocked and profoundly saddened to learn of the death of our dear colleague and friend, Lori Stiegel.  I knew Lori for decades, so long that I cannot recall exactly when we met.  She was such a presence in my life – and in the lives of so many others.  Lori was gentle, humble, a consummate advocate for justice, and a great friend. 
Lori was a valued member of the American Bar Association Commission on Law and Aging for over 30 years.  She started her career as a legal aid lawyer, working with older Americans. She then worked supporting legal assistance through legal assistance development and as the Georgia Legal Assistance Developer prior to joining the ABA Commission on Law and Aging.  Her dedication and passion for her work was always informed by what she learned from having "boots on the ground" experience.
Lori was one of the earliest, and certainly the most consistently passionate, advocates for the agency and rights of all adults to make their own decisions.  She taught many of us how to fight against financial exploitation of seniors. She led the way in pushing for guardianship reform and was the national leader and force behind WINGS, Working Interdisciplinary Networks of Guardianship Stakeholders.  She believed deeply that collective action and bringing together diverse arrays of constituencies can move the needle on seemingly intractable barriers – and she was right. She educated, nurtured and encouraged generations of legal aid lawyers, policy makers, and thought leaders.
Many considered Lori a dear friend and I was among them.  I treasured our conversations, whether they were about deep pressing issues of the day or about light topics that would bring out a shared smile or laugh.
Our memories of Lori can comfort us and propel us forward, as advocates and as friends. I will miss her, and mourn our loss. As we share stories of what she accomplished and how she united disparate communities to advance the cause of autonomy and self-determination, we will continue her work, inspired by her spirit and positive approach, and her belief that we can come together on difficult issues.  We will succeed, led by her example, and because of that, Lori will live on.   
Comments
I knew Lori when she was the Legal Services Developer for Georgia. I respected her immensely and always enjoyed being around her. She will be missed.
Lori was essential member of ABA team supporting state Working Interdisciplinary Networks of Guardianship Stakeholders. As a former founder of Utah WINGS, I could never have done it without their support and Lori and her team's dedication to the cause. Her work continues and she will be missed.
I never had the opportunity to meet Lori Stiegel, but I wish I had known her. I understand working to defend the rights of senior citizens since I have tried my best to champion their cause(s) for the last twenty years, having gone before legislators in the State of Kansas to defend our elders. Kudos to Lori for all of her endeavors and accomplishments as an advocate for those who often cannot defend themselves!
I never knew this woman, but as a lawyer for low-income clients, I am inspired by Ms. Stiegel's dedication to a life's work. People like her bring a richness to the fabric of humanity in places where it has run threadbare of late.
I met Lori at a GSA meeting about 20 years ago . I knew who she was and was in total awe . Shortly after I was planning the First National Conference on Elder Abuse in Canada and invited Lori to be the keynote speaker. .... what an auspicious and far reaching event that was.! Lori was hugely supportive of WEAAD , she liked the work Canada was doing on ellder justice ...and said so. She was genuine and transparent
Over the years our meetings were few , but precious.She always made sure to ask about my work before giving me her "news'. Twenty minutes with Lori were memorable : I will long cherish them.
May Our Merciful LORD Bless Lori Forever ....
I had the pleasure to collaborate with Lori on a number of initiatives in the elder financial abuse fight. She was a true visionary, encyclopedic in her knowledge and dedicated to making certain that the financial means of aging Americans were secure. She was a great person to know, and we all will miss her tremendously.