January 16, 2020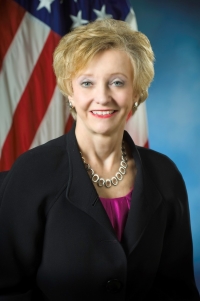 This morning I attended a memorial service at the National Cathedral in honor of Dorcas Hardy, an influential leader of the Department of Health and Human Services during the 1980s and beyond. Dorcas died last Thanksgiving, and since her passing I've often thought about her contributions and significance.
The flurry of articles that were published soon after her death spoke of Dorcas's place in history as the first woman to serve as Commissioner of the Social Security Administration, then an agency within HHS. In that role she pressed hard for modernization, both technologically and in terms of workforce structure. I think Dorcas might agree when I characterize her efforts as having ruffled a few feathers. She was not easily intimidated – some would say she was never intimidated – and, to her credit, she was one of the first to sound the alarm about Social Security's solvency at a time when few wanted to hear that troublesome news.
Today I also want to call attention to other roles Dorcas held, particularly those of Assistant Secretary at HHS and her appointment by President George W. Bush as Chair of the 2005 White House Conference on Aging Policy Committee, which was when I met and worked with her. It was then that I saw firsthand the leadership qualities that came natural to Dorcas. For more than three decades, Dorcas was a voice in HHS policy. Sometimes she held leadership positions within the Department, other times she served in advisory capacities. Always she was informed, articulate and professional.
As I recount highlights of Dorcas's professional contributions, I also want tell you a bit about her life and early career. She grew up in New Jersey and completed her undergraduate studies at Connecticut College in 1968. Always on the fast-track, just five years after graduation she was appointed by Ronald Reagan, then governor of California, as Assistant Secretary for Health of the California Health and Welfare Agency. After leaving that post, she pursued her M.B.A. from Pepperdine, graduating in 1976.
When President Reagan assumed office, he asked Dorcas to leave her position as associate director of the University of Southern California's Center for Health Services Research in order to serve as Assistant Secretary for Human Development Services at HHS, which contained the Administration on Aging and the Administration for Developmental Disabilities – programs that reside within today's Administration for Community Living. Five years after that, at the age of 39, President Reagan nominated her to become the top person at Social Security.
May we all acknowledge Dorcas Hardy's contributions to America and emulate her drive and tenacious spirit to be visionaries who think about and carefully plan for the future.