October 1, 2018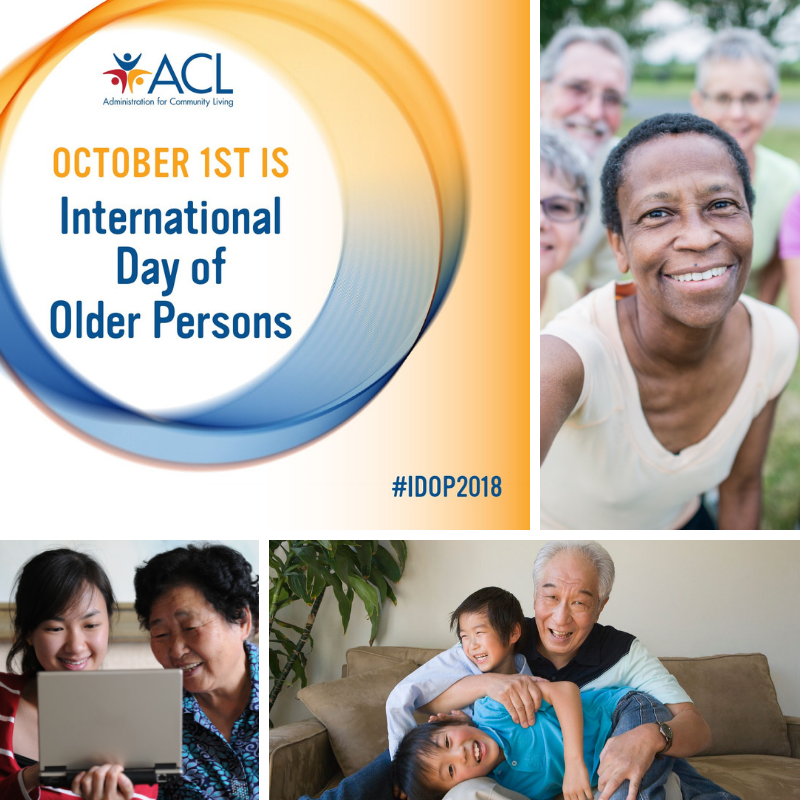 Today, on the International Day of Older Persons, the United States joins communities around the world to pause and reflect upon the contributions of older people globally, and also to encourage all nations to thoughtfully consider and address the challenges faced by older people.
This day has been recognized annually since 1990, when the United Nations first designated October 1st as the International Day of Older Persons. In the intervening 28 years, the world's population demographics have changed dramatically. The share of the world's population that is 60 years or older has grown dramatically, and continues to do so. Nearly a billion people living today are 60 or older, and by 2050, there will be more than 2 billion older adults in the world. Here in the U.S., 10,000 adults turn 65 every day.
Despite their growing ranks, older adults are far too frequently victims of discrimination, exploitation, abuse, and neglect. Older adults commonly face discrimination in work settings, healthcare environments, and settings of law and justice.  Discrimination against older persons is unique, because when you discriminate against an older person, you are simply discriminating against your future self. We all aim to reach a healthy old age, and yet we allow ageist discrimination to persist.
As the Assistant Secretary for Aging and Administrator for Community Living (ACL), it is my honor to lead the agency in the federal government dedicated to promoting the rights of older persons, including supporting their independence, health, and well-being. This also means recognizing older adults' many contributions to our society. They are grandparents, parents, great aunts and uncles; they are friends and mentors; they are community leaders and volunteers; they are also elected officials, and critical contributors in the workforce. Clearly, our communities are stronger when everyone has the opportunity to contribute their talents.
We must all work together: in our communities, across the nation, and in partnership with other countries, to promote policies that recognize and make use of the experience and capabilities of this growing population. This is particularly true as people are living longer and staying healthier for more of those years. The theme for this year's International Day of Older Persons is "Celebrating Older Human Rights Champions." I am proud to say that ACL supports the efforts of local and national leaders who champion the rights of older adults every day.
On this year's International Day of Older Persons, and every day going forward, let's make a committed effort to ensure that every person has the opportunity fully participate in their communities, throughout their lives.
Comments
Thank you for you advocacy ! We are lucky to have someone with empathy and cares about older persons at the helm of acl; as a we know aging begins at birth. Glad you made a visit to Toledo for our Opiod Town Hall. As you see I am doing the homework you assigned: searching the acl.gov website
PS ironically this day has double meaning for me as it was the day I was diagnosed with breast cancer . I too am celebrating 28 years on October 1st!! I was told I had 6 months to live. Well I am still here and fighting for seniors every day! Onward and upward on behalf of older adults.
Thanks so much for the older persons advocacy in the world. We are doing it in Uganda www.bagonvuelders.org and https://www.facebook.com/Bagonvu/
We are open for any partnership in organizing 2019 year of older persons