October 30, 2018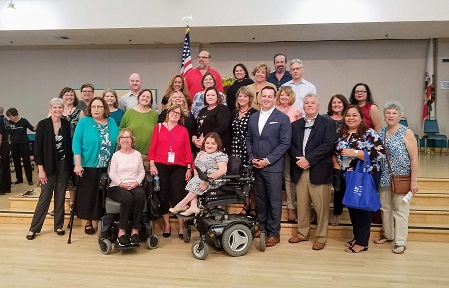 Each year, October is designated as National Disability Employment Awareness Month (NDEAM) to recognize and celebrate the diversity and talent people with disabilities bring to the workforce across our nation every day. NDEAM is also a time when we renew our commitment to ensuring that all people have equal opportunities at work, regardless of disability.
At ACL's Administration for Disabilities we continue to focus on employment as a key pillar of community living. We know that people who find meaningful work are happier and healthier, and are strong contributors in their communities. While we have participated and led several events to celebrate NDEAM, ACL strives all year round to lead and partner on national programs and initiatives aimed at increasing the number of Americans with disabilities who are working.
Recently while I was in San Diego to meet with state directors of Developmental Disability Councils from across the nation, I had the chance to visit the San Diego Disability Jobtoberfest. I met with some of California's most prominent disability advocates and leaders and talked about the challenges and opportunities encountered by people with disabilities who want to work. And I also met with dozens of employers who are not just willing to hire people with disabilities—they are ready and they are EAGER to hire people with disabilities. It was exciting to talk with prospective employees – whether in the public, private, or nonprofit sector. With resumes in hand, elevator pitches ready, and questions on their minds, they spent the morning finding out about entry level jobs to kick start their careers, as well as roles designed for those with experience who are ready to take the next step. No matter their station, skills, or education every person came prepared and excited to talk about employment opportunities.
I had a blast at the job fair. The energy in the room fueled me in a way few events could. And it reminded me: we must strive every single day to not just remove physical barriers in the workplace (like hard-to-open doors)—but invisible ones, too.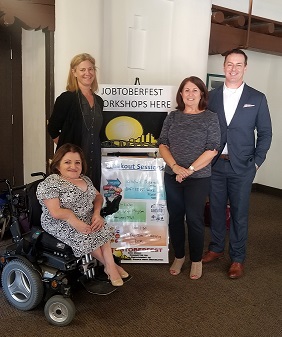 There are many misconceptions still in existence today about people with disabilities, especially when it comes to work. Among those misconceptions is the notion that people with disabilities can't work, can't work the same jobs as their peers, or don't want to work. We know this couldn't be further from the truth. And the job fair in San Diego is only one more piece of evidence that people with disabilities are strong and uniquely qualified job candidates and employees; we can thrive alongside our colleagues at work; and we want to gain self-sufficiency and participate in meaningful employment just as non-disabled people do.
It was a pleasure to spend the morning with individuals who all shared the vision that America is a nation where all people – including those with disabilities – can be welcomed into the workforce for their talents and skills. We at ACL are thrilled to join with many of our federal partners to continue to advance the work and partnerships it takes to ensure more Americans with disabilities find and keep jobs. Happy NDEAM!
Thanks to the National Association of Councils on Developmental Disabilities for the photos.
Comments
It was great to see you in San Diego. I appreciate your commitment to competitive and integrated employment for people with disabilities!
It was an honor to have all of you all in attendance! Next year marks our 20th Anniversary -- We are so excited. If you would like more information please go to our website www.sdjobtoberfest.org or like us on our facebook page @sdjobtoberfest. Thank you again!