March 15, 2018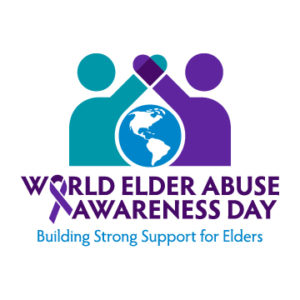 Every year on June 15, we join forces with partners across the country and around the world to observe World Elder Abuse Awareness Day (WEAAD). Created by the International Network for the Prevention of Elder Abuse and the World Health Organization at the United Nations, WEAAD is an opportunity for communities around the world to raise awareness of elder abuse and neglect, and to renew our commitment to preserving the rights of older adults – including the basic human right to live with dignity, free from abuse and neglect. WEAAD also aligns with the United Nations International Plan of Action, which acknowledges the significance of elder abuse as a public health and human rights issue.
ACL and our partners at the National Center on Elder Abuse are planning many exciting activities over the next 90 days as we countdown to WEAAD. You can join us to make a difference and strengthen your community. Here are just a few ways you can participate:
Host a commemoration event and share your plans on the 2018 WEAAD event map;
Use #WEAAD in all of your WEAAD social media posts on Facebook and Twitter so that the nation and the world can see your commitment and planned activities;
Create and submit art to the WEAAD Virtual Art Gallery, a project of the Elder Justice Roadmap Steering Committee; and
Stay tuned for details on a joint WEAAD-inspired webinar with partnering organizations as well as NCEA's four week social media countdown starting May 18th which will focus on sharing resources, information, and notable news.
Protecting the rights and preventing abuse of older adults and people with disabilities is a key priority for me, and for all of us at ACL. We are working with states to develop systems and programs that prevent abuse from happening, while also supporting individuals who have experienced abuse. We are spearheading a number of proactive efforts to strengthen and improve adult protective services around the nation. ACL has funded over eight million dollars in grants to assist with curtailing neglect, abuse, and exploitation. The funds are having a significant effect, supporting data collection, research, and technical assistance for adult protective services programs.
Over the next 90 days, I hope you will join us in shining a light on the issue of elder abuse: why elder abuse occurs, how we can prevent and address it, and how we can encourage constructive public conversations about the issue. For more ideas and resources to help you get involved, please visit the WEAAD web site where you will find the WEAAD outreach guide, tips on how to take action and other useful tools to spark community engagement and mindfulness.
Comments
I would like to thank you for posting this blog, and to NCEA for posting materials for agencies to utilize in their activities around WEAAD this coming June. I will be sharing this and links for NCEA's tools on a statewide listserv I moderate for over 200 county and tribal APS social workers here in Wisconsin.