November 9, 2017
On Veterans Day, we honor all those who have served in the military. It is a time to appreciate our veterans and all they have done to protect our country and make this world a better place. 
As a veteran, this day is particularly meaningful to me. I am proud to have served in the U.S. Army, and I also am proud of the fact that so many of my colleagues at ACL – more than ten percent of our workforce! -- have served or are currently serving this great nation.  (You can see some of them on ACL's Facebook page.)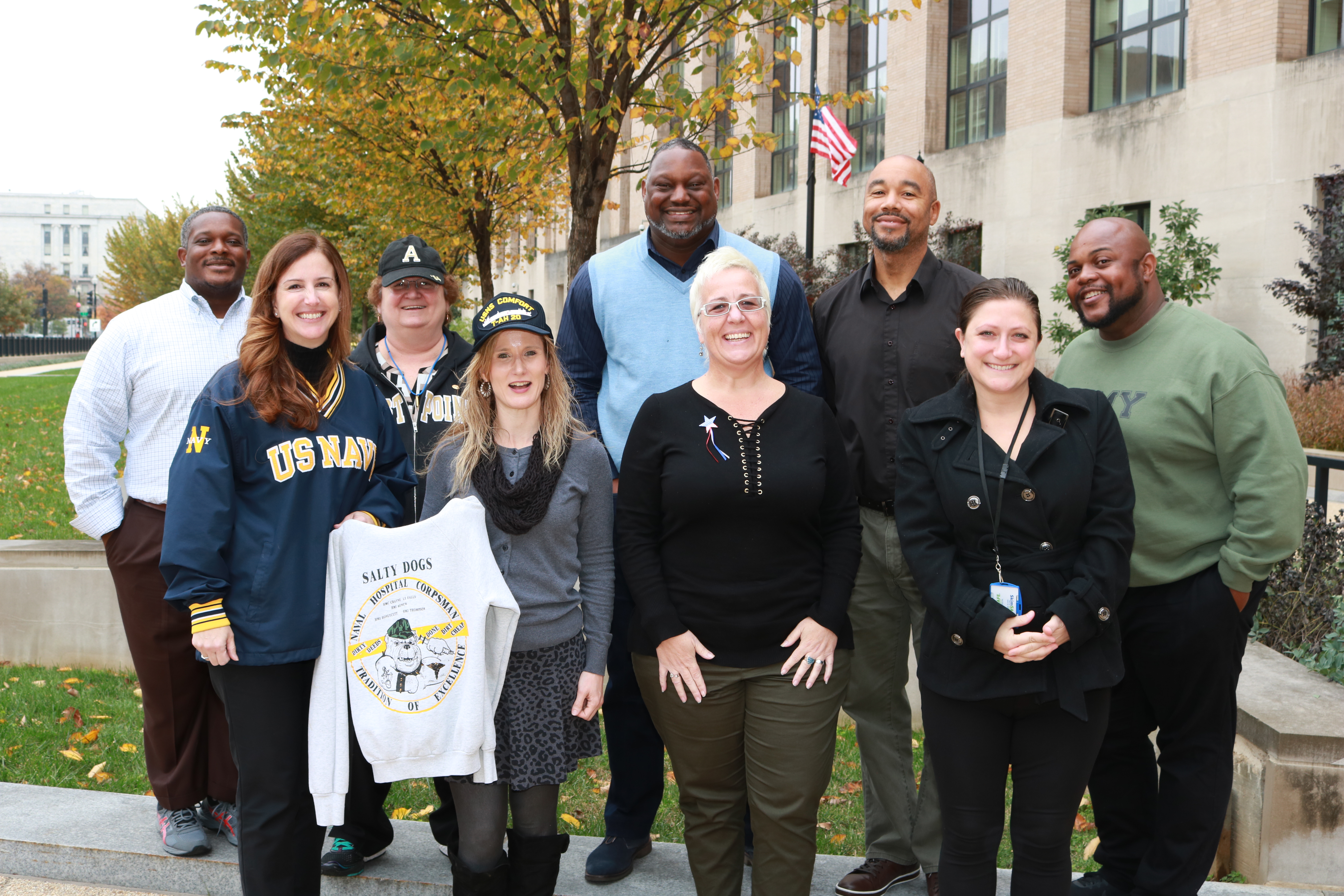 Photo: A few of our vets who work at ACL Headquarters in Washington, D.C. From left to right; Back row: Phillip McCoy, Christy Samuels, Kenny Moss, Caldwell Jackson, Jesse Moore; Front row: Christine Phillips, Keri Lipperini, Corinna Stiles, Sophia Newman
I thank them, and all veterans for their service, dedication, and commitment to keeping our country free.
Veterans who have served all over the world are now living in every corner of the United States. Many are aging or have disabilities resulting from their service.
As you know, ACL was created around the fundamental principle that all people, regardless of age or disability, should be able to live independently and fully participate in their communities.  Of course, this includes our veterans.
The many community-based organizations that make up the national aging and disability network are uniquely positioned to support these efforts.  We're working with the network to develop innovative new approaches that improve efficiency, reach more people, and  enhance the quality of the services we provide. 
One of these initiatives is the Veteran-Directed Home and Community Based Services program. Veterans in this program design their supports based on their unique circumstances and lifestyles.  Veterans have the support of person-centered counselors to connect them to available resources and support them as they manage their own flexible budgets as well as hire and supervise their own workers. This flexibility allows them to come up with creative solutions to meet their support needs, including hiring family, friends, and neighbors to deliver their care and services. 
This program was launched in 2008 as a partnership between the ACL and the Department of Veterans Affairs (VA) and has led to many new partnerships between local VA Medical Centers, Aging and Disability Resource Centers and state "No Wrong Door" systems, Area Agencies on Aging, Centers for Independent Living and other network organizations. 
Promising practices from these partnerships in seven states are highlighted in a new report by AARP, The Commonwealth Fund, and The SCAN Foundation.  The paper begins with a checklist to help local organizations enhance collaboration and truly create a "no wrong door" for veterans and the families who support them to receive services in the community.
On Veterans Day, and every day, ACL is proud to honor our nation's veterans and actively serving personnel, and we believe that one of the best ways of honoring their service is helping them remain in their own homes and communities throughout their lives. To the veterans and their families out there, thank you for your service and sacrifice on behalf of our country's freedoms and security!
Editor's Note: Today, ACL also launched a new No Wrong Door website which includes many resources on Veteran-Directed Home and Community Based Services and other programs and practices to support veterans.