October 15, 2019
October is Residents' Rights Month, an annual event recognizing the respect, dignity, and rights to which all residents of long-term care facilities are entitled. The federal Nursing Home Reform Law guarantees residents' rights and places a strong emphasis on individual dignity, choice, and self-determination.  The law also requires nursing homes to "promote and protect the rights of each resident."
The Consumer Voice for Quality Long-Term Care has selected "Stand for Quality" as this year's theme. This theme "emphasizes the importance of quality in all aspects of residents' experiences – quality care, quality of life, quality services, and quality choices – to name a few."
To celebrate Residents' Rights Month, ACL is releasing a new infographic and handout highlighting the rights of people living in nursing homes, assisted living facilities, and other residential facilities.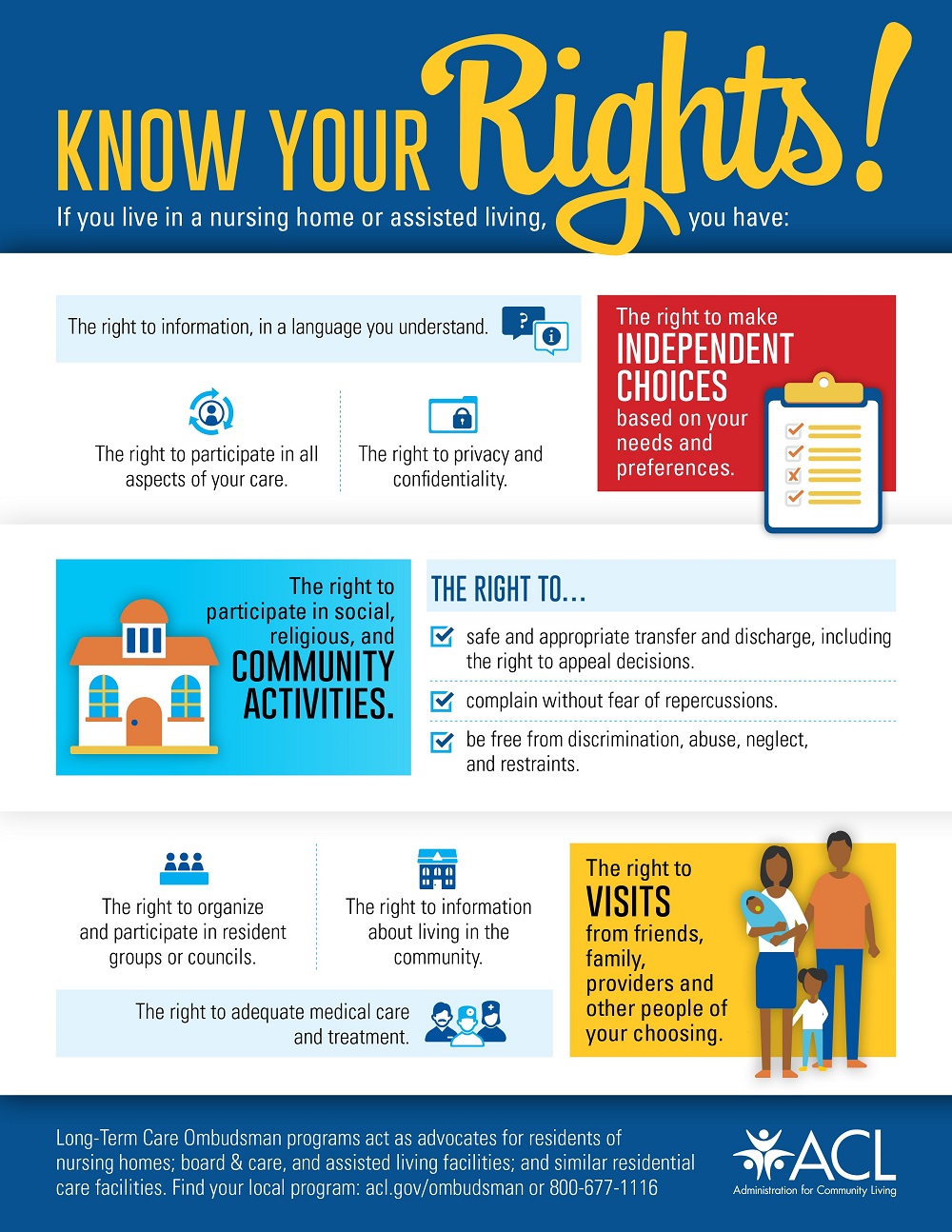 Help us spread the word:
The Consumer Voice has many more resources for Residents' Rights Month including factsheets, a PSA and other promotional materials, and  artwork by residents.
ACL funds Long-Term Care Ombudsman programs in every state, the District of Columbia, Puerto Rico, and Guam. These programs work to resolve problems affecting residents' health, safety, welfare, and rights. Residents, their families, and others have the right to contact their local Ombudsman program to help them understand their rights, learn about community resources, and work through problems. In 2017, Ombudsman programs:
Worked to resolve 201,460 complaints initiated by residents, their families, and other concerned individuals.
Resolved or partially resolved 73% of all complaints to the satisfaction of the resident or complainant.
Visited 68% of all nursing homes and 30% of all board and care, assisted living, and similar homes at least quarterly.