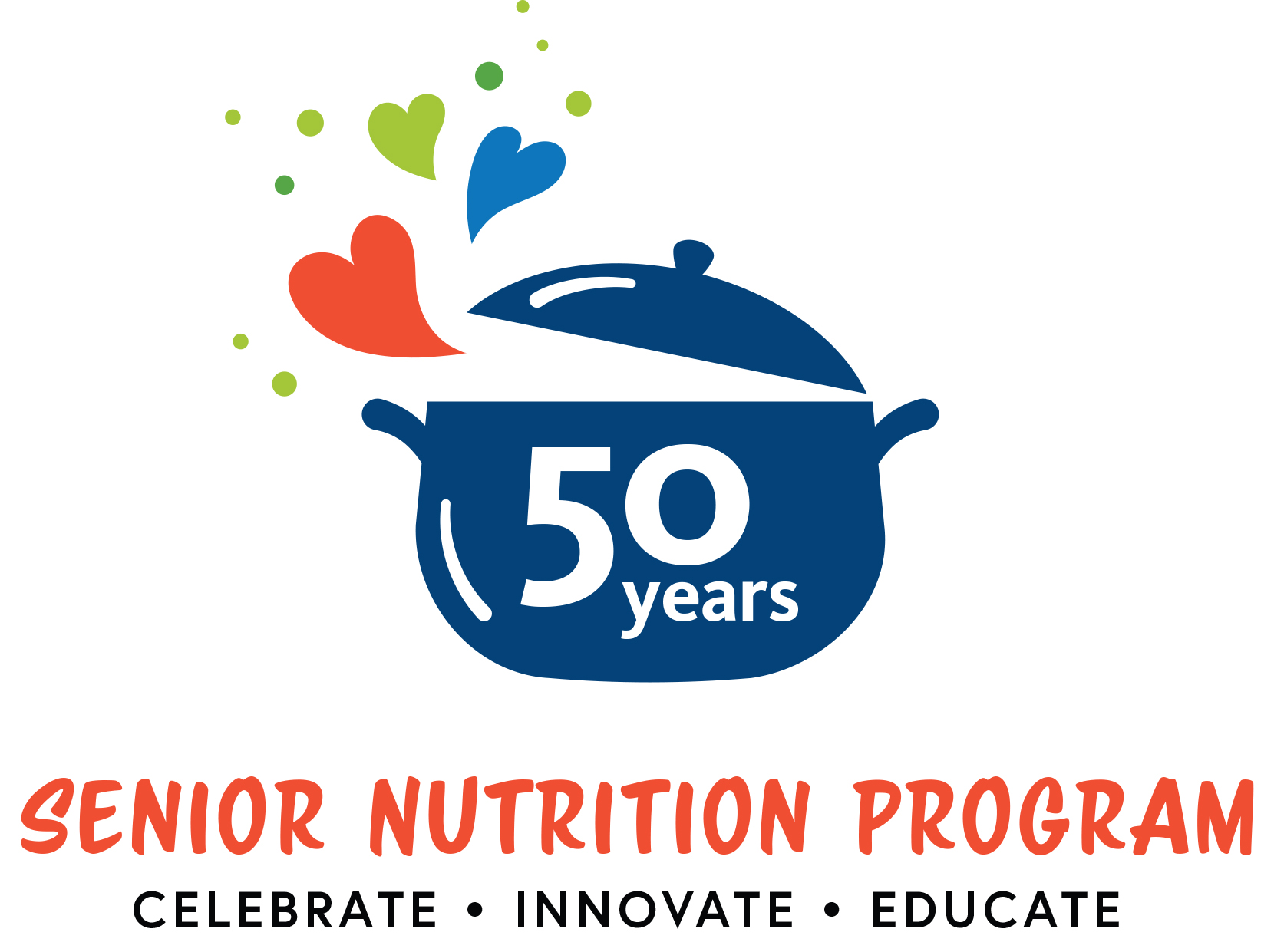 Since 1972, the national Senior Nutrition Program has supported nutrition services for older adults across the country. Funded by the Older Americans Act (OAA), local senior nutrition programs serve as hubs for older adults to access nutritious meals and other vital services that strengthen social connections and promote health and wellbeing.
ACL has chosen "Celebrate. Innovate. Educate." as the theme for the Senior Nutrition Program's 50th anniversary. Throughout this year, we are celebrating the many accomplishments of the national and local programs; recognizing innovative approaches used to support seniors; and looking at how education can help communities understand and use nutrition services.
Please join us in celebrating this milestone by promoting the anniversary, the program, and the impact of nutrition services! 
Program Photo Album
Earlier this year, ACL put out a call for photos from senior nutrition programs across the country for use in materials celebrating SNP's 50th anniversary. Dozens of those submissions, showcasing the incredible work of the network, are now available in our Flickr album.
Special Event
On March 31, 2022, ACL hosted a very special virtual event to celebrate the Senior Nutrition Program's 50th anniversary. Highlights included remarks from ACL leadership, awards for outstanding contributions to the program, a video about the program's impact, and a special segment on innovation.

Materials
Graphics
Other Content
2022 SNP Network Awards
In honor of the 50th anniversary of the Senior Nutrition program, ACL reached out to the network earlier this year and asked members to highlight exemplary colleagues by nominating them for various awards. ACL is excited to recognize these individuals who have made outstanding contributions to the Senior Nutrition Program.
State Unit on Aging Champion:
Benae Jackson for leading initiatives and fostering partnerships that expand and enhance the senior nutrition program and its impact on the community.
Area Agency on Aging Champions:
Nikki Dean for fostering creative approaches to senior nutrition program activities that lead to positive outcomes for participants.
Corin McCoy for fostering innovative approaches to the delivery of the senior nutrition program resulting in measurable positive impacts.
Local Service Provider Champions:
Amy Mallet for using a person-centered approach to engage older adults and foster creative strategies to enhance nutrition education, meals, and socialization.
Mary Jo McKay for developing activities and initiatives that significantly enhance the senior nutrition program and the older adults it serves.
Shining Star Award:
Harris Seidel for going above and beyond to serve older adults and his community by volunteering with the senior nutrition program.
Commitment to Excellence Award:
Jean Lloyd in recognition of her incredible dedication, tireless support, and immeasurable impact on the Older Americans Act Senior Nutrition Program.
Grab-and-Go Quotes
Need an ACL quote for an article or other materials? Please feel free to use these pre-approved statements.
"As the keystone program of the Older Americans Act, the Senior Nutrition Program is at the foundation of our nation's system for helping older adults age in place. For 50 years, it has provided healthy meals, opportunities for social interaction, and access to a wide variety of programs and services to help older people stay active, healthy and engaged in their communities. ACL is proud of this program and the aging services network whose leadership and tireless efforts bring it to life across the country." - Alison Barkoff, Acting Administrator and Assistant Secretary for Aging, ACL
"For 50 years, the Senior Nutrition Program has helped older adults access healthy meals, nutrition education, social opportunities, and other invaluable supports in communities nationwide. This year marks a milestone for both the Older Americans Act, which authorizes the program, and for community living, which is made ever more achievable by community-based resources like the Senior Nutrition Program." - Edwin Walker, Deputy Assistant Secretary for Aging, ACL
"Prior to my work at the Administration for Community Living, I managed local nutrition programs. I know first-hand the difference these programs make in the lives of older adults every single day. For decades, our programs have offered nutritious meals and socialization opportunities, all while promoting overall health and well-being for seniors across the country. I am so proud of the many accomplishments of these programs during the last 50 years, and at ACL, we look forward to a future fueled by innovation, education, and, of course, nutrition." - Keri Lipperini, Director, Office of Nutrition and Health Promotion Programs, ACL
"We know nutrition plays a critical role in good health as we age, which is why the work of ACL's Senior Nutrition Program is so essential. As we celebrate the program's 50th anniversary, I want to recognize the thousands of staff and volunteers across the nation who have worked tirelessly to ensure seniors stay healthy and independent by preparing nutritious meals, offering a variety of nutrition and wellness services, and providing welcoming socialization opportunities." - Judy Simon, MS, RD, LDN, National Nutritionist, ACL