September 28, 2022
I have been working in the aging network for over 20 years. During this time, our network and our communities have faced their fair share of obstacles – especially over these last several years, which have stretched us more than I can ever recall in my career. But if there is one thing I have learned, it is that these challenging times give us the chance to grow. They require us to step outside of our comfort zone, and they give us the opportunity to improve ourselves and our services. Often, our best selves are found on the other side of a challenge.
This is certainly true of our senior nutrition programs. Each day, these programs – funded by the Older Americans Act and administered by ACL's Office of Nutrition and Health Promotion Programs (ONHPP) – continue to make a difference in the lives of millions of older adults across the country. Many older Americans face food insecurity, hunger, malnutrition, and social isolation. Senior nutrition programs provide nutritious food, social connection, and help to promote health and wellbeing. The impact of this vital work has been backed by research and evaluation showing that the older adults who attend our nutrition programs experience many positive benefits, such as improved health and reduced social isolation.
Our programs have faced many challenges over the years, and I continue to be impressed with how they have embraced each obstacle as a chance to grow and change. While the population we serve is increasing in number and diversity, our programs are finding innovative ways to meet older adults where they are, taking into account their unique situations, comfort levels, and other factors that can affect participation. Solutions have included everything from offering grab-and-go meals to expanding home-delivered meal options.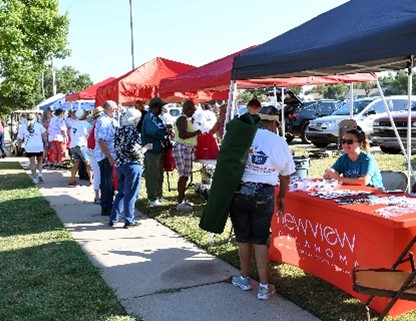 Outside congregate sites have also become a popular modification during the summer months – with food trucks at parks, tailgates in parking lots, and parties at picnic pavilions. Recently, our very own Kathy Wilson-Gold, ONHPP's Nutrition Business Consultant, attended one of these outdoor sites at the Oklahoma County Senior Nutrition Program's "Picnic in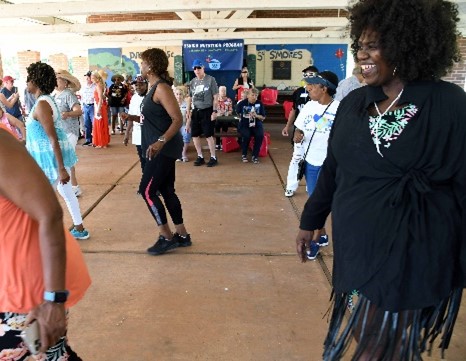 the Park."
Picnic in the Park was an opportunity to celebrate summer and the 50th anniversary of the Senior Nutrition Program. It was a beautiful day filled with delicious food, live music, dancing, and smiles. Looking at photos from the event brought back some of the best memories of my career – seeing the joy on the faces of program participants as they mingled with staff and peers. 
We at ACL are here to support senior nutrition programs as they overcome each obstacle, learn, and grow. To do this, we and our Nutrition and Aging Resource Center have some new and upcoming resources that I would like to highlight:
Our new promotional video features program participants and other members of the network sharing their thoughts on the value of the Senior Nutrition Program. We hope you will use this video as a marketing tool in your local area and share it with your teams so they can understand the impact of the important work you do every day.
As we move into fall and face colder temperatures, increasing participation at congregate sites may again present challenges. Our webinar tomorrow (September 29) will share the latest insights into why older adults choose to attend congregate meal programs and ideas for encouraging participation. A panel of senior nutrition network members will discuss how these insights challenge their thinking as they define their new congregate environments. I encourage you to join as the results may surprise you – they surprised me!
Also on the horizon, Kathy Wilson-Gold will be highlighting some great tools and tips for senior nutrition programs through our new "Recipes for Success" series. Join her as she guides you through ACL resources available to help you manage your program.
I am proud to be a member of the aging network and I look forward to continuing to work together – despite challenging times – to improve our services and our communities.
---
Happening Now: White House Conference
The Biden-Harris Administration is hosting the White House Conference on Hunger, Nutrition, and Health. The Administration is also releasing a National Strategy that includes steps the government will take to drive solutions to challenges and catalyze the public and private sectors to address food, hunger, nutrition, and health. Watch the live stream.