RAISE Family Caregiving Advisory Council
RAISE Family Caregiving Advisory Council
"I know that we will create a better future for our American families because we will do it with love, understanding, experience and without a doubt with the grit and determination that every loved one brings to caregiving for their family."  Secretary Xavier Becerra
______________________________________________________________________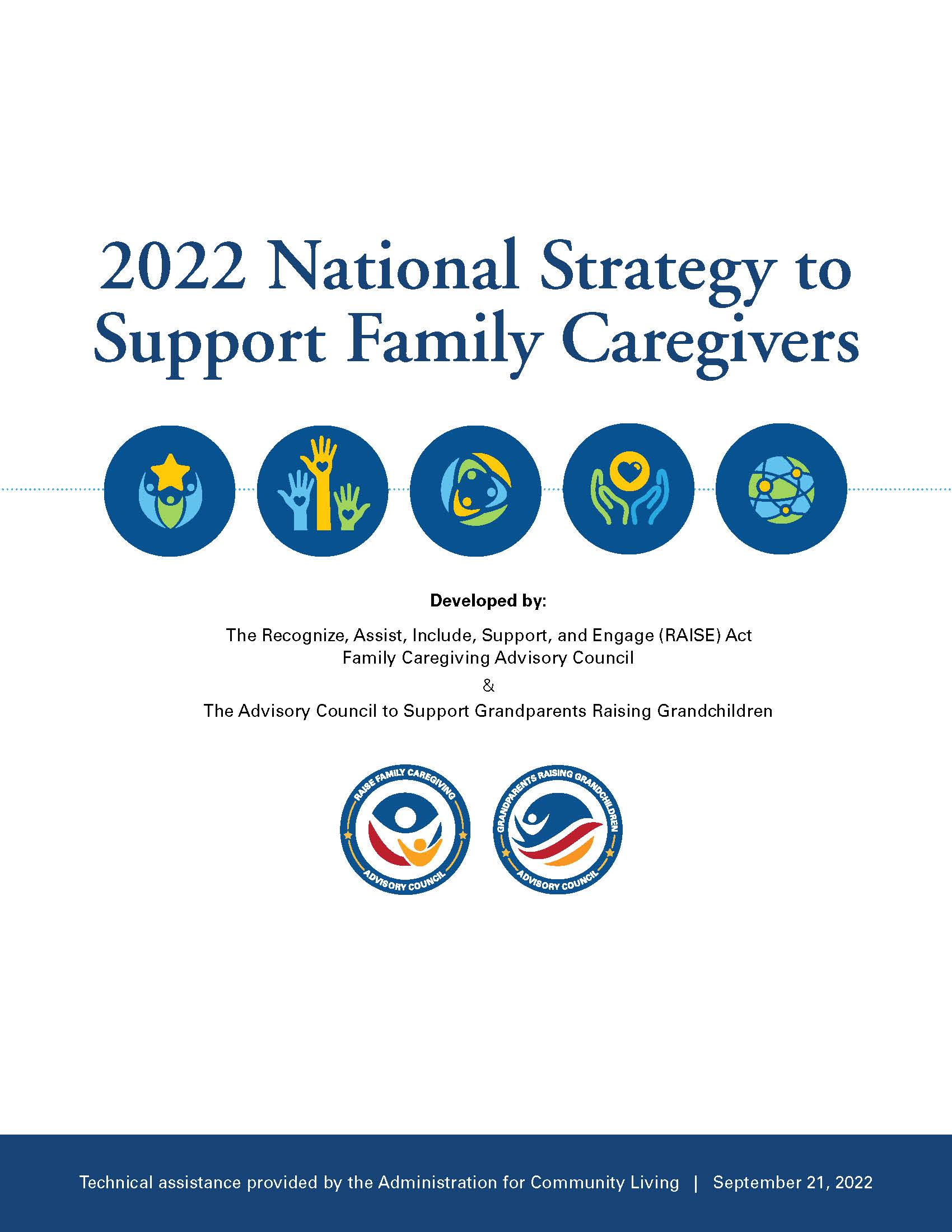 On September 21, 2022, the 2022 National Strategy to Support Family Caregivers was delivered to Congress. The Strategy includes nearly 350 actions the federal government will take to support family caregivers in the coming year and more than 150 actions that can be adopted at other levels of government and across the private sector to begin to build a system that ensures family caregivers – who provide the overwhelming majority of long-term care in the United States– have the resources they need to maintain their own health, well-being, and financial security while providing crucial support for others. The strategy was developed jointly by the advisory councils established by the Recognize, Assist, Include, Support, and Engage (RAISE) Family Caregivers Act and the Supporting Grandparents Raising Grandchildren (SGRG) Act, with extensive input from family caregivers, the people they support and other stakeholders.
---
Previous Publications
On September 22, 2021, the RAISE Family Caregiving Advisory Council released its initial report to Congress. This report outlines the challenges faced by family caregivers, federal programs currently available to support them, and provides 26 recommendations for better supporting family caregivers.The recommendations will form the foundation of the National Family Caregiving Strategy, which will include action steps to increase recognition and support for family caregivers.
On November 18, 2020, the Family Caregiving Advisory Council adopted twenty-six recommendations aimed at establishing a national approach to addressing the needs of family caregivers of all ages and circumstances.
---
The RAISE Family Caregivers Act, which became law on Jan. 22, 2018, directs the Secretary of Health and Human Services to develop a national family caregiving strategy. The strategy will identify actions that communities, providers, government, and others are taking and may take to recognize and support family caregivers, and will include:
Promoting greater adoption of person- and family-centered care in all healthcare and long-term service and support settings, with the person and the family caregiver at the center of care teams
Assessment and service planning (including care transitions and coordination) involving care recipients and family caregivers
Information, education, training supports, referral, and care coordination
Respite options
Financial security and workplace issues
Full Statute - RAISE Family Caregivers Act  
With support from The John A. Hartford Foundation, the National Academy of State Health Policy (NASHP) created the RAISE Act Family Caregiver Resource and Dissemination Center to:
Develop family caregiving resources for state and federal policymakers and other stakeholders;
Provide support to the council and its subcommittee member as they craft policy recommendations;
Convene experts and thought leaders to provide perspectives and expertise to the council; and
Support states as they develop policies to address family caregiver issues.
---
RAISE Family Caregiving Advisory Council
To support the development and execution of the strategy, the RAISE Act also directed the establishment of the Family Caregiving Advisory Council. The council is charged with providing recommendations to the Secretary of Health and Human Services on effective models of both family caregiving and support to family caregivers, as well as improving coordination across federal government programs.
The law specified that the council must include up to 15 voting members who reflect the diversity of family caregivers and people who receive support, with at least one from each of the following constituencies:
Caregivers
Older adults who need long-term services and supports
Individuals with disabilities
Health care and social service providers
Providers of long-term services and supports
Employers
Paraprofessional workers
State and local officials
Accreditation bodies
Veterans 
In addition, the council includes non-voting representatives from federal departments and agencies who play role in these issues.
Advisory Council Members
Non-federal members

Ben Bledsoe, MHA, President/CEO of the Consumer Direct Care Network, developed his expertise in home and community-based services through education, experience, and hard work. After obtaining his bachelor's degree from the University of Virginia, Ben completed two years of Peace Corps service in Tonga, then went on to receive a master's degree in health administration. He started his career at Consumer Direct Care Network as a caregiver in 2004, and quickly applied his compassion for people and interest in business efficiencies to roles across the company. He led the company's quality assurance team, managed human resources, and initiated and managed new programs to bring more self-directed services to the states the company serves. In 2012, Ben was named CEO and has directed the company's vision and goals since then.

Ben's unique background in homecare gives him a comprehensive understanding of service provision. His international, executive, and practical field experience has helped Consumer Direct Care Network thrive as today's self-directed home care leader. Ben remains committed to ensuring all individuals have choice and control over the lives they lead.

Joe Caldwell, Ph.D., is director of the Community Living Policy Center at the Lurie Institute for Disability Policy, Brandeis University. He has more than 25 years of experience in the fields of aging, disability, and family caregiving as a researcher, policy expert, and family member. His research has focused on supports for aging caregivers of adults with developmental disabilities, outcomes of self-directed supports, and promising practices in family support across the lifespan and disability populations. Prior to Brandeis, he worked to advance federal long-term services and supports policy at the National Council on Aging, Association of University Centers on Disabilities, and as a Joseph P. Kennedy, Jr. Fellow on the Senate Health, Education, Labor, and Pensions (HELP) Committee. He also has experience as a direct support professional and supports coordinator for individuals with disabilities and their families. Dr. Caldwell has served on the boards of the National Alliance for Caregiving and Consortium for Citizens with Disabilities. He is the proud stepfather of a young adult and artist with Down syndrome.

Diane Caradeuc is a federal retiree, having worked 30 years for the Social Security Administration and the Centers for Medicare & Medicaid Services. She served in various roles, from entry level analyst to senior management, and provided direct assistance to Social Security and Medicare beneficiaries. At retirement, Diane was the associate regional administrator of Medicare in the San Francisco Regional Office.

Upon retirement, Diane worked for the Senior Medicare Patrol program for 8 years, assisting beneficiaries and educating the public regarding Medicare fraud. During this time, she was a volunteer with the California State Health Insurance Program (SHIP), assisting the public in understanding the complexities of Medicare and providing information for making informed heath care decisions. Diane continues to volunteer with SHIP.

Diane also took on the honor of being her mother's full-time caregiver for the last 12 years of her life. Over the years, her mother developed dementia and needed increased care.

Diane sees individuals living to be 100 years old more frequently than when she started her federal career, and this often requires families to take on the role of caregiver. For families to be willing and effective caregivers, more tools and resources must be available. Diane sees the Family Caregiver Council as a practical means to identifying these tools and resources. Prior to her government service she was an elementary school teacher, having received her teaching certificate, as well as college degrees from the California university system.

James S. Cheely is a project manager with a General Contracting company from Glasgow, Kentucky. He has been married to his amazing wife, Bonnie, for 37 years, and is the father of 2 sons, Bryan and Kevin, the oldest of whom is a 31-year-old with an intellectual and developmental disability. His daughter-in-law, Chelsea, joined the family 16 months ago, and Mr. Cheely will become a "grandpa" in January 2020.

Mr. Cheely feels privileged to serve as the volunteer coordinator/coach of Special Olympics in his community (BARREN COUNTY FLAMES) for the past 18 years and has been involved locally, regionally, across the state, and nationally. He feels fortunate to have learned so much through Advocates in Actions of the Arc of Kentucky and to have served as the president of the Arc of Kentucky for 4 years, and as the president of the Barren County Arc for 2 terms. This allowed him to participate in local, state, and national advocacy efforts. Mr. Cheely recognizes that it's a daunting challenge to represent others and help them with their struggles.

Mr. Cheely has been blessed to meet many individuals and families living with intellectual and developmental disabilities. He has seen the impact providing lifetime care has on families and the individuals to whom care is provided. Mr. Cheely is honored to serve on this panel - representing fellow Kentuckians, and importantly, all families across our country who provide care for someone they love.

Jisella Dolan serves as global chief advocacy officer for Home Instead Senior Care®, the world's leading provider of home care services. She is a member of Home Instead's Executive Team and leads its Advocacy division, which is dedicated to advocating for aging adults and their families, ensuring a quality care experience, and shaping aging and home care policy around the world. She also helps lead Home Instead's diversity and inclusion work.

Jisella serves as strategy officer for the World Economic Forum and on its Global Council for the Future of Health Care. She is Home Instead's representative to the Global Coalition on Aging and serves on the Home Care Association of America's Strategy Committee. She is a member of the Women's Leadership Council for Women Against Alzheimer's. She regularly represents Home Instead on the topic of family caregiving at global events, in the media and at speaking engagements. 

Before joining Home Instead, Jisella was a partner with a global law firm where she led the firm's "True North" and "INROADS" programs, dedicated to enhancing women and minority career opportunities in the law. She graduated from the University of Nebraska's College of Law and was a member of Order of the Coif, the Nebraska Law Review, and Phi Beta Kappa. 

The challenges of family caregiving hit home for Jisella, as she is raising her young daughter while also providing caregiving support to her family­­—first her late father, and now her mother and stepfather who has dementia.

Brenda Gallant, RN, is Maine's state long-term care ombudsman and the executive director of the Maine Long-Term Care Ombudsman Program. The program provides advocacy for residents in long-term care facilities, recipients of home care services and patients in hospitals who experience barriers in accessing long-term services and supports. Additionally, the program provides advocacy for residents transitioning from nursing homes back to the community through Money Follows the Person. In October 2017 the AARP Public Policy Report: State Strategies to Reduce the Risk of Long-Term Nursing Home Care after Hospitalization noted Maine's Long-Term Care Ombudsman's advocacy and assistance through Money Follows the Person as a promising practice.

In response to concerns about staffing in Maine nursing homes, Brenda was successful in getting legislation passed to improve staffing ratios. Additionally, she led efforts to get legislation passed requiring employment bans for CNAs based on criminal convictions, as well as other legislation that improves access to and the quality of long-term care. Most recently, she worked with legislators to pass a bill allowing spouses to be paid for the care they provide under Maine's Medicaid waiver program.

Over many years, Brenda has worked with older adults, adults with disabilities, and family caregivers to resolve problems with long-term services and supports. As a result, she greatly appreciates the important and often challenging role of family caregivers. These experiences have informed her systemic advocacy efforts and those of the Ombudsman Program.

Brenda currently serves as a member of the national Consumer Voice Governing Board.

Catherine Alicia Georges, Ed.D., RN, FAAN, was elected by the AARP Board of Directors to serve as AARP's national volunteer president from June 2018 to June 2020. The President's role is filled by an AARP volunteer who is also a member of the AARP Board of Directors. The primary duty of the president is to act as the principal volunteer spokesperson and liaison between the Board and those AARP serves—adults 50 and older and AARP's members and volunteers—engaging with these groups to promote the mission and strategic goals of AARP and to hear their perspectives.

In addition to her duties representing AARP, Alicia is professor and chair of the Department of Nursing at Lehman College and The Graduate Center of the City University of New York. She is president of the National Black Nurses Foundation. Previously, she was a staff nurse, team leader, supervisor, and district manager for the Visiting Nurse Service of New York. She serves on the Board of the Black Women's Health Study and R.A.I.N., Inc.

A passionate advocate for family caregivers, Catherine Alicia was the primary caregiver for her husband during the last 16 years of his life as he battled Parkinson's disease. She earned her undergraduate degree from the Seton Hall University College of Nursing, her M.A. in nursing from New York University and a doctoral degree in educational leadership and policy studies at the University of Vermont. She resides in Bronx, NY.

Rhonda J.V. Montgomery, Ph.D., is a family caregiver who is also an internationally recognized scholar on aging and a co-founder of TCARE, Inc. Dr. Montgomery earned her Ph.D. at the University of Minnesota. She has held research and administrative positions at University of Washington in Seattle, Wayne State University, and University of Kansas. She was appointed as the first Helen Bader Endowed Chair in Applied Gerontology at the University of Wisconsin-Milwaukee where she is an emeritus professor in the School of Social Welfare.

Dr. Montgomery has conducted more than 40 funded regional and national studies focused on public policy and the role of family in long term care and has published more than 100 articles and books. She is a fellow in the Gerontological Society of America. She has received numerous awards, including the 2010 Rosalyn Carter Award for Leadership in Caregiving and the American Society on Aging's 2016 Gloria Cavenaugh Award for Excellence in Education and Training.

Dr. Montgomery has served on the board of directors for several community organizations that provide services to older adults, including the board of directors of the National Alzheimer's Association. For the past decade, Dr. Montgomery has collaborated with state and local organizations and thousands of family caregivers to develop and test a care management process used by professionals in the health care industry to support family caregivers. Currently, she is working with the TCARE team to adapt the protocol for wide use by large enterprise organizations that insure and/or employ family caregivers.

Nancy Murray, M.S., is the president of The Arc of Greater Pittsburgh at ACHIEVA. She has 40 years of experience in the disability field in the areas of public policy, advocacy, family support, supports coordination, health care, and state government. Nancy's primary area of interest and study is the resilience of families of children and adults with disabilities and the long-term impact of caring for a person with a disability on a family. Nancy has conducted numerous seminars and has written numerous articles for families and professionals on disability issues.

Nancy is the project director of ACHIEVA's Disability Healthcare Initiative which is focused on access to healthcare for people with disabilities. She also serves on the board of directors of the Pennsylvania Assistive Technology Foundation, the Pennsylvania Medical Assistance Advisory Council, and numerous committees through the Pennsylvania Office of Developmental Programs. She is also a member of the National Council of Executives of The Arc and the PA Executives of The Arc. She has served as a founder and coordinator of the Down Syndrome Center at Children's Hospital (UPMC) of Pittsburgh, the director of supports coordination at Staunton Clinic in Pittsburgh, and the western area director of the Office of Developmental Programs in Pennsylvania.

James Murtha, MSW, is a 30-year-old Michigan native born in Saginaw, in July 1989. He is a Catholic school product of Saginaw Nouvel Catholic Central High School, earned a Bachelor of Arts in biology from Adrian College, and is a 2018 alum from University of Michigan (graduate) school of Social Work.

He works as a mental health therapist with Amplify Colectivo, a Michigan-based counseling clinic with offices in Ann Arbor and Ypsilanti, as well as virtual counseling. In the summer of 2018, James started working with Wareologie, a southeast Michigan-based startup business that makes adaptive clothing and assistive technology. Wareologie will bring their first product, Buttons 2 Button, to market this coming Christmas.

James was inspired to get involved with peer mentorship, community education, and policy advocacy concerning people with disabilities (particularly for people who use wheelchairs and those living with paralysis) by the Christopher and Dana Reeve Foundation.

James injured his spinal cord after breaking his neck in a headfirst fall off a mountain bike on October 5, 2014 in Snowmass Village, Colorado. He was diagnosed with C4 incomplete quadriplegia. He uses a power chair to get around and has set out to make the most of his life situation since his rehabilitation following the injury.

Casey R. Shillam, Ph.D., dean and professor of the University of Portland School of Nursing, is a nurse specializing in palliative care, a veteran of the United States Air Force, and the daughter and granddaughter of veterans. Dr. Shillam's research focuses on supporting care coordination and chronic care management for older adults with serious illness. Her experience caring for her father after a serious accident furthered her commitment to caring for older adults and her dedication to family caregiving and supporting aging veterans in their homes.

 Since her appointment to the University of Portland in 2015, she guided the complete revision of the BSN program of study, moving from a traditional, specialty-focused curriculum to a concept-based curriculum. She has launched a new major in integrative health and wellness studies, and she developed a state-of-the-art simulation center to provide high-quality clinical learning for students in acute, ambulatory, and population- health nursing courses.

Dr. Shillam holds a B.A. from Portland State University and B.S.N, M.S.N., and Ph.D. degrees in nursing from Oregon Health & Science University. She completed a postdoctoral fellowship at the Betty Irene Moore School of Nursing at UC Davis, taught at Johns Hopkins University School of Nursing, and founded a nursing program at Western Washington University. She served as an expert nurse consultant to Future of Nursing: Campaign for Action, is an alum of the Robert Wood Johnson Foundation's Executive Nurse Fellows program, and currently serves on the American Association of Colleges of Nursing's Health Policy Advisory Council.

Alan B. Stevens, Ph.D., holds the Vernon D. Holleman-Lewis M. Rampy Centennial Chair in Gerontology at Baylor Scott & White Health (BSWH). Dr. Stevens is a professor of medicine and public health at the Texas A&M Health Science Center (TAMHSC). He serves as the director of the Center for Applied Health Research (CAHR), which is administratively located in the Baylor Scott & White Research Institute (BSWRI).

Dr. Stevens' research interests focus on the establishment, translation, and implementation of evidence-based health programs for older adults. With more than 25 years' experience in academic medical schools and a leading integrated health care organization, he has made significant contributions to the fields of dementia care, family caregiving, care transitions, and management of chronic diseases. Dr. Stevens' contributions are unique, as his implementation research methods are built on partnerships between healthcare delivery organizations and community-based organizations, with the goal of designing projects that are person and family-centered and focused on outcomes that are meaningful to the multiple stakeholders engaged in promoting the health of older adults.

He has received competitive grant funding from the four Institutes within the National Institutes of Health (NIH), the Agency for Healthcare Research and Quality (AHRQ), and the state of Texas, and he has partnered with state agencies on multiple projects funded by the Administration for Community Living (ACL). Dr. Stevens is a fellow of the American Psychological Association (APA) and the Gerontological Society of America (GSA).

Deborah Stone-Walls has worked in the human services field for more than 30 years and with family caregivers on Maui for more than 20 years. She joined the Maui County Office on Aging in November 2008 as the executive on aging. With her years of administrative experience and direct experience working with Maui's children, family caregivers, individuals with disabilities, and senior residents, Deborah has a well-rounded knowledge base and passionate commitment to the unique needs of these populations. Deborah's influence extends to both the state and national level. She is a recipient of the Hawaii Pacific Gerontological Society "Na Lima Kokua Ma Waena O Makua" Award for Excellence in Government Service as well as the Hawaii Alliance for Retired Americans and Kokua Council "Shining Light" Award for Excellence in Advocacy. Deborah has been a member of the National Association of Area Agencies on Aging (n4a) board since 2009 and is serving as the current president of the board.

Theresa Tanous, MHA, served in the U.S. Government for 33 years at the Department of Veterans Affairs. For more than twenty years Theresa worked at the national level in health care IT. A graduate from the School of Business at Boston College, Theresa received her Master of Health Administration from the University of New Hampshire. Her schooling and work experience, as well as avid reading and continuous learning, have helped to prepare her for her second career, that of primary family caregiver for a loved one.

Care duties involve managing her mother's care and finances coupled with advocating on medical and ethical matters. In her seventh year of caregiving for a frail-elder who has dementia, duties expanded to seeking benefits while managing home health aide contracts and invoices.

Theresa envisions realizing a system that embodies "caring for the caregiver." The foundation of this "caring system" — where the individualized needs of patient and caregiver are core and the long-term care services and supports serve the dyad — is a framework that states and communities can scale and configure.

Successful implementation of a framework will rebalance the long-term services and supports to serve at-home care for the most at-risk elder population and the caregivers supporting this population. Two elements of the framework include: changes to the care plan are met with one call in one day and respite-on-demand paid by savings realized through proactive measures that reduce Medicaid enrollment.

Carol Zernial, M.A., is a nationally recognized gerontologist who was named one of the nation's Top 50 Influencers in Aging for 2017 by Next Avenue, the digital journalism arm of the PBS System. She holds a master's degree in social gerontology from the University of the Incarnate Word and has been involved in the field of aging for more than 25 years.

Carol currently serves as executive director of the WellMed Charitable Foundation and Vice President of Social Responsibility for WellMed Medical Management. She is immediate past chair of the board of directors for the National Council on Aging. Carol is a member of the governor's Aging Texas Well Advisory Committee. She is the producer and co-host of the podcast Caregiver SOS on Air, and blogs about the caregiving experience.

Carol was a delegate to the White House Conference on Aging in 2015 under President Obama and in 2005 under President George W. Bush. She was a staff member to the 1995 White House Conference on Aging under President Clinton. She is the former chair of the National Institute of Community-based Long-term Care, board member for the National Association of Area Agencies on Aging, and vice president of the Texas Association of Area Agencies on Aging.

Carol is passionate about living while caregiving. Caregivers need choices and the ability to enjoy basic human rights such as work, education, rest, leisure and fun.

Federal members

Department of Health and Human Services (HHS)

Administration for Community Living (ACL)

Alison Barkoff, RAISE Council Chair, was sworn into office as the Principal Deputy Administrator on January 20, 2021. In this capacity, she provides executive direction, leadership, guidance and coordination for ACL programs nationwide and advises the HHS Secretary on issues affecting people with disabilities and older adults.

Alison Barkoff was sworn in as Principal Deputy Administrator on January 20, 2021, and is currently serving as ACL's Acting Administrator and as the Acting Assistant Secretary for Aging.  She provides executive leadership and coordination for ACL programs nationwide and advises the HHS Secretary on issues affecting people with disabilities and older adults.

A sibling of an adult brother with developmental disabilities and a civil rights attorney, Alison is a lifelong advocate for community living – both professionally and personally – and has been at the forefront of national efforts to expand the home and community-based services (HCBS) that make community living possible.

As part of countless coalitions of people with disabilities, older adults, and advocates, she has fought to uphold the rights of people with disabilities and older adults and advance policies to ensure their access to health care, housing, employment, education, and all other facets of community life. She has testified before Congress and the US Commission on Civil Rights on disability rights and community living.

She has served in a variety of leadership roles with disability rights organizations, including leading advocacy efforts at the Center for Public Representation and the Bazelon Center for Mental Health Law.

She also is a veteran of the federal government. As Special Counsel for Olmstead Enforcement in the Civil Rights Division of the Department of Justice, she led efforts to enforce the rights of people with disabilities to live, work and fully participate in their communities. She also led interagency initiatives with the Centers for Medicare & Medicaid Services on Medicaid HCBS and with the Department of Labor on direct care workforce issues.

Alison has brought that same focus on collaboration and coordination to her current role. Under her leadership, ACL is working with partners across HHS and the federal government on initiatives and interagency approaches to issues that affect people with disabilities and older adults, such as expanding access to HCBS and affordable, accessible housing; strengthening the direct care workforce; increasing competitive, integrated employment for people with disabilities; and advancing equity, to name just a few. 

Centers for Medicare & Medicaid Services (CMS)

Melissa L. Harris has been with the Centers for Medicare & Medicaid Services (CMS) since the summer of 1995 and is currently the acting deputy director for the Disabled and Elderly Health Programs Group (DEHPG). Prior to this role, Melissa was a senior policy advisor in DEHPG, developing and implementing a myriad of policies advancing home and community-based services as an alternative to institutional placement. Before joining the Office of the Group Director, she was the director of the Division of Benefits and Coverage from 2012 to 2015, in which she was responsible for overseeing implementation of most Medicaid benefits, including benefits provided to individuals in the Medicaid expansion population, and the establishment of national benefit policy.

Administration for Children and Families (ACF)

Liliana Chakrabarti is a Child Welfare Program Specialist in the Children's Bureau, Division of Program Implementation at the Administration for Children and Families, Department of Health and Human Services. Her portfolio includes the Title IV-E and Title IV-B Kinship Navigator programs, the Guardianship Assistance Program, and the National Center on Substance Abuse and Child Welfare. Mrs. Chakrabarti is the federal project officer for the Family Connection Grants: Building the Evidence for Kinship Navigator Programs and the Improving Child Welfare through Investing in Family discretionary grants. She also leads the Capacity Center for State Kinship Navigator Constituency Group. She also collaborates with the Department of Education on Implementation of the Every Student Succeeds Act. She has also published in various peer-reviewed journals on child welfare, higher education and kinship care. Mrs. Chakrabarti joined the Children's Bureau in 2009, after receiving a Master of Social Work and Public Policy from the University at Albany.

Centers for Disease Control and Prevention (CDC)

Dr. John Omura is a Medical Officer with the CDC's Healthy Aging Branch within the Division of Population Health. Specifically, he serves on the Epidemiology and Applied Research Team with a focus on Alzheimer's Disease and brain health. Originally from Canada, Dr. Omura completed medical school at the University of Western Ontario and holds a Master of Public Health degree from Harvard University. He is board certified in both family medicine and preventive medicine.

Food and Drug Administration (FDA)

Kathryn (Katie) Capanna is a deputy division director within FDA CDRH's Office of Strategic Partnerships and Technology Innovation (OST). She is dedicated to building productive partnerships and programs to drive patient-centered medical product innovation, evaluation, access, and care, and to reduce healthcare disparities. In her role at FDA CDRH, Katie oversees teams that support a variety of strategic partnerships and programs, including the Patient Engagement Advisory Committee (PEAC), the Medical Device Innovation Consortium (MDIC), the Medical Device Development Tools (MDDT) Program, the CDRH Network of Experts, and the Patient and Care-Giver Connection (P&CC). Her focus is on driving an organization-wide change effort aimed at promoting a culture of meaningful and shared patient engagement, improving the quality, predictability, and impact of patient input.

Katie began her career at FDA in the Division of Cardiovascular Devices, leading multi-disciplinary teams in evaluating life-saving and life-sustaining technologies, and conducting research and outreach projects with industry, academia, professional associations, patient organizations, and government agencies, to advance device innovation and reduce sex/gender disparities in cardiovascular device evaluation and care. She later joined the Office of the Center Director as a senior advisor leading and supporting various strategic initiatives such as Clinical Trials Innovation, Real World Evidence, and efforts to improve diversity and inclusion in medical product development.

Katie is a biomedical engineer by training and worked in academic research and MedTech industry prior to her 14 years at FDA.

Health Resources and Services Administration (HRSA)

Joan Weiss, Ph.D., RN, CRNP, FAAN, is an adult and gerontological nurse practitioner who serves as the senior advisor in the Division of Medicine and Dentistry at the Health Resources and Services Administration (HRSA). She is the primary advisor to the director on geriatrics-related issues and all phases of management responsibilities for the Division of Medicine and Dentistry.

Her experience in interprofessional practice and education spans 30 years. She is the designated federal official for the Federal Advisory Committee on Interdisciplinary Community-Based Linkages. She is the HRSA representative on the U.S. Department of Health and Human Services' (HHS) Advisory Council on Alzheimer's Disease Research, Care, and Services; the Family Caregiving Advisory Council; and the Grandparent Advisory Council. She also serves on HHS interagency workgroups on palliative care, elder justice, and caregiving. She advises on the development of performance measures for HRSA's geriatrics education programs. 

She has served in many leadership positions at HRSA including director of the Division of Public Health and Interdisciplinary Education and acting director of the Division of Nursing. She is the recipient of the 2015 Secretary's Meritorious Group Award for taking important steps to find a cure and improve care for people with dementia. She is the recipient of the 2011 University of Pennsylvania School of Nursing Outstanding Nursing Alumni Award and numerous Public Health Service awards. She was inducted as a Fellow into the American Academy of Nursing in 2013.

Indian Health Service (IHS)

Bruce Finke, M.D., is a board-certified family physician and geriatrician serving with the Indian Health Service (IHS) since 1991. From 1998 until this year (2019), Dr. Finke served as the IHS lead in Elder Care, providing support to tribal, IHS, and urban programs in the development of improved clinical and preventive care for the elderly, and in the development of long-term services and supports. From 2006-2011 he helped develop the IHS primary care transformation initiative, Improving Patient Care. Since 2011 Dr. Finke has worked on part-time detail with the Learning and Diffusion Group at the CMS Innovation Center, supporting the development of new payment and care models as large, multi-system improvement initiatives.

Dr. Finke has served the IHS Nashville Area Office as acting chief medical officer for several periods since 2003, most recently during much of the period 2015-2017, and served as acting area director from January 2018 to January 2019. He is now serving as a senior advisor for improvement and innovation in the newly established IHS Office of Quality. Dr. Finke also represents the IHS on the Advisory Council for Alzheimer's Research, Care, and Services.

National Institute on Aging (NIA), National Institutes of Health (NIH)

Melissa Gerald, Ph.D., is a program director at the National Institutes of Health (NIH) in the Division of Behavioral and Social Research (BSR) at the National Institute on Aging (NIA). Dr. Gerald is primarily responsible for directing research focused on the causal role and impact of family, interpersonal relationships, and social connectedness, or lack thereof, on health and well-being in midlife and older age, and strategies for achieving favorable outcomes for those without close ties. This portfolio covers a broad scope of topics and issues, including caregiving, marriage and divorce, social isolation, and elder abuse. Caregiving provides a context to examine how dyadic and family processes can become disrupted or strained, as well as the positive interpersonal dynamics and benefits of participating in care relationships. Studies also examine decision-making processes involving care and constructing advance directives, and how to navigate life thereafter.

Dr. Gerald also manages aging-relevant research on special and vulnerable populations and directs a research program devoted to animal models of human sociality. Before joining BSR, she served as a scientific review officer at NIH's Center for Scientific Review. Prior to NIH, Dr. Gerald was associate professor in the University of Puerto Rico, Medical Sciences Campus's Department of Internal Medicine, and scientist-in-charge of the Cayo Santiago research colony of free-ranging rhesus macaques. She completed postdoctoral training at NIH's National Institute on Alcohol Abuse and Alcoholism and a bachelor's degree in anthropology and psychology at the University of Wisconsin, Madison. She earned her Ph.D. in anthropology from UCLA.

Office of the Assistant Secretary for Planning and Evaluation (ASPE)

Helen Lamont, Ph.D., is a senior long-term care analyst in the Office of Disability, Aging, and Long-Term Care Policy in the Office of the Assistant Secretary for Planning and Evaluation in the U.S. Department of Health and Human Services. Dr. Lamont leads work on aging, Alzheimer's disease, support for informal caregivers, adult maltreatment, and disability data. Currently, Dr. Lamont is working on a project to examine how family caregivers are included on care teams in integrated health systems.

Dr. Lamont was the project officer for the Caregiver Supplement to the National Health and Aging Trends Study (NHATS), which collected data on the status of caregivers that can be linked to the needs and characteristics of their care recipients. Dr. Lamont leads the implementation of the National Alzheimer's Project Act including the National Plan to Address Alzheimer's Disease and the Advisory Council on Alzheimer's Research, Care, and Service, and is on the Steering Committee for the 2020 National Research Summit on Care, Services, and Supports for Persons with Dementia and their Caregivers.

Dr. Lamont joined ASPE in 2007, after receiving her Ph.D. in aging studies from the University of South Florida. She holds a B.S. in psychology with a focus in human development from Duke University.

Substance Abuse and Mental Health Services Administration (SAMHSA)

Rosemary Payne, MSN, RN, is the senior nurse consultant in the Center for Substance Abuse Treatment, at the Substance Abuse and Mental Health Services Administration (SAMHSA) who collaborates closely with the SAMHSA Office of the Assistant Secretary, Center for Mental Health Services, and Center for Substance Abuse Prevention. She is currently designated as the SAMHSA senior lead on the Health and Human Services efforts to reduce and eliminate the transmission of HIV, viral hepatitis and sexually transmitted diseases. She partners with other federal agencies who are leveraging resources to address the "Ending the HIV Epidemic: A Plan for America". She is also partnering with key SAMHSA stakeholders to address the opioid epidemic and to increase uptake of Medication Assisted Treatment (MAT) for opioid use disorders. She previously worked at the National Institutes of Health, Clinical Center as a senior supervisory nurse in adult and pediatric biomedical research in partnership with NIMH, NINR, and NCCIH. She has conducted several extensive literature reviews on family caregiving. She originally attended St. Luke's School of Nursing, Sioux City, IA where she received a diploma of nursing. She later graduated from Liberty University, Lynchburg, VA., with a Bachelor of Science in nursing, followed by graduating from Morgan State University, Baltimore, MD where she completed her Master of Science in nursing with a subspecialty in nursing leadership and education. Rosemary has also held nursing leadership roles in critical care and nursing recruitment.

U.S. Department of Veterans Affairs

Margaret (Meg) Kabat is the Senior Advisor for Families, Caregivers, and Survivors in the VA's Office of the Secretary. She is a licensed clinical social worker with more than 25 years supporting America's service members, Veterans, and their families. Ms. Kabat currently serves as the Senior Advisor for Families, Caregivers, and Survivors in the Office of the Secretary at the US Department of Veterans Affairs. In this role, Ms. Kabat serves as the principal advisor to the Secretary and Deputy Secretary on the development, adoption, and implementation of Department-wide programs and policies related to families, caregivers, and survivors of Veterans. She analyses and evaluates program and policy effectiveness, ensuring the best outcomes for Veterans. Previously, Ms. Kabat served as a Senior Director at Atlas Research, supporting the US Department of Defense (DOD) Sexual Assault Prevention Office (SAPRO) as well as facilitating the COVID Nursing Home Commission in collaboration with the Centers for Medicare and Medicaid (CMS). From 2011 through 2019, Ms. Kabat served in leadership roles in the US Department of Veterans Affairs' (VA) Caregiver Support Program. Ms. Kabat also previously served as a case manager with the United States Navy at National Naval Medical Center.

Ms. Kabat is the recipient of multiple awards including a Special Recognition Award from Disabled American Veterans (DAV), a VA Exemplary Service Award, and a VA Exceptional Service Award. She has appeared before Congress multiple times and is an author on more than 20 peer-reviewed publications on supporting caregivers of Veterans. She has made multiple presentations, including the second Elizabeth Dole Women in Leadership Lecture at the Robert J. Dole Institute of Politics at the University of Kansas in 2018. Ms. Kabat is the proud daughter and granddaughter of Veterans who served in World War I, World War II, and Vietnam.  She lives in the Washington, DC, area with her husband and two children.  

AmeriCorps

Jan Newsome is the program development and outreach specialist for Senior Corps, the program of the Corporation for National and Community Service (CNCS) that engages adults 55 and older in critical volunteer service that supports America's communities. Jan is responsible for external engagement and collaborations for the implementation of volunteer interventions that help expand the capacity of local nonprofit and corporate entities to include older adults in volunteer service programs.

Jan has extensive knowledge and experience in crafting strategic visions around volunteer and work issues for the 50+ population, having worked on these issues for three preeminent aging organizations -- AARP, Senior Service America, Inc. and Senior Corps. Additionally, she has conducted leadership activities that support other federal agencies and nonprofit organizations with an aging agenda. She has served on the staffs of two White House Conferences on Aging.

A graduate of North Carolina Central University, Jan has been an international legislative fellow and was part of a delegation visiting the countries of Oman and Kuwait to increase understanding between the U.S. and the people of those countries. She has also served in an advisory capacity on numerous initiatives for aging organizations that include the WISDOM Works project for the National Council on Aging, the Purposeful Lives initiative for the American Society on Aging and the National Aging Collaborative of the National Association of Area Agencies on Aging (n4a).

She supported long-distance caregiving for her father, now deceased, and is the current caregiver for an older sister.

Consumer Financial Protection Bureau (CFPB)

Lisa Weintraub Schifferle is a Senior Policy Analyst in the CFPB's Office for Older Americans. She leads the Managing Someone Else's Money financial caregiving program and supports the Office's work to combat elder financial exploitation.

Ms. Schifferle's career in consumer protection spans more than 20 years. Before coming to the CFPB, she worked for 12 years at the Federal Trade Commission (FTC), where she trained consumers, business and advocates on scams, identity theft, and cybersecurity. She also served as the FTC's Identity Theft Coordinator and litigated fraud and data security cases.

Ms. Schifferle spent eight years at the Maryland Legal Aid Bureau, as a Staff Attorney and Supervising Attorney. She represented low-income clients in consumer, bankruptcy, housing, public benefits and employment cases.

Ms. Schifferle received her B.A. summa cum laude from Yale College and her J.D. from the University of Virginia School of Law.
ACL RAISE Family Caregiving Advisory Council Progress Report
RAISE Family Caregivers Act: Progress Toward a National Strategy to Support Family Caregivers
---
You may also be interested in...
Last modified on 07/21/2022
Next Full Advisory Council Meeting 
To be announced
Past Full Advisory Council Meetings
September 2022

On September 21, 2022, the RAISE Family Caregiving Advisory Council and the Advisory Council to Support Grandparents Raising Grandchildren held their second joint meeting to announce the release of the first-ever National Strategy to Support Family Caregivers.

January 2022

The RAISE Family Caregiving Advisory Council and the Advisory Council to Support Grandparents Raising Grandchildren held their first joint meeting on January 25, 2022 to begin the development of the National Family Caregiving Strategy.

 

September 2021

On September 21,2021 the RAISE Family Caregiving Advisory Council (FCAC) convened for its ninth meeting. The primary focus of the meeting was to discuss the release and dissemination of the Initial Report to Congress on Wednesday, September 22, 2021. .  Representatives from the White House Domestic Policy Council and the National Alliance for Caregiving provided insight on key priorities of the administration, as well as other emerging legislative initiatives that impact family caregiving in the US, as the Council's attention shifts to its next task of developing a National Family Caregiving Strategy.

April 2021

On April 28, 2021, the RAISE Family Caregiving Advisory Council (FCAC) convened for their eighth full council meeting.  Alison Barkoff, Acting Administrator and Assistant Secretary for Aging, Administration for Community Living (ACL), called the meeting to order.  Acting Administrator Barkoff welcomed members and other participants to the meeting, providing a detailed introduction of herself to the members while thanking them personally and collectively for the work they have done since they first met in August 2019.

Representatives from the Older Adults' Equity Collaborative (OAEC) gave a presentation about how to ensure access and equity in aging services programs, particularly when working with caregivers. The OAEC speakers represented the following organizations:

MHP Salud
National Asian Pacific Center on Aging (NAPCA)
National Indian Council on Aging (NICOA)
National Center and Caucus on Black Aging (NCBA)
SAGE - Advocacy & Services for LGBT Elders Center for Healthy Aging
New York Academy of Medicine

Carol Regan, Senior Advisor at Community Catalyst and Dr. Pamela Nadash, Associate Professor in the Department of Gerontology, McCormack Graduate School at the University of Massachusetts, Boston shared their findings from the stakeholder listening sessions. 

The three Council Co-chairs facilitated the Council's discussion about the final draft of their Report to Congress.

The meeting concluded with an expression of appreciation to Council members for what they have accomplished while reminding them about next steps involving development of the Family Caregiving National Strategy, which will be discussed in Council's subcommittees meetings in May 2021.

For additional information please see the meeting summary link below.

January 2021

The RAISE Family Caregiving Council met virtually for its seventh meeting on January 19, 2021. The National Academy for State Health Policy provided an overview of various state Medicaid programs supporting the needs of family caregivers. Community Catalyst presented the feedback collected from family caregivers of diverse age, race, ethnicity, employment status, and family structure, with additional tailored groups such as Latinx, teen, and grandparent caregivers over the course of 15 listening sessions.  

November 2020

On November 18, 2020, the council held a groundbreaking meeting to finalize and approve the recommendations for their report to Congress. In recognition of Caregiver Month Mike Wittke, Senior Director of Public Policy and Advocacy with the National Alliance for Caregiving, provided an overview of the Caregiver Vignette Project which highlights the stories of 27 caregivers across the Nation.

August 2020

On Wednesday, August 12, 2020, the RAISE Family Caregiving Advisory Council convened its fifth full council meeting via webinar.  Lance Robertson, ACL Administrator and Assistant Secretary for Aging expressed gratitude to the members for the progress they have made so far on drafting the Report to Congress and the National Family Caregiving Strategy.  Although Alex Azar, Secretary of Health and Human Services was not able to attend, he addressed the council via video, expressing gratitude for their diligent work in support of family caregivers, and the progress made over the past year. Helen Lamont and Katie Brandt, of the National Alzheimer's Project Act Advisory Council, also provided an overview of the project, key similarities with the RAISE Act, opportunities, and cross-cutting recommendations to improve long term services and support for family caregivers.

July 2020

The RAISE Family Caregiving Advisory Council held their fourth full council meeting via webinar on July 16. ACL Administrator and Assistant Secretary for Aging, Lance Robertson, provided opening remarks for the meeting, noting, "…the level of support for caregivers has never been larger than it is now". The speakers for this meeting provided expert insight into "Medicare and Family Caregivers" and "Medicaid and State Programs."  These presentations provided an abundance of information. Closing out the meeting, council members engaged in an interactive workshop on the initial report to Congress.

 

May 2020

The RAISE Family Caregiving Advisory Council held its third full council meeting, via webinar, on May 20th and 21st.

Please visit the links below to view the meeting agenda, presentations, live stream recording, and a summary of the meeting.

Agenda Presentation (Coming Soon) Live Stream Recording 

May 20: https://www.youtube.com/watch?v=0JHuKYRSGCw

May 21: https://www.youtube.com/watch?v=6Oe4zukIGak

 

February 11 and 12, 2020

The RAISE Family Caregiving Advisory Council held its second full council meeting via webinar on February 11th and 12th.

 

August 28-29, 2019

RAISE Family Caregiving Advisory Council

The first Family Caregiving Advisory Council meeting took place August 28-29, 2019 in Washington, DC.

Please visit the links below to view the live stream recording and other meeting materials.

Agenda

Family Caregiving Advisory Council (FCAC) Meeting (PDF 454kb)

 

Meeting Pictures

RAISE Council Photos RAISE and SGRG Joint Session Photos

Resources and Materials

Annotated Resources (PDF 150kb) Materials (PDF 318kb)

Meeting Summary

RAISE Family Caregivers Act Council Meeting Summary (DOCX 96kb)

Live Stream Recordings

Family Caregiving Advisory Council (FCAC)
August 2019 | Day 1, Part 1 Family Caregiving Advisory Council (FCAC)
August 2019 | Day 1, Part 2 Family Caregiving Advisory Council (FCAC)
August 2019 | Day 1, Part 3 Family Caregiving Advisory Council (FCAC)
August 2019 | Day 1, Part 4 Family Caregiving Advisory Council (FCAC)
August 2019 | Day 2, Part 1 Family Caregiving Advisory Council (FCAC)
August 2019 | Day 2, Part 2